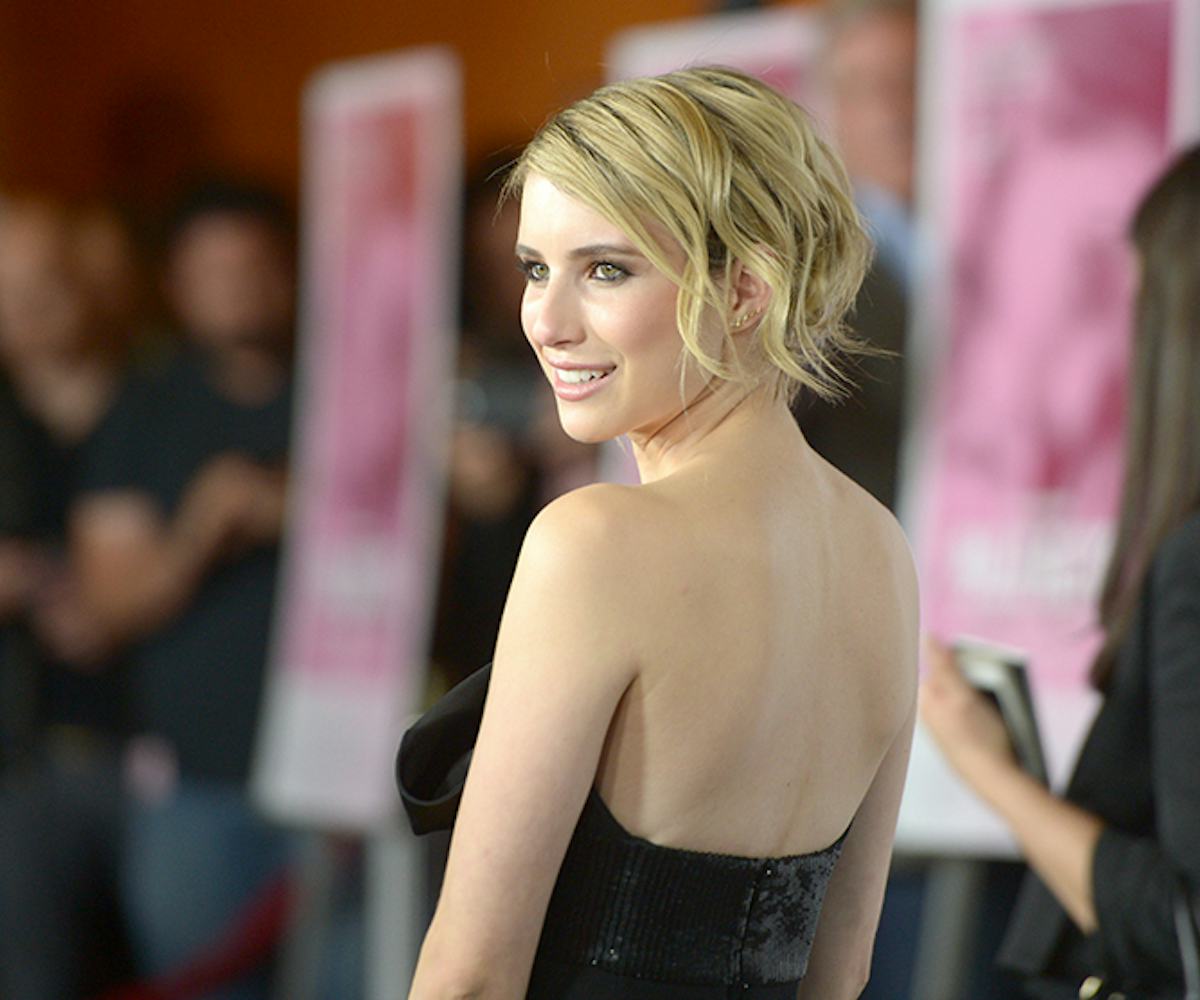 photo by getty images
palo fire
emma roberts talks palo alto, james franco, and her must-read list.
If you need some weekend plans, look no further than your local screening of
Palo Alto.
The youth-centered drama directed by Gia Coppola based on the book of short stories of the same name by James Franco, is the perfect dose of Dev Hynes-scored nostalgia your weekend definitely needs. 
If you need a little more encouragement, check out our interview below with the film's star (and perma-NYLON favorite) Emma Roberts, who gives a truly awesome performance as April. 
Hey Emma!
Hi! It's funny because I'm actually looking at a copy of NYLON right in front of me right now. I love it. I always read NYLON; it's like my go-to. 
We were so happy to have you on our August cover last summer; it's actually one of my favorites. 
That was so fun. I loved that whole thing. 
So down to business. Why did you want to be attached to Palo Alto?
I read the book when it came out and just fell in love with it. I remember saying, "If this is ever a movie I have to be a part of it. I feel so passionately about this project." It's so crazy that five years later, we're here talking about it. Very rarely do you say you love something and want to do it, and it comes together, and you get to be in it. I loved that it was such an honest portrayal of teenagers, and it was a very interesting collaboration between James Franco and Gia Coppola. It was just one of those projects that you knew was going to be special. 
I know that you've been a fan of the books for a long time. 
I read the book actually in two days and was just very taken by it. I feel like, five years ago when it came out, celebrities weren't putting out books every week, so the fact that James Franco put out a book of short stories about you, not about the life of an actor, was really fascinating to me. It made me respect him even more. 
Did you have a favorite story or character from the book?
I love the whole April and Teddy relationship. For some reason April and Teddy were the ones that really stuck with me. When I read the script, I was really concerned that people would maybe see me for Emily. I was really happy when Gia was like, "I see you for April," because that was the role I really wanted and the one that I felt I could bring a lot to. 
What was it like to work with James Franco, who was not only playing the role of Mr. B, but also was the author of the book the script was based on?
He was so easygoing, and he was actually so excited just to see all of us bringing the characters to life. He was never judgmental or hard on us--he was just as excited as all of us, which was so refreshing to see from an author. He's someone i've always wanted to work with and I've always admired him because he's always doing five thousand things at once. He is a really, really intelligent person, so I was excited to get to work with him. I told him after the movie, "I want to work with you again, so please keep me in mind for your five bajillion projects." He was like "I will."
I can barely do the fifteen things I have to do in a day and James Franco does about a thousand. Do you have any insight into how he does it? Is he Superman?
He's just one of those guys who is really smart. He must have a big brain. [laughs]
Was there a favorite scene you enjoyed filming?
I really enjoyed the night shoots. There's something about night shoots that puts magic in the air a little bit. The party scenes were really fun because it felt like we were really doing something special. They felt very real because all of Gia's friends were in the party scenes because they couldn't afford extras. 
Doing stuff at night always feels like being in high school all over again.
We were shooting at a house in the Valley at night and I was like, "Oh my God, I remember showing up to a house party in the Valley and being like, "How do I look? Am I going to know anyone?" and then nervously drinking some gross sugary alcoholic drink. 
What books are you obsessing over now?
I just am finishing
The Opposite of Loneliness
, which is one of the most incredible books I've read and has a very interesting story behind it. Then I'm going to start this book called
Empty Mansions,
and I just bought this book
Eleanor & Park
, which is a teen romance novel I can't stop reading either. 
Are there any book-to-movie adaptations you'd want to star in?
There are already so many movie versions of books that I love.
Even Cowgirls Get the Blues
is one of my favorite books I've ever read, and there's already a movie of that. If there's ever a remake I'd like to be in it. 
Have you ever thought of writing a book?
I write a lot, but I will see what becomes of it. I kind of need an editor; I need a mentor to help me organize my thoughts. 
Maybe you could get James Franco to be your mentor. 
I know, I should ask him actually. That's a good idea.