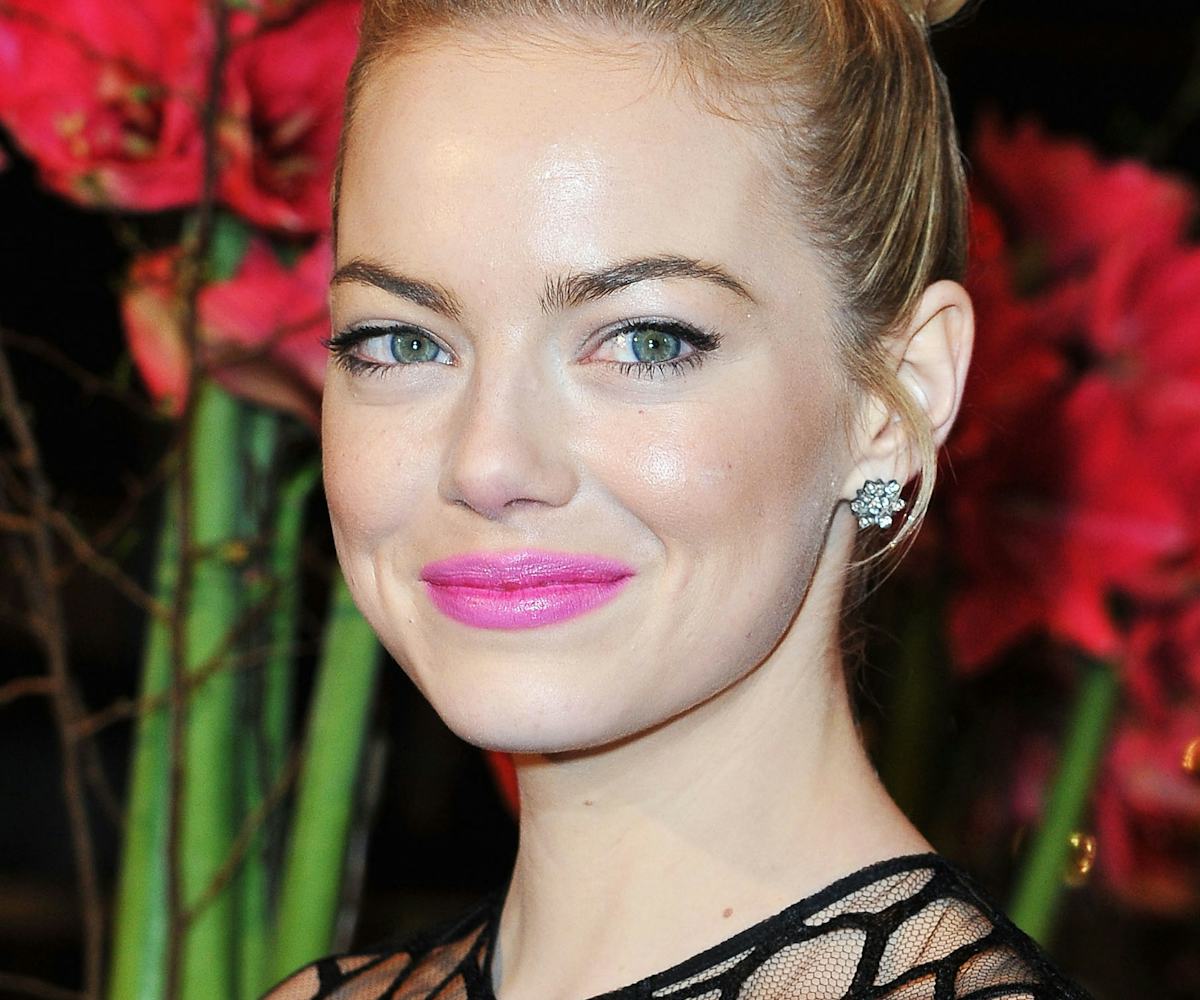 photo by getty images
the essentials: emma stone
learn how to dress like your imaginary bff.
There are a lot of reasons Emma Stone is our imaginary BFF: she's hysterical, has a killer laugh, is well-dressed, and does a cat eye like it's nobody's business. Essentially, she's the greatest. So how better to celebrate our bestie's B-day--which is today!--than to give you a rundown on how to copy her signature style? (OK, showing up at her house with an ice cream cake and balloons would be better, but would also be a little weird.)
Stone makes a great style crush because she dresses girly, but not too girly. She's known to pair a sweet party dress with a minimal jewelry or layer a white T-shirt underneath a cocktail dress to tone down a cutesy look. She's also the queen of pink lipstick, which we can tell you how to do, but has also mastered the art of the nonchalant updo, something we desperately need her hair stylist to tell us how to get ASAP. (Hear that, Mara Roszak? We need you!)
So celebrate Stone with our guide to the five essential pieces you need to cop her style. And by watching Easy A, obvs.
The Essential: White T-Shirt For Layering Under Dresses or Blazers
Levi's White T-Shirt -- $44.50
DKNY Oversized White T-Shirt -- $175
Forever 21 Relaxed T-Shirt -- $6.80
Milly White T-Shirt with Bejeweled Neckline -- $175 (Because sometimes you want your T-shirt to layer for you.)
The Essential: A Full Skirted Party Dress
Betsey Johnson Red Roses Party Dress -- $138
Topshop Black Floral Prom Dress -- $150
Rare London Gold Brocade Dress -- $68
Topshop Bonded Skater Dress -- $150
Delpozo Ruffled Wool Crepe Minidress -- $2,400
The Essential: Barbie Pink Lipstick
Dior Addict Lipstick in Singuliere -- $31
MAC Pro Longwear Lipstick in Overtime -- $18
The Lip Bar Lipstick in Peony Punch -- $20
Too Faced La Creme in Marshmellow Bunny -- $21
Urban Decay Revolution Lipstick in Obsessed -- $22
The Essential: Peplum Skirt
Oasis Scuba Peplum Skirt -- $39.16
Matthew Williamson Wool Peplum skirt -- $160
Torn by Ronny Kobo Leather Pencil Skirt -- $334
Nasty Gal Noir Peplum Skirt -- $48
The Essential: Small Cute Purse
Topshop Printed Nylon Clutch -- $56
Miu Miu Striped Purse -- $1,790
Milly Dalmatian Mini Bag -- $225