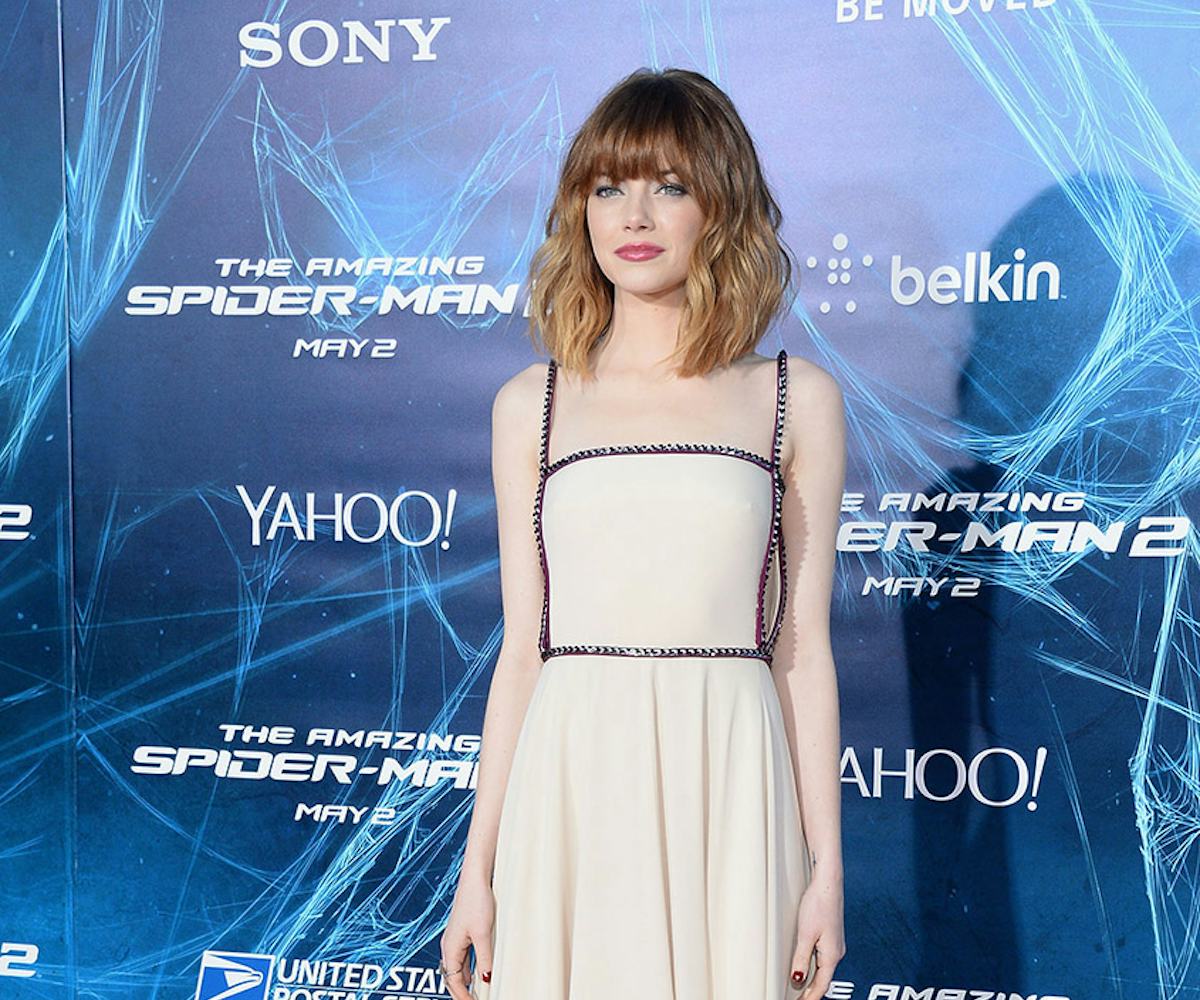 all photos by getty images
styled like stone
with great red carpet power comes serious fashion responsibility.
If there were awards given out for best wardrobe while promoting a movie, Emma Stone would have won them all. Throughout the press tour for The Amazing Spider-Man 2: The Rise of Electro, which traveled from China to Australia through Europe and then to America, Emma Stone has worn some of the coolest, most flattering, high fashion outfits we've ever seen her wear. 
We don't know about you, but Stone's style is really motivating us to up our spring fashion game with her as our guide. See what fashion lessons we're learning from Stone in the gallery.
Need more fashion inspiration? Follow us on Pinterest!
Embellished dresses typically come in the neutrals, but Stone's proving that a pale blue looks just as good studded as a leather jacket.
TRY: River Island Embellished Shift Dress -- $47.04
Should you ever be challenged to a lip sync off with Jimmy Fallon, you're going to want to be wearing a cool black cut-out dress.
TRY: Naven Cut-Out Dress -- $147
Sometimes dark florals are cooler than brights.
TRY: Free People Minidress -- $108
The best accessory with a white dress is a shimmery coral blush.
TRY: Revlon Photo Ready Cream Blush in Coral Reef -- $12.99
And speaking of white dresses, they are coolest in the three-quarter sleeve variety.
TRY: Diane von Furstenberg White Lace Dress -- $325
Metallics and sheer fabrics can be friends. 
TRY: Saint Laurent Metallic Detail Blouse -- $1,550
We know you're probably into white or black semi-see through dresses, but based on this look, you should definitely try burgundy.
TRY: Asos Trumpet Sleeve Shift -- $60.20
Chains aren't just for your Chanel bag.
TRY: Warehouse Chain Detail Dress -- $122.29
The way to channel a '60s babe is with a red minidress and some shaggy bangs.
TRY: Camilla and Marc Red Minidress -- $620
Watch your back Annie Hall, Emma Stone is stealing your fire. Turns out a boxy blazer is a definite must.
TRY: H&M Melange Blazer -- $69.95
If you have a beautiful rainbow dress, the only accessory you need is a gold bobby pin.
TRY: Gimme Silver and Gold Bobby Pin Set -- $3.99
Matching your eyeshadow to your skirt can be an awesome idea, especially when your skirt is periwinkle.
TRY: Revlon Color Stay Shadowlinks Eyeshadow in Periwinkle -- $3.19
Anything plus yellow shoes equals a way cooler outfit.
TRY: Aldo Yellow Pumps -- $131.70
Next time you're going for a classic American look, grab a white shirt with navy piping instead our your basic oxford.
TRY: Equipment Contrast Trim Blouse -- $210
Proof that berry lipstick goes with everything, even a yellow gown.
TRY: Revlon Super Lustrous Lipstick in Cherry Blossom -- $7.99