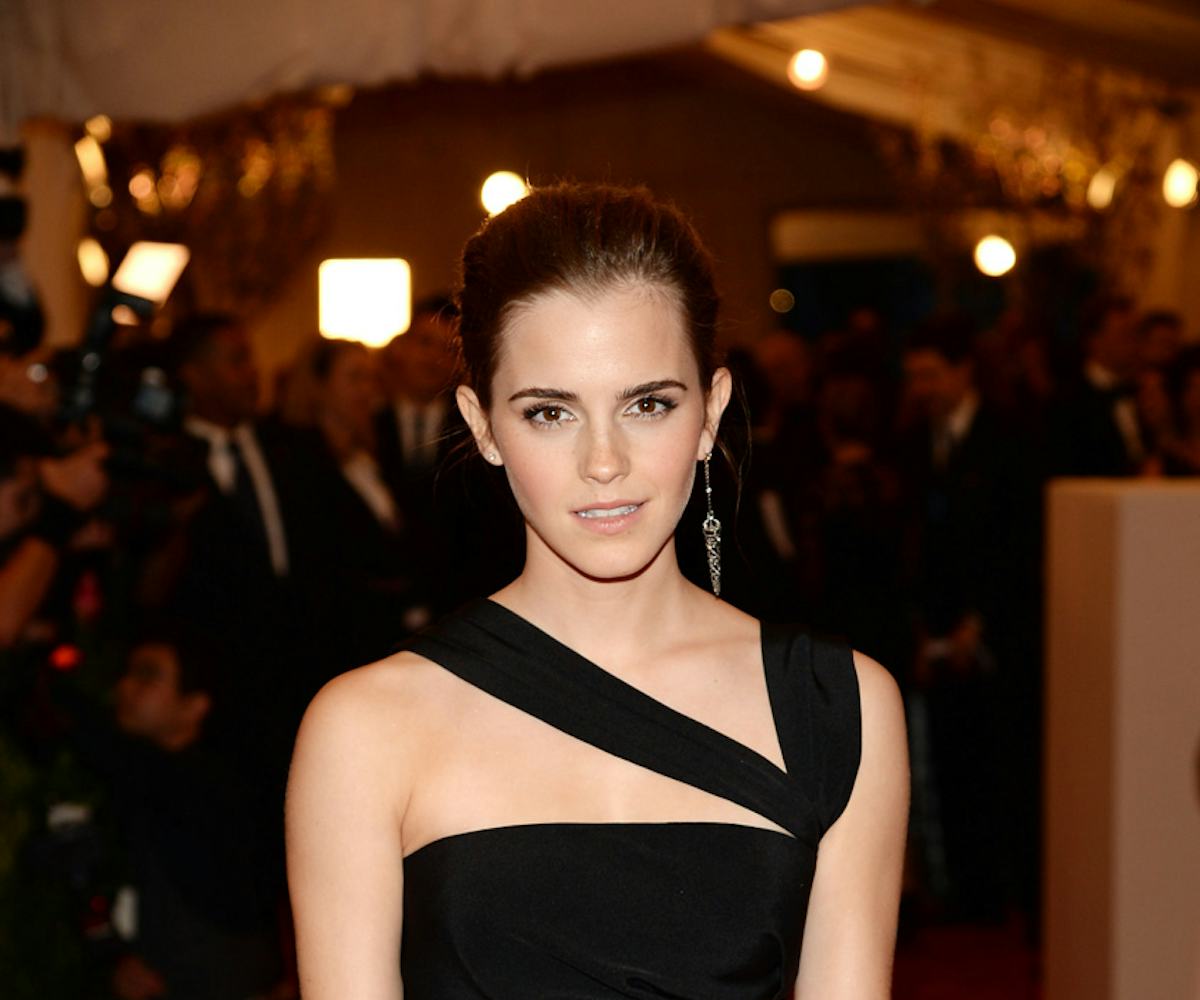 all photos by getty images
the bling ring
why you should copy emma watson's earring style.
There's a lot of things we'd like to borrow from Emma Watson, from her makeup artist to her stellar wardrobe, but the easiest (and maybe most fun) is her earring style.
Since the start of 2013, Watson has really upped her jewelry game. Gone are simple stud earrings or dangling gems--those classic pairings have been replaced by some truly cool ear cuffs, bar clip-ons, and even a double pearl stud. We scoured the internet to find styles super-similar to Watson's so that you can start your spring feeling like an A-lister too. Check them out in the slideshow.
THE LOOK: At the March 2014 premiere of Noah in Berlin, Watson rocked a Wes Gordon dress with Ana Khouri black hematite spike earrings. 
GET IT: Ana Knhouri Black Hematite and Diamond Earrings -- $5,430
THE LOOK: 2014 Academy Awards Emma Watson is one of my favorite Watsons. She rocked a Vera Wang dress with an Anita Ko ear cuff, the latest in her collection of many aural adornments
TRY IT: Anita Ko Gold and Diamond Ear Cuff -- $2,265
THE LOOK: In London Watson sported Sophie Bille Brahe's "Emma" pearl ear cuff, that immediately sold out on Net-a-porter after her wearing it.
TRY IT: Bing Bang Monroe Duet Earrings -- $68
THE LOOK: After the 2014 Golden Globes (don't worry, the solo pearl earring from the red carpet is our next photo) Watson donned yet another ear cuff, this time from Parisian brand Repossi. 
TRY IT: Repossi Black Diamond and Black Gold Ear Cuff -- $5,005
THE LOOK: Ah, yes, the seminal one earring moment from the Golden Globes. Along with her awesome Dior tunic and pants, Watson added a single Dior pearl earring for a little something extra. We're not mad about it one bit.
TRY IT: HandShoe Double Pearl Earrings -- $25.58 
THE LOOK: At a 2014 screening of The Bling Ring, Watson went minimal on her own bling (sorry, I had to), and opted for some simple diamond bar earrings.
TRY IT: Urban Outfitters Rhinestone Bar Earring -- $8
THE LOOK: Watson caught a wave with her squiggly ear cuffs from Graziela at the LA premiere of The Bling Ring.
TRY IT: Graziela Wave Ear Cuffs -- $290
THE LOOK: At the premiere of This is The End, Watson opted for a more traditional earring and a faux bob.
TRY IT: Stella and Bow Pugsley Earrings -- $38
THE LOOK: Oh hey, ear cuff, good to see you again at the Cannes premiere of The Bling Ring.
TRY IT: Nasty Gal Crystal Ear Cuff -- $15
THE LOOK: And now the moment it all started. At the 2013 Met Ball, Watson wore just one dangly earring with her Prabal Gurung dress.