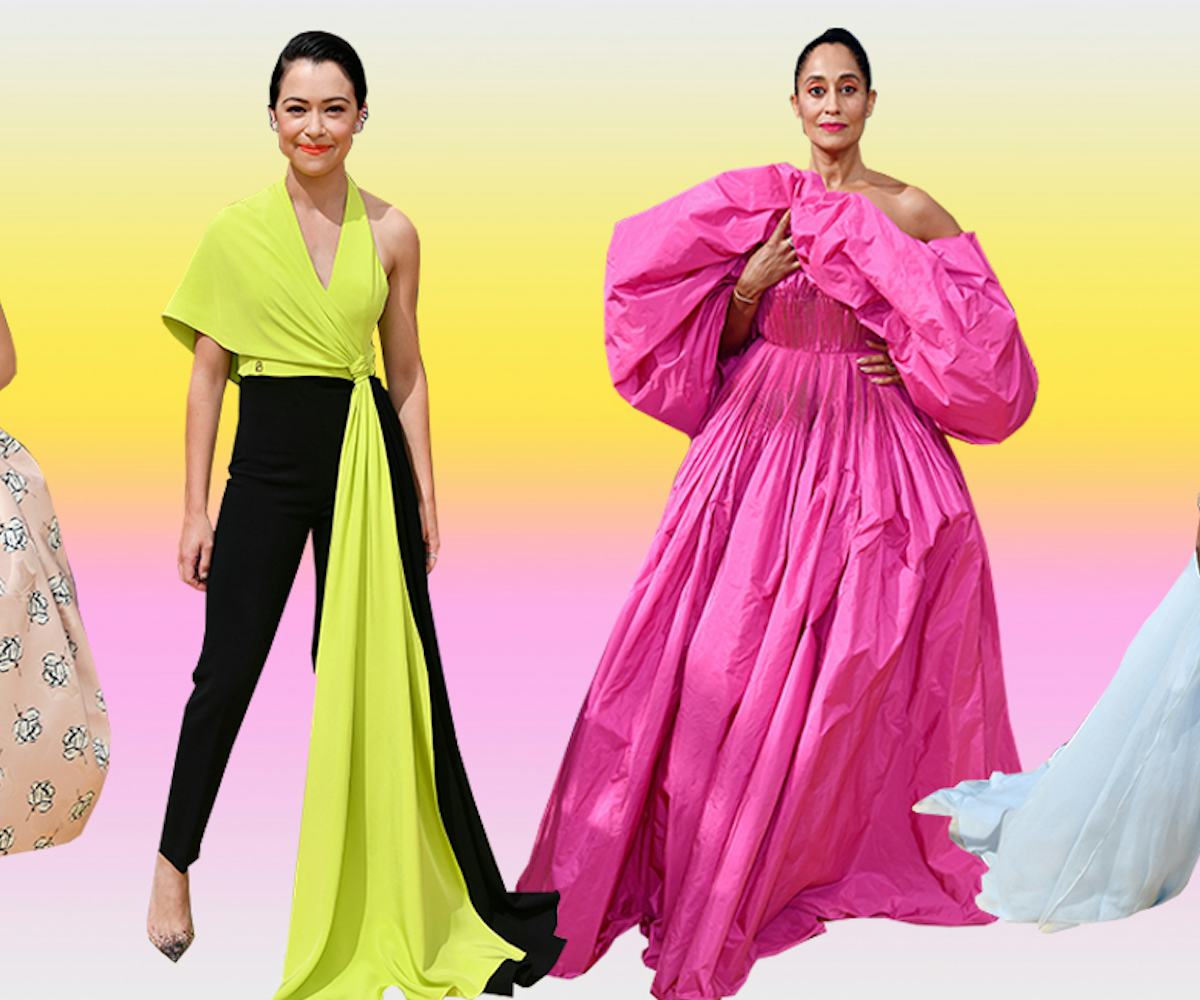 Photos from Getty Images
Our 18 Favorite Looks From The 2018 Emmys
Call it the fashion month effect, but celebrities attending the Emmy Awards this year did something a little different: They had fun with their red-carpet looks! We're talking color (and lots of it!), embellishments, pantsuits, and our personal favorite, a Getty Images-branded purse. We don't know what's in the water over in California, but we hope it stays there for the rest of awards season.
With awards getting the national attention that they do, there were also some political moments. Jenifer Lewis showed up in a Nike sweatshirt in support of Colin Kaepernick, Glow director Jesse Peretz's wife, Sarah Sophie Flicker, accessorized her arm with "Stop Kavanaugh," and Evan Rachel Wood wore an ACLU ribbon to support the organization's fight to reunite immigrant families separated at the border. It's an exciting night already, and we're just talking clothes.
Ahead, we roundup our favorite fashion looks of the night. Be it Millie Bobby Brown in a precious princess dress or Tracee Ellis Ross in a billowy cloud of fabric, there's a lot to love here.
Green (specifically, Dior couture green) is definitely Dakota Fanning's color.
Forget your overpriced designer-loaned gowns—if you really want to make a fashion statement, take after Jenifer Lewis and wear a simple Nike sweatshirt. She also took the time to send a message to Colin Kaepernick while on the red carpet, stating: "Thank you Colin. Thank you for all that you do. Thank you for being brave. Thank you for being courageous. Thank you for taking a knee."
Tatiana Maslany found a way to do pants and a train, courtesy of Christian Siriano.
Another pantsuit gem, this time on Issa Rae and designed by Vera Wang. 
Tiffany Haddish asked Prabal Gurung to make her a custom dress inspired by the Eritrean flag. The result: This gorgeous multi-colored gown.
We're rooting for Sandra Oh to take home an Emmy tonight, not only because she'd be making history while doing so, but because we want to see this dress take center stage.
Holy bubblegum Haute Couture Valentino goddess, Batman! Here, we have Tracee Ellis Ross proving yet again that she's worthy of being on every best-dressed list ever.
Of course we can always count on Millie Bobby Brown to bring a princess moment to the red carpet.
Michelle Dockery is a vision in Carolina Herrera blue.
We're absolutely mesmerized by Westworld's Angela Sarafayan's Christian Siriano gown.
We're excited that everyone decided to lean into color this year. Black-ish actress Marsai Martin's adorable pastel ombré moment is one of our favorites of the night.
Christian Siriano delivers with this cotton candy pantsuit for Leslie Jones.
Queen of pantsuits Evan Rachel Wood, opted for her usual look, but added an Altuzarra floor-length jacket this time around.
We, personally, aren't daring enough to wear velvet during summer in California, but we also aren't Zazie Beetz in Ralph Lauren Collection.
We've never loved a halter dress more than this one seen on Yara Shahidi.
Friends who walk the red carpet together—and look stunning while doing so—stay together. Case in point: Ilana Glazer and Abbi Jacobson. Yas, queens!
We're so grateful that Thandie Newton and Brandon Maxwell invented the color pink.