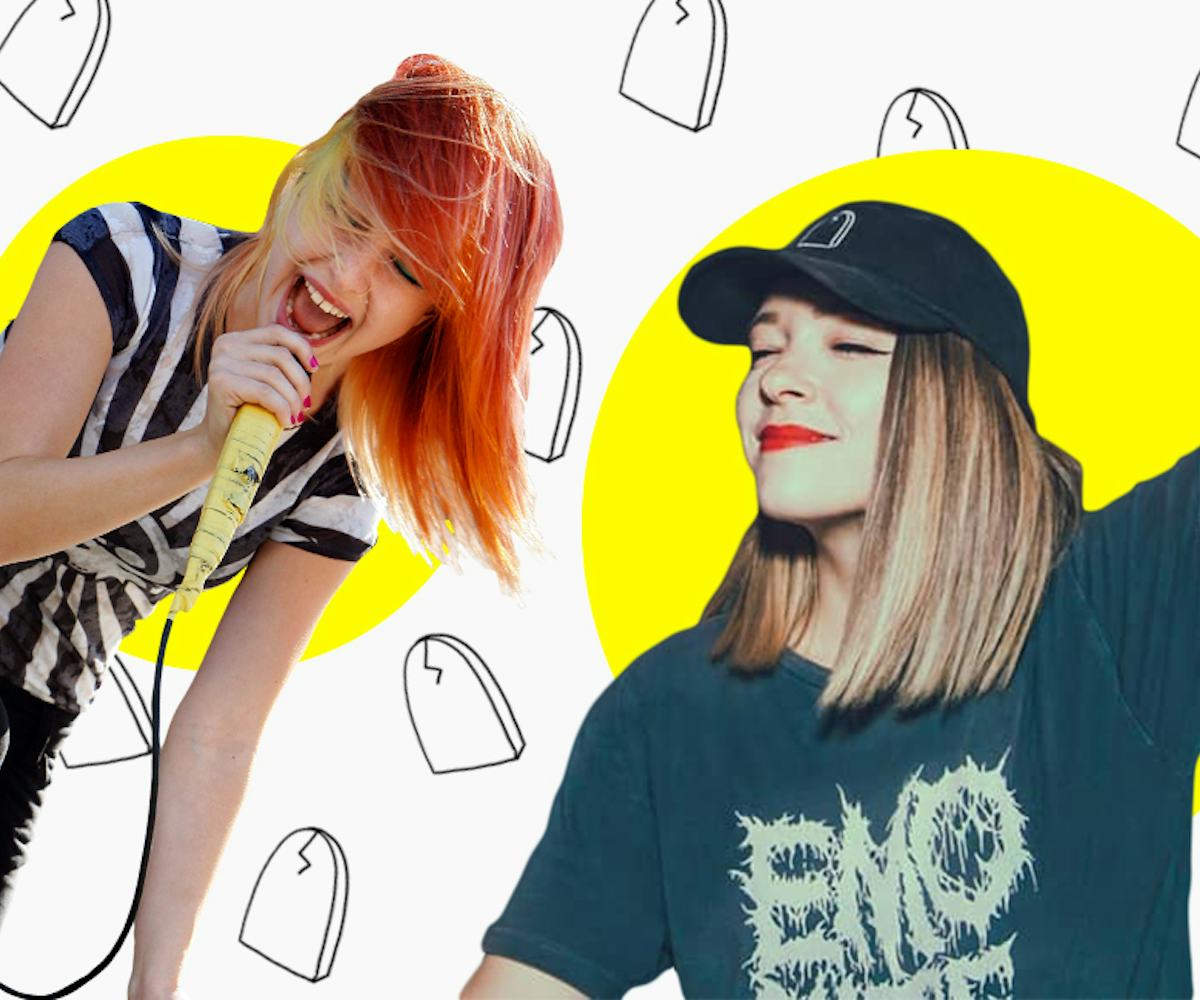 Graphic By Lindsay Hattrick.
Emo Nite's Babs Szabo Is Transforming A Toxic Scene Into A Safe One
Many articles have already been written about the cult phenomenon that is L.A.'s Emo Nite. A place that capitalizes on Myspace-era nostalgia, Emo Nite has solidified itself as the meeting ground for fans of mid-aughts pop-punk emo—old and new—and has subsequently become an L.A. nightlife staple. With guest DJ sets by Warped Tour superstars of yesteryear, surprise performances by the likes of Demi Lovato (who once covered Paramore's "Misery Business" on the fly), and everyone from Kristen Stewart to Cole Sprouse coming to just hang out, the motto has become "anything can happen at Emo Nite"—and, for the most part, it's been Babs Szabo's doing.
Alongside co-founders Morgan Freed and T.J. Petracca, Szabo has been running the legendary night for the past four years with a bare minimum of resources and a whole lot of naysayers working against her. Those naysayers have vanished and the resources have increased, and the crew still regularly sells out nights, plus puts on shows internationally, and has accrued cult status amongst a group of die-hard fans. And within this setup, Szabo has become the much-lauded organizational powerhouse behind it all. An incredible feat, especially when you take into account the fact that, in addition to the party, Szabo also runs Ride or Cry, an in-demand creative agency birthed from Emo Nite that now sits pretty atop a large deal with Paramount, a reel of big-budget music videos, and a roster of heavy-hitting clients like the United Talent Agency and Pabst Blue Ribbon. 
However, it's difficult enough being a female promoter, let alone the HBIC for an operation that has become synonymous with the emo revival. After all, it's a scene that hasn't exactly aged well. But it's also one that's undeniably impacted an entire generation who felt ostracized and misunderstood—those who found some semblance of solace within forums like Friendster and Myspace that connected them to other weirdos near and far. And while there's value in revisiting something that so perfectly encapsulates the existential, alienating angst of adolescence, Szabo is quick to note that the lingering problematics of the genre can't be ignored. 
"It's all these little things I point out to Morgan and T.J. now," she says, noting that while it can be difficult to be proactive, the payoff is worth it in the end. "They're totally different people then when I first met them. But just like pointing stuff out—like when dudes in meetings talk over me—has helped them grow." I ask her about the party itself, and whether that mindset has changed the way they organize Emo Nite. "Absolutely," she says firmly. "Emo Nite is a safe space. It always will be."
It's a statement not to be taken lightly. In the years since pop-punk emo peaked, a growing number of disturbing allegations have surfaced—namely involving big name bands who leveraged their notoriety in order to get close to their underage fans. Just look at the accusations surrounding Brand New, The Getaway Plan, and numerous others who took advantage of their substantial and very impressionable teenage fan bases.
Not only that, but emo also became a space notorious for fostering toxic masculinity, dominated by an assortment of romantically spurned boys writing lyrics reeking of misogynistic disdain. It was a scene that canonized angst, particularly of the lovelorn variety. And the eyeliner-donning, girl jean-wearing "sensitive boys" emo kids idolized could scream almost anything and still connect with a group of teens who longed to listen to music reflective of their own internal turmoil. As such, emo soon became a place where boys with an outsider complex were not just accepted, but idolized—and the negative effects of that have reverberated into today.
At one point, we all eagerly sang along to these types of songs—merely connecting with the pure angst of every guttural growl and pained expression of undiagnosed depression we picked up on. However, as Jessica Hopper pointed out in her 2003 essay "Where the Girls Aren't," emo provides ample female objectification, as "every record was seemingly a concept album about a breakup, damning the girl on the other side." 
"Emo's contentious monologues—these balled-fist Peter Pan mash-note dilemmas—have now gone from being descriptive to being prescriptive," Hopper wrote. "Emo has become another forum where women were locked out, observing ourselves through the eyes of others."
And though the scene itself has begun to reach a reckoning of sorts, progress has still been abysmally slow. And it's probably thanks to the deep threads of misogyny that still underlie a scene that repeatedly distilled women to being "just a line in this song."
However, it's a start, and Szabo likes to see this as more of an opportunity than anything. An opportunity to educate and, more importantly, set a precedent: A zero tolerance security policy, a hyper-vigilant crew, no more triggering songs by alleged abusers, a bill that always tries to book a woman or two (despite the pickings being extremely slim).
"One of the main things we always promote at Emo Nite is for everyone to take care of each other," Szabo said. "In the beginning of every night, we'll get on the mic and say, 'No matter what happens tonight, look out for those people that are around you, and just be nice to each other.' And, the thing is, I think, in the four years that we've been doing Emo Nite, there's only been one fight. People mind themselves. It's about the music to them."
Chalk it up to the maturity that comes when one grows up, or rapidly changing social mores. Either way, it's fertile ground to set a new precedent—one sans harassment or confrontation. Perhaps it's something that will also start to affect the art itself as well. After all, while we have a soft spot for a good breakdown, there have been moments where a nostalgia listen will turn into a disappointing dissection of blatantly fucked-up lyrics.
"There've been a lot of times where I would really dive into the lyrics of some of these songs and kind of get bummed out about it. But, I think at the end of the day, I try to just look at the positive ways in which it has impacted my life," Szabo said, emphasizing the fact that the emotional connection you form to music isn't (and probably shouldn't be) reflective of your current mindset. 
"Like, think back to like high school and who you were as a person. You've changed so much," she continues, "It's cool to be taken back to a time where you become who you are now. Where you felt all these emotions and used these songs to kind of cope with that." 
We compare the music of our youth to a time capsule of sorts—something to tether us to a simpler time when the craziness of now grows to be a little too much. If anything, I've grown to see events like Emo Nite as cathartic. Nostalgic to the point where you remember the good and the bad, but the things that ultimately made you who you are today. In a world that's constantly bombarding you from all sides, reminding you of your roots isn't exactly the worst thing—and perhaps that's why Emo Nite itself is such a perfect reincarnation of a movement we should be expecting better of. And that's what Szabo's here for.