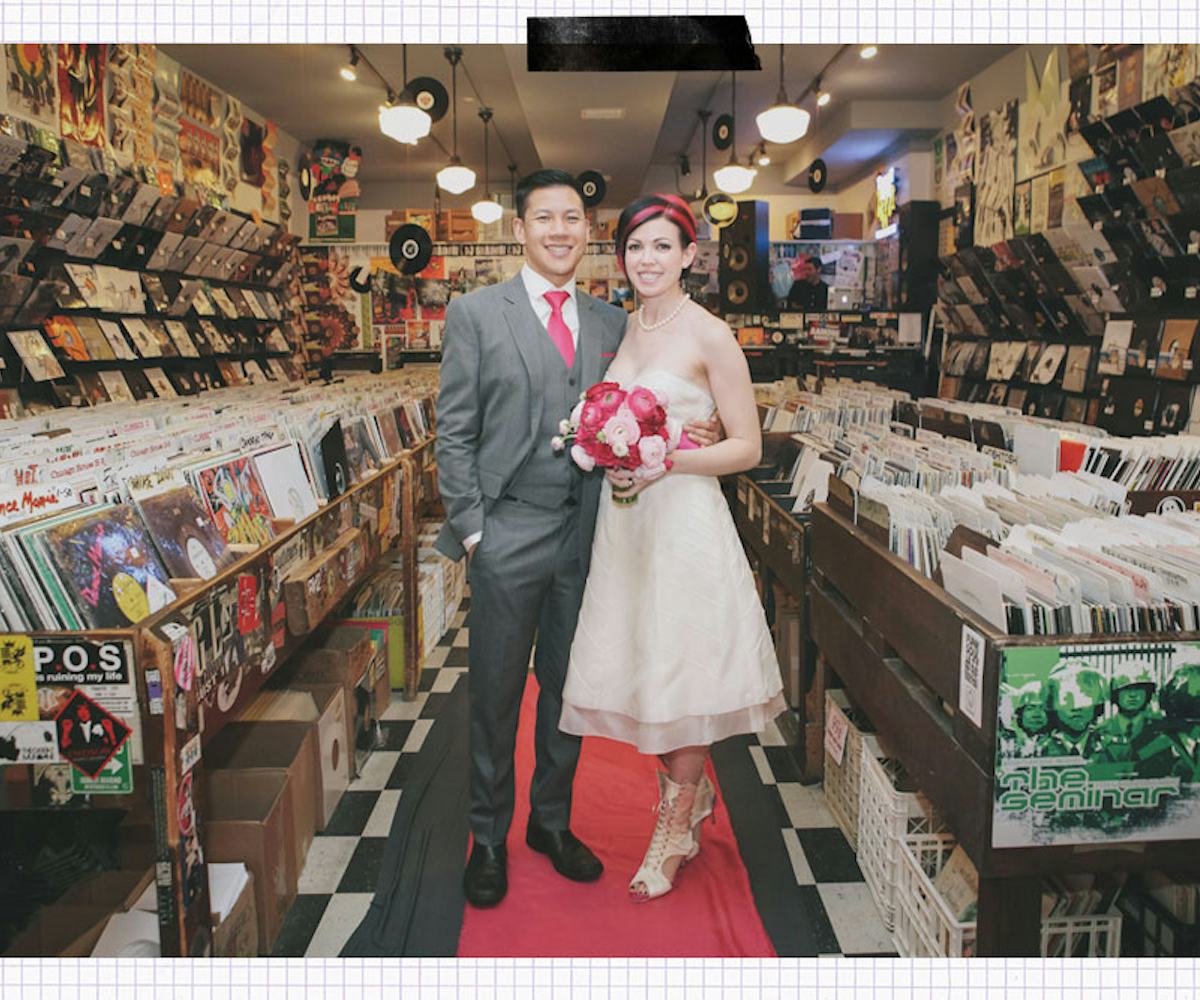 Photo by Jennifer Catherine.
Why I Got Engaged After A Month Of Dating
spolier alert: we're still happily married
Whenever friends ask for relationship advice, I'm hesitant to dole it out. "Remember … you're talking to me," I'll say, and we all laugh. Yes, as a DJ I might be in an industry not necessarily known for stability, but somehow I've always bucked that stereotype. However, despite the fact that people know me as a straight shooting, dependable, got-her-shit-together kind of person … I have a noticeable aberration on my life's resume. I got engaged to someone after less than 30 days of dating.
Before I met my husband Fei I was a serial monogamist, but not one for marriage. I clocked two years here, five years there–but never once did the idea of eternally committing to anyone ever enter my mind. I wasn't a girl who doodled wedding dress sketches, or fantasized about what flowers would be in my imaginary perfect bouquet. It wasn't so much that I was anti-marriage, but more that I didn't place importance on it in terms of fulfilling any piece of my life. This nonpartisanship with nuptials is what made meeting Fei feel that much more momentous. I was immediately hit with a connection so seismically electric it flipped a switch in my brain that had previously been dormant.
I very clearly remember the first night I met Fei. As part of Chicago-based party and DJ outfit Porn & Chicken, he booked me to play the weekly event, and I was thrilled; the party had a reputation, and I had been itching to play it for some time. The night I was set to DJ was military-themed and I went all in, scouting a vintage uniform cap and sewing together authentic canvas gaiters to make a badass corset. When Fei, decked out in tactical gear, greeted me at the front of the club, it felt like a scene straight out of a rom-com; the world centered on my slack-jawed face with the camera quickly zooming in for a reaction shot. This wasn't just "oh, you're cute." I felt drawn to him in a way I couldn't explain. We hit it off, and, armed with a glass gun filled with Jameson, worked the photo booth before I hit the DJ booth for my set.
Looking back on those pictures now, it's hard to believe it was the first time we met. We could have been mistaken as a couple, completely comfortable with each other. There we are, Fei scooping me up in his arms. There we are, my hand on the side of his face while I gaze into his eyes. I felt natural. I didn't know it at the time, but a girl I went to grade school with was there, and Fei happened to be friends with her. He told her that night we were going to be together. It didn't take long for me to get the memo.
We stayed in touch but it wasn't until four months later that we went on our first date. I readily admit I was palm-sweating nervous. I wanted to impress Fei and do something out of the box, so I suggested we buy cupcakes from a local store and bring them to the staff at Gramaphone records in honor of Record Store Day. We chatted up the employees, got hopped up on sugar with them and Fei and I did some crate digging. From there we trekked over to The Mid nightclub for a show with electro artist Wolfgang Gartner. We hung out by the lighting engineer's booth and I desperately tried to play it cool, casually chatting up friends to distract myself from how simply looking at him made all my synapses misfire. The connection between us was palpable. It was something my ultra-rational brain didn't know how to comprehend and store away in neat, sectioned containers. My feelings for Fei overwhelmed me.
Things became a blur. We went from seeing each other every other day, to staying with each other every night, to officially declaring boyfriend/girlfriend status, all almost immediately. I never questioned it, and, our friends didn't either. They stayed on the sidelines, cheekily discussing our relationship with a knowingness that we hadn't yet attained. Everyone approved, and was pretty certain about where the road was headed … they just didn't know how fast.
Three weeks after that first day, I was back at Porn & Chicken for their Vegas Wedding-themed night. Fei wore a tuxedo T-shirt, I had a Maddona-esque corset on, loads of pearls, jeans, and a chintzy tiara hot glued with a veil and cake topper. Snagging a couple of the prop tin rings that were scattered across the bar, we played up the parts. He got down on one knee to pretend propose before we hit the photo booth for a mock "just got married" bit. I flashed my swag 5 cent ring while we both shot Jameson straight from the bottle, as if we had just left the strip's infamous Little White Chapel. They were Oscar-worthy performances, for sure. That next morning I roused from my haze, the toy ring still on my finger, and put it away in Fei's bathroom cabinet, shelving it as a souvenir.
That tin ring sat in darkness, a near-forgotten memento in the back of the cabinet. Then one evening in bed, while flipping through photos from the Vegas Wedding-themed night, we started joking about all the what-ifs. What if we got married? What if we ran away to Vegas to do it? What if we did it, like, this weekend? There was a sudden hush as we both realized that deep down, we weren't joking at all. Something inside of me suddenly knew what to do, and it wholly went against every bit of my risk averse personality. I got up, grabbed the toy ring from the bathroom cabinet and then crawled back into bed, dropping it into Fei's already outstretched hand. He promptly put it on my ring finger, and we hugged. There was no, "will you marry me," no bent knee … just an implicit understanding with a party favor ring. There you have it, we were engaged, 29 days after that first official date.
Realizing most people, especially our families, might think we had completely lost it, we waited a few months to spill the news, then took a leisurely two years to plan the big day and, let's be honest, get to know each other. On May 5, 2013, we recreated that first date with cupcakes and a ceremony in the very same record store, surrounded by our loved ones.
It's now been nearly three years, and I can't imagine life any other way. Sure, like any couple we bicker about who takes out the trash in winter, or dishes left in the sink, but life is just as exciting with Fei as the day we met. We still party together, DJ clubs and festivals together, and travel the world together (we're currently planning a Moroccan camel trek for our upcoming anniversary). Some think getting married is terrifying, a promise that just isn't feasible, but that's the biggest misconception ever. You don't get married because you want to commit to a certain someone; you get married because you can't imagine life without that certain someone.
Sometimes, I learned, you just gotta trust your instincts.