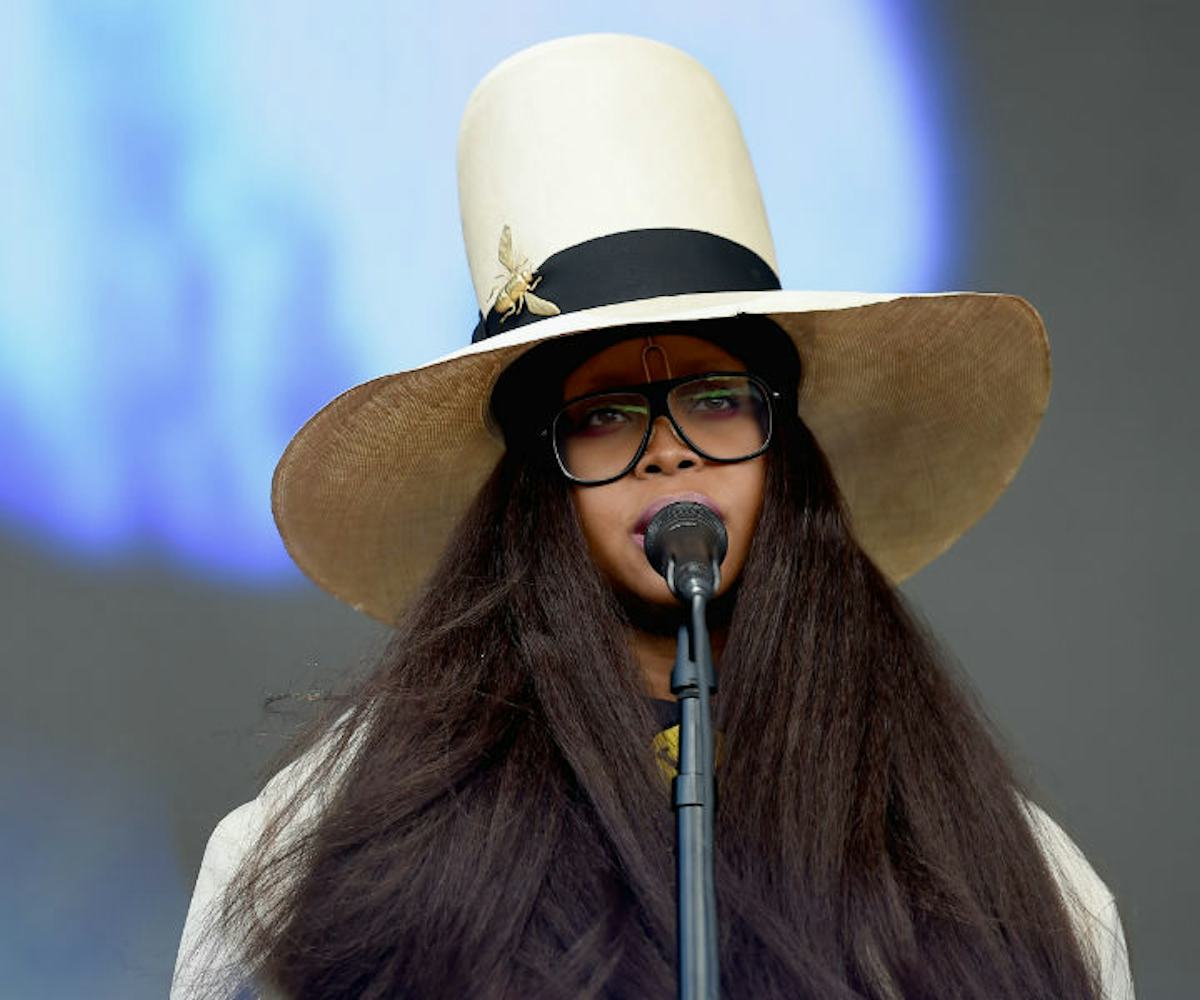 Photo by Nicholas Hunt/Getty Images.
Erykah Badu Says She "Saw Something Good In Hitler" In New Interview
And that she can't be angry with Bill Cosby
Erykah Badu is stirring up some controversy after expressing empathy for Adolf Hitler and Bill Cosby in a recent, cringe-worthy interview with Vulture.
Writer David Marchese starts out by asking the singer how she's managed to stay relevant to younger listeners, then gets into whether one can separate art from the artist, which is where Cosby, who has been accused by at least 35 women of abuse, enters the conversation. "I weigh everything. Even what you just asked me, I would have to really think about it and know the facts in each of those situations before I made a judgment," Badu says. "Because I love Bill Cosby, and I love what he's done for the world. But if he's sick, why would I be angry with him? The people who got hurt, I feel so bad for them. I want them to feel better, too. But sick people do evil things; hurt people hurt people."
She continues to explain that people who do bad things aren't necessarily all bad. "Maybe they need to get kicked off the planet," she suggests. "I don't know. Each thing is individual. There aren't rules for how we can or should think about something. We don't have to believe everything we're hearing. At least I don't think we do." With that in mind, Marchese pivots the conversation to ask Badu about her past statements where she allegedly defended Nation of Islam leader Louis Farrakhan, who's been known for holding anti-Semitic views. Badu clarifies that she never made a statement about Farrakhan though she does appreciate what he's done for a lot of black Americans. "But I'm not an anti-Semitic person. I don't even know what anti-Semitic was before I was called it." She then goes on to drop this bomb, unprompted: "I'm a humanist. I see good in everybody. I saw something good in Hitler."
When the writer questions her on the statement she makes afterward, which is that Hitler "was a wonderful painter," she backtracks. "Okay, he was a terrible painter. Poor thing. He had a terrible childhood." And then goes on to place the blame for her twisted logic on… being a Pisces. "I don't care if the whole group says something, I'm going to be honest," she says. "I know I don't have the most popular opinion sometimes."
Badu also sparked controversy back in 2016 when she said young girls should wear longer skirts to school so "male teachers are not distracted."
You can read the questionable interview in full here.