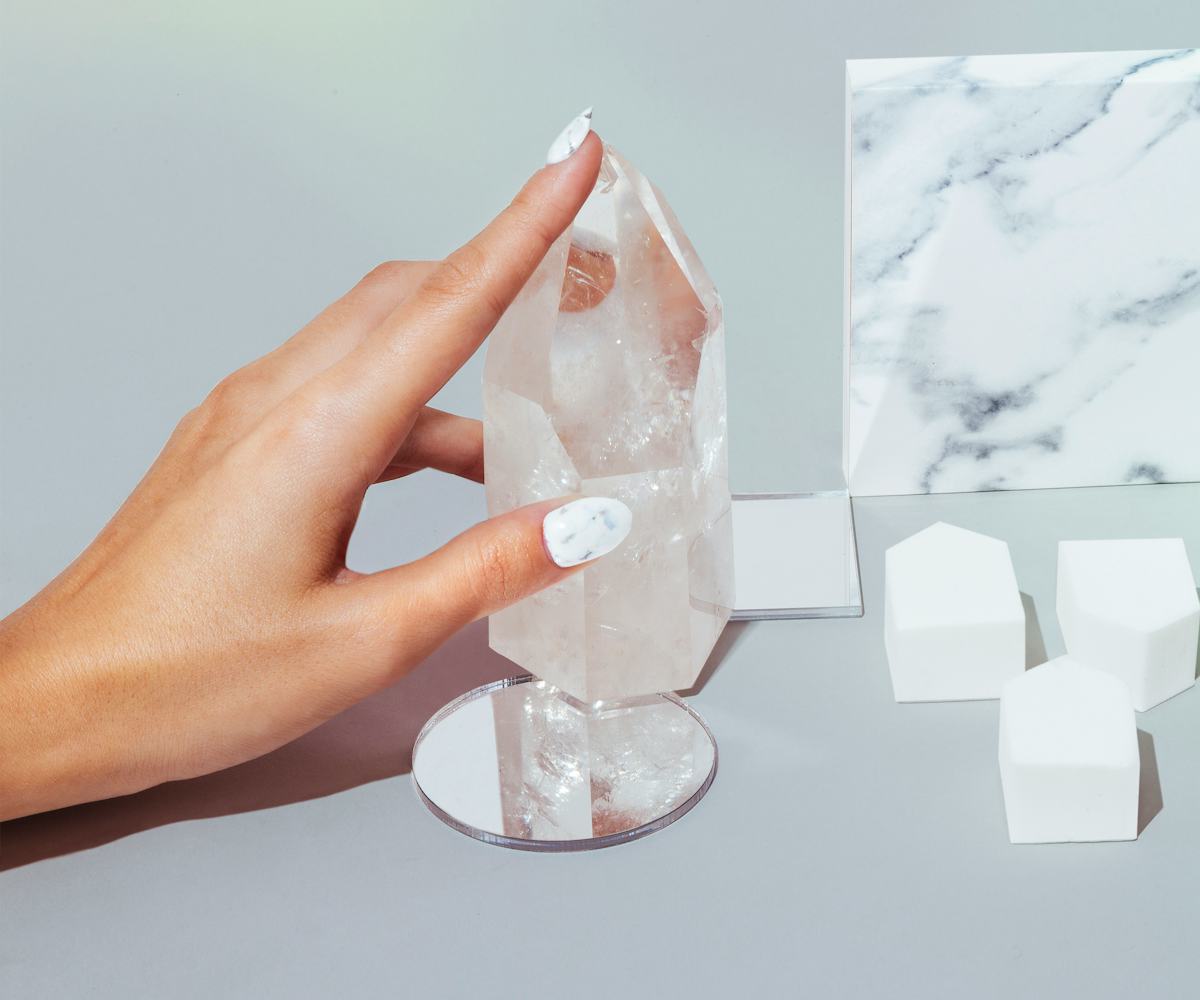 Photo by Savanna Ruedy
The Guide To 8 Essential Crystals That Everyone Should Own
From attracting love to good vibes, consider this your guide
Since ancient times, it's been believed that crystals hold special healing properties that can help with almost anything—from managing stress and anxiety to manifesting money and attracting love into your life.
However, navigating the world of crystals can sometimes be overwhelming. Being that there are so many specimens out there—and many with similar properties—it can prove to be a challenge to figure out which ones you truly need.
We turned to experts Remington Guest and Heather Haber, the brains behind Advisory Board Crystals, for the answers to all of your questions related to the metaphysical objects. Haber and Guest, both formally of fashion label Band of Outsiders, first launched the crystal shopping platform last April. There, they meticulously curate each season based on a specific theme—whether it's thoughts, feelings, inspirations, moon phases, or astrology. 
Haber and Guest run the shop with the intention of making crystals—and their incredible powers—an essential part of the daily lives of modern millennials. Needless to say, we knew they would have some expert advice.
Firstly, how does one know which crystals are the right ones for them? While, of course, each one holds specific properties which you can research and decide on based on your needs, sometimes you just have to go with your gut. "Go with what you instinctually want," says Guest. "Did you see something orange and shiny you like? Go for that—go for what catches your eye. Sometimes you can visually find what you want. Reverting only to what a crystal does for you isn't always the best way of choosing."
Still, there are always the basics that every crystal owner should have in their collection. To help you get yours started, Guest and Haber filled us in on the eight essential crystals they believe that everyone needs to have around them.
Click through the gallery below to read more about each crystal, and what situation to use it in.
Photographer: Savanna Ruedy
Prop Stylist: Cecilia Elguero
Manicurist: Tee Hundley
Model: Kianna Louis @ Major Models
Citrine to focus the mind
If you're looking for something to help you seriously focus, look no further than citrine. "Citrine's energies work to activate nerve impulses, which strengthen intelligence and the intellectual faculties of concentration and wisdom," says Guest. "This leads to better outcomes in anything you need complete focus for. Whether you're studying for the bar or launching your own website, this is the stone for you."
Try keeping this one on your desk or at your workspace to reap its benefits.
Citrine, $51, available at Advisory Board Crystals.
Rose quartz to attract love
Is the love in your life feeling a little lackluster? The gorgeous pink rose quartz is here for you. "Rose quartz is the best crystal to carry around with you if you're looking for love," confirms Guest. "Its energies attract new love and support ongoing love in existing relationships. It's beneficial to think about dropping this love stone into your bag before you step into your next uber pool."
Bonus: Sleeping next to rose quartz can help promote beautiful dreams. Sign us up.
Rose Quartz, $4, available at Advisory Board Crystals.
Labradorite to sharpen intuition
Whether you're looking for a little more magic in your life or trying to better trust your gut, labradorite is the stone for you.
"Labradorite is the stone to increase intuition and allow your innate magic powers to surface," says Guest. We suggest carrying this one in your pocket to help you through whatever situation life throws at you.
Labradorite, $15, available at Advisory Board Crystals.
Chrysocolla to calm anxiety
Does something have you feeling anxious? We all know how debilitating that can be. Luckily, chrysocolla is here to help calm your nerves.
"Chrysocolla is a really great crystal to have with you that will help calm anxiety, especially if it's stemming from a problem with communication," says Haber. "The energy from this crystal will invoke your inner strength, so you can stand up to you know who."
Chrysocolla, $6, available at Advisory Board Crystals.
Moonstone to aid in meditation
Moonstone is a stone for new beginnings, strongly connected to one's intuition, the moon, and feminine energies. If you're looking to meditate, Haber suggests moonstone as your choice of meditative stone, as it brings good fortune and happiness. "Take it with you to a meditative yoga class on a full moon, possibly keeping it closely hidden in your secret yoga pants pocket," says Haber.
Moonstone, $9, available at Advisory Board Crystals.
Pyrite to manifest success
Pyrite is a uniquely protective and shielding stone used for manifestation. With that being said, it's particularly helpful when you're trying to bring about success and wealth. "Think 'money, power, respect,'" says Guest.
This is a handy crystal to have with you in the workplace if you're looking to get that raise or promotion.
Pyrite, $12, available at Advisory Board Crystals.
Clear quartz for good health
Body feeling a little out of whack? Turn to clear quartz to help heal you from the inside out.
"Clear quartz is an extremely powerful healing and energy amplifier—absorbing, storing, releasing, and regulating energies of the body," says Haber. "They are extremely high-vibrational stones that have an amazing master power for healing any condition. They carry a high level of life force energy, which is extremely useful when you are trying to fight a cold or boost your immune system in general. As we know, better immune system leads to better everything—from skin to sex!"
This stone also helps amplify the energies of other crystals, so it's definitely a must-have.
Clear Quartz, $6, available at Advisory Board Crystals.
Citrus aura blossom quartz for positive vibes
If you're ever feeling down in the dumps, stressed, or someone/something is trying to rain on your parade, the stunning citrus blossom aura quartz is here to cheer you up. Signifying joy, hope, and optimism, it's the perfect remedy for any blues.
"Citrus blossom aura quartz is the perfect crystal to keep with you—or keep in the center of your workspace—on a daily basis to help bring out the positive, bright side of any situation," says Haber. "You can truly feel the radiant energy of this crystal, and we definitely all need extra radiance at all times."
Not to mention, it's really pretty and would make a great decoration for any space.
Citrus Blossom Aura Quartz, $30, available at Advisory Board Crystals.