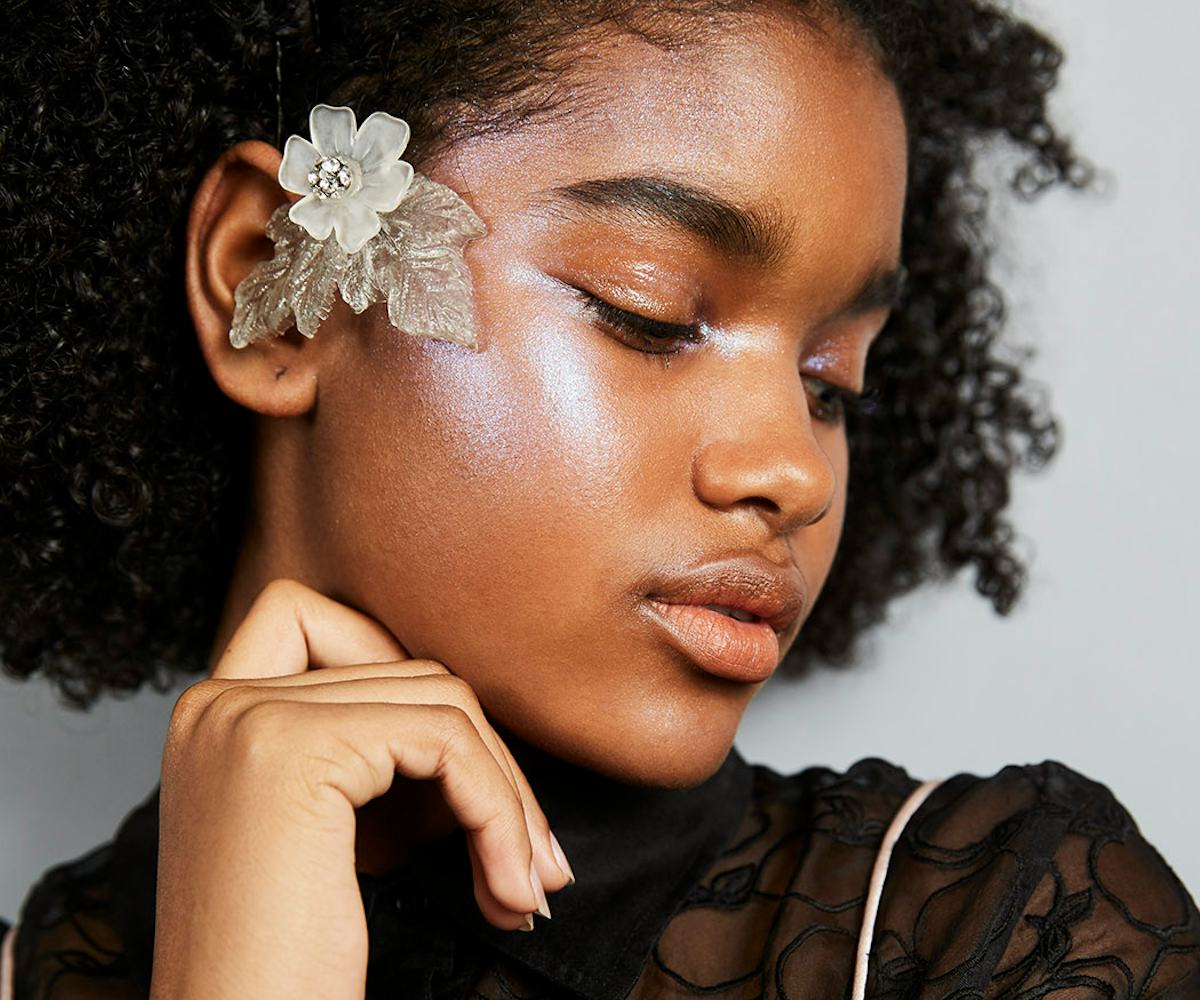 Photo by Lauren Perlstein
Six Dreamy Beauty Looks To Try This Holiday Season
When we think of holiday makeup, there's probably one thing that immediately comes to mind: an excessive amount of sparkle. Alas, we decided that this year, we're stepping away from the typical. Rather than the flashy, glitter-laden looks we're used to seeing this time of year, we're taking a more whimsical, ethereal approach to our makeup.
Below, we tried out six new trends that'll give your party look a bit of an update—leaving all that glitz behind. Whether you're waiting under the mistletoe or watching the ball drop, Champagne in hand, you're destined to be the coolest girl in the room.
Treat the below as your source of holiday party inspiration this season.
Photographer: Lauren Perlstein
Makeup: Lindsey Williams
Hair: Remy Moore
Manicurist: Tori Huang
Stylist: Jenna Igneri
Models: Aalyah at IMG, Laura at Supreme
Highlight your inner corners
Highlighting the inner corners of your eyes is a whimsy, understated approach to the metallic shadow we tend to pile on every holiday party season.
"Hints of metal can be a fresh statement, rather than doing an entire eye of metallic," says makeup artist Lindsey Williams. "Pops in the inner corner of the eye create interesting focal points." To amp this look up, Williams suggests adding tiny crystals into the inner corners, which she applied with lash glue.
Danessa Myricks, Metal Powder in 'Supreme,' $15, available at Danessa Myricks; Avene, Thermal Spring Water, $18.50, available at Avene; Loose Swarovski crystals, artist's own; Ardell, Duo Lash Adhesive, $5.99, available at Ulta.
Laura is wearing an Arianne Elmy dress and Daniel Silverstain top.
Tone down your glitter lip
While the glitter lip is sure to be a hit this holiday season, stand out from the rest of the ruby reds and deep plums with a look that's softer and more ethereal.
"A glitzy lip obviously needs glitter, but I also love using opalescent tones as a base, then adding monochromatic glitter for a touch of sparkle, and layering gloss over the top," says Williams.
Obsessive Compulsive Cosmetics, Cosmetic Color Pencil in 'Trick,' $16, available at Obsessive Compulsive Cosmetics; Obsessive Compulsive Cosmetics, Lip Tar in 'Indrid,' $16, available at Obsessive Compulsive Cosmetics; Obsessive Compulsive Cosmetics, Clear Lip Tar, similar shades available at Obsessive Compulsive Cosmetics; Obsessive Compulsive Cosmetics, Cosmetic Glitters in 'Spark,' $15, available at Obsessive Compulsive Cosmetics.
Aalyah is wearing a Daizy Shely dress, BCBG top, and Lulu Frost earrings.
Apply pastel from lash to brow
A bold pastel eye has a dreamy and whimsical feel to it, even though it's intensely pigmented.
Williams suggests approaching this look the same way you would with a smoky eye. "Start dense in the lash line, and diffuse the color upward and out," she says. "Be bold by bringing the wash of color all the way up to the brow, sheering out the product as you go."
Keep the rest of the look simple and minimal to avoid looking overdone, opting for a sheer glossy lip and rosy cheeks.
Yaby, Concealer Pre-Set Palette, $115, available at Yaby; Tom Ford, Eye Quad in 'Cocoa Mirage,' $82, available at Tom Ford.
Laura is wearing a Bora Aksu dress and Erickson Beamon earrings.
Go for an iridescent highlight
While a good highlight is key to any party makeup look, a light-catching iridescence will transform you into an otherworldly goddess.
"The key to a killer highlight is layering," says Williams. "I like to use a highlighting cream base, then dust a shimmer highlight over the top of that. Buff both mediums well and diffuse over a generous area from the cheekbone to temple and even along the corner of the eye and brow."
The more intense the highlight, the more subtle the rest of your makeup should be, letting your cheekbones stand as the focal point.
Milk Makeup, Holographic Stick, $28, available at Milk Makeup; Danessa Myricks, Metal Powder in 'Daydreaming,' $15, available at Danessa Myricks. 
Aalyah is wearing an Allina Liu dress, Markus Lupfer blouse, and Heart Of Gold hair pieces.
Choose holographic over glittery nail looks
Rather than go for the typical sparkling holiday nail, try a holographic "shattered glass" nail; it still catches the light but is much more interesting—and surprisingly easy to do yourself. 
Manicurist Tori Huang started out using a layer of a base coat and two coats of pinky nude base color (though, you can use whatever color you prefer). Next, one finger at a time, she applied topcoat, followed by placing holographic cellophane she precut into geometric shapes with a tweezer, followed by a second coat of top coat.
JINsoon, Nail Polish in 'Ube,' $18, available at Net-A-Porter; Ocean Nail Supply, Glass Film, $2, available at Ocean Nail Supply.
Laura is wearing a J. Papa dress and Max Mara top.
Try this fresh, subtle take on graphic liner
We love the look of a bold, graphic liner, but sometimes our go-to black liquid liner can end up looking a bit harsh. Inspired by Pat McGrath's intense, sparkling take on the cat eye, we went for a more subtle approach. Using a metallic rose gold pigment, Williams traced graphic shapes around the eye for a look that still packs a sparkling punch, but is much more wearable.
Williams recommends using a liner similar to your metallic pigment to first sketch your desired shape. "This makes cleaning up and perfecting the shape easy!" she says. "Apply your pigment to the shape you've sketched, with easier precision."
Make Up For Ever, Aqua Eyes Waterproof Eyeliner Pencil in '10L Copper,' similar products available at Make Up For Ever; Make Up For Ever, Star Lit Powder in '12 Copper,' $21, available at Make Up For Ever.
Aalyah is wearing a Max Mara dress, Osman blouse, Daniel Silverstain jacket, and Alexis Bittar earrings.