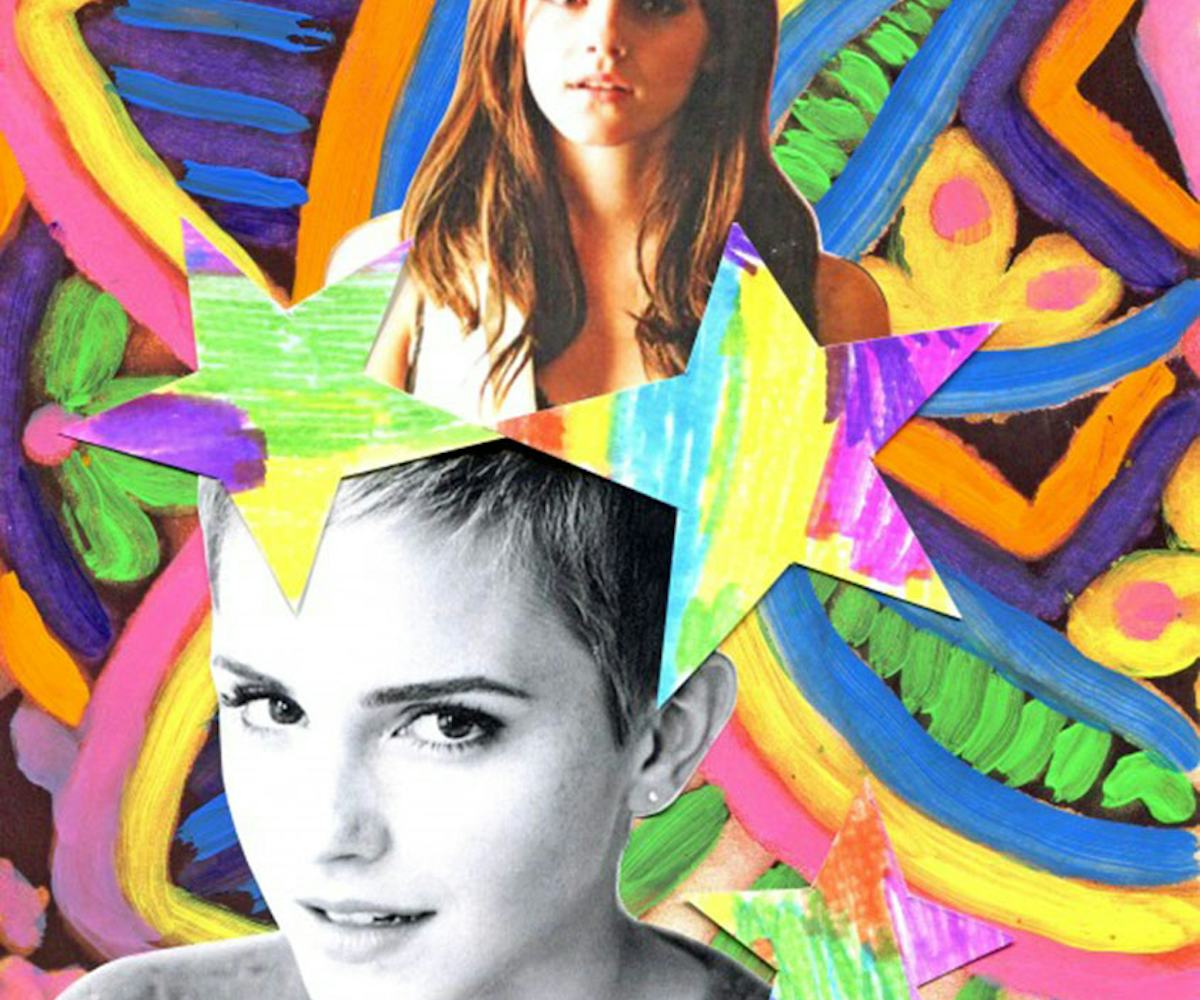 collage by minna via rookie mag
emma watson spills on why tavi is an amazing friend
"this sounds so cliché but she's just like you and me."
We know you've probably scooped up our October It Girl issue with cover girl Tavi Gevinson (it hit newsstands earlier this week), but now we've got some super exclusive extras that we know you have yet to see. And yes, it's safe to say that Emma and Tavi bond over acting, the film industry, staying grounded, and so much more.
FROM THE ISSUE:
"I remember reading an article on Rookie and wanting to know who wrote it. It was Tavi, so I started following everything she wrote. She has the most amazing ability to articulate ideas that are very difficult to put into words. She can make something so complicated seem simple and straightforward, and I think that's why girls want to read Rookie. It provides a touchstone, a sense of comfort."
"But it wasn't until a year and a half ago that I actually met Tavi, when she interviewed me for Bling Ring. She came to my apartment with her dad, and I felt an instant connection. I understand what it's like to be a young person in an industry that is much more grown up than you are. I remember that feeling of having to be chaperoned by my dad to a Chanel after-party and being stuck between two worlds—trying to juggle a professional life and homework. We bonded over how strange it is to explain to your contemporaries what you're doing outside of school, and trying not to sound really arrogant and self-involved, but at the same time not lying about what you're doing."
"When she was interviewing me, I opened up to her in a way that I wouldn't with any other journalist, because I felt that she was vulnerable, too, and we had so much common ground. Tavi's just very authentic, and for someone so young, she is remarkably self-possessed. You just feel that you can trust someone like that. We've been supporting each other ever since that interview."
"I'm not surprised she's gotten into acting, because she's such an intriguing character in her real life..." - Emma Watson
"Sometimes she'll email me and bounce ideas off of me, and I'll do the same. When I took my position as a goodwill ambassador for UN Women, I asked her to read through something I was writing, and she very kindly did. In turn, she's asked me some questions about acting and other small pieces of advice. I'm not surprised she's gotten into acting, because she's such an intriguing character in her real life that of course people would want to see her on screen or on stage."
"I think people are so drawn to her because there's no such thing as high or low culture with Tavi. She can talk about a couture collection, intellectual feminism, and Taylor Swift songs all with equal excitement. She's an interesting person, because she's interested—in everything. So when you're with her, the conversation never stops. I think she's pretty incredible, really."
MAJOR NEVER-BEFORE-SEEN EXCLUSIVE QUOTES:
"I felt that Tavi was a kindred spirit, really, and it's not very often that I meet young women who are in a similar position to mine. I felt very grateful to get to meet her, really.  When you meet her in person she's so articulate and she seems so well put together but she's also just a girl. This sounds so cliché but she's just like you and me. She's very accessible.  She's really enigmatic and also a very vulnerable, sensitive, open soul.  I hope that she knows that I'm here for whatever she needs, and I think she would say the same."
"I think so often we're surprised to see interviews where people seem to be working things out in such a public way, and I'm just wary that there just aren't that many safe spaces, so to have someone who will listen and who you can say something completely ridiculous to, that you don't really mean, or you can make mistakes with and kind of figure out what you think, without judgment, without criticism– it just gives you space to figure things out. And to get a second opinion. Tavi and I, neither of our parents are really from the film industry, and most of Tavi's friends aren't celebrities, same with me. We're kind of, both of us, entering into unchartered territory and it's scary. You don't always feel like you really know what you're doing, and discovering things for the first time, and so it's good to speak to someone who understands that."