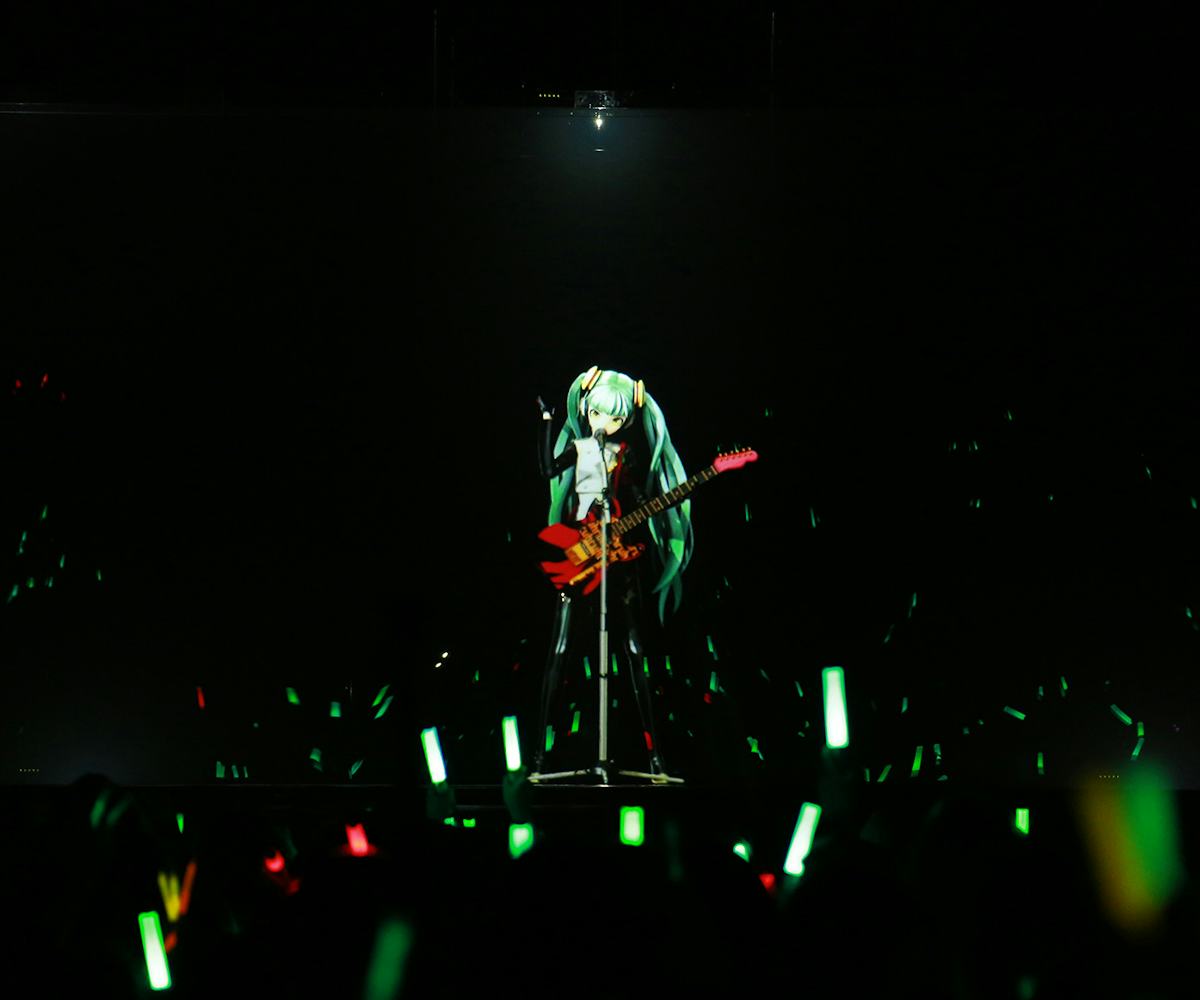 Courtesy of French West Vaughn.
Who (Or What, Frankly) Is Hatsune Miku?
The following feature appears in the June/July 2016 issue of NYLON. Buy it now (and receive a 15 percent discount off your next order!). Or, subscribe.
Hatsune Miku is a 16-year-old Japanese girl with major pop credentials: She's toured with Lady Gaga and collaborated with Pharrell. She sells out 60,000-capacity arenas in her home country and has inked deals with Toyota and Google. She's racked up hundreds of millions of YouTube views, inspired a fervent global fan base, performed on Late Night With David Letterman, and appeared in several video games. She even has a signature Givenchy dress. But here's where it gets interesting: She's a hologram. Yep, an anime-style, teenage version of the Tupac hologram that performed onstage at Coachella in 2012. Whoaaa, right? It gets even weirder: She's you.
Unlike other virtual music endeavors, including Blur frontman Damon Albarn and artist Jamie Hewlett's cartoon project Gorillaz, there is no behind-the-scenes Miku brain trust, no singular genius writing all the music, no visionary art director creating all the imagery. Instead, Hatsune Miku is a hub, a collective cyber avatar amplifying the creative efforts of her fans across the globe. The music she performs, the outfits she wears, and even the sound of her own voice are all crowdsourced. Her basic mold is a teenage girl with long blue pigtails, but the artist behind the facade may be a 58-year-old widower in South Korea or an 11-year-old school girl in Tennessee, all eagerly sharing their content on social media and Miku-specific online communities. "We then pick songs based on their popularity within the fan base," says Miku's manager Kanae Muraki of fan-made content selected to be featured at concerts, expos, and in official videos and album releases. 
Anyone can produce a Miku hit. Thus, all Hatsune Miku fans and creators are Hatsune Miku. It's escapism, 2016-style. Don't you want to be a futuristic musical avatar?
Click through the gallery to read the rest of the feature.
Inside the venue, the sold-out crowd is mesmerized by a live performance from the woman of the hour. Numerous versions of the star performing in different outfits, hair colors, and musical genres appear on a clear, rectangular screen at the center of the stage. She's dancing, twirling, disappearing, and reappearing in poofs of sparkles, like a virtual hybrid of Cinderella and Sailor Moon. The four-piece backing band—real humans on drums, keys, bass, guitar, and a laptop—propels the show with deep beats, rippin' solos, classical keyboard interludes, and funky rhythms. The live band builds a "stronger connection with the audience," says Ito.
Some fans dance along, most stare intently, but all wield a neon green glow stick that resembles a stubby Star Wars lightsaber. In unison, they wave long backstrokes during the verses and tomahawk-like hacks during the rapid choruses. The show peaks with a song called "World Is Mine." According to Vocaloid Wiki—yes, that's a thing—the song is written/produced by Ryo with illustration from Redjuice, both of Miku content production team Supercell. With well over 50 million combined YouTube views, it's the most popular Vocaloid song yet. Several fans in the front row are crying. The relationship between creators and Miku is a strong and emotional one—perhaps Miku provides them with a way of connecting with a more vulnerable side of themselves.
Not a chance, says Ito. "Synthesizers and samplers did not replace real instruments, even though they are now incredibly realistic," he says. Instead, VR is "offering new possibilities and creating new opportunities for different people to create and share music." And after all, it's a mutually dependent relationship: Miku needs fans and creators to exist, and her fans need her for inspiration, identity, a creative outlet, and escape.