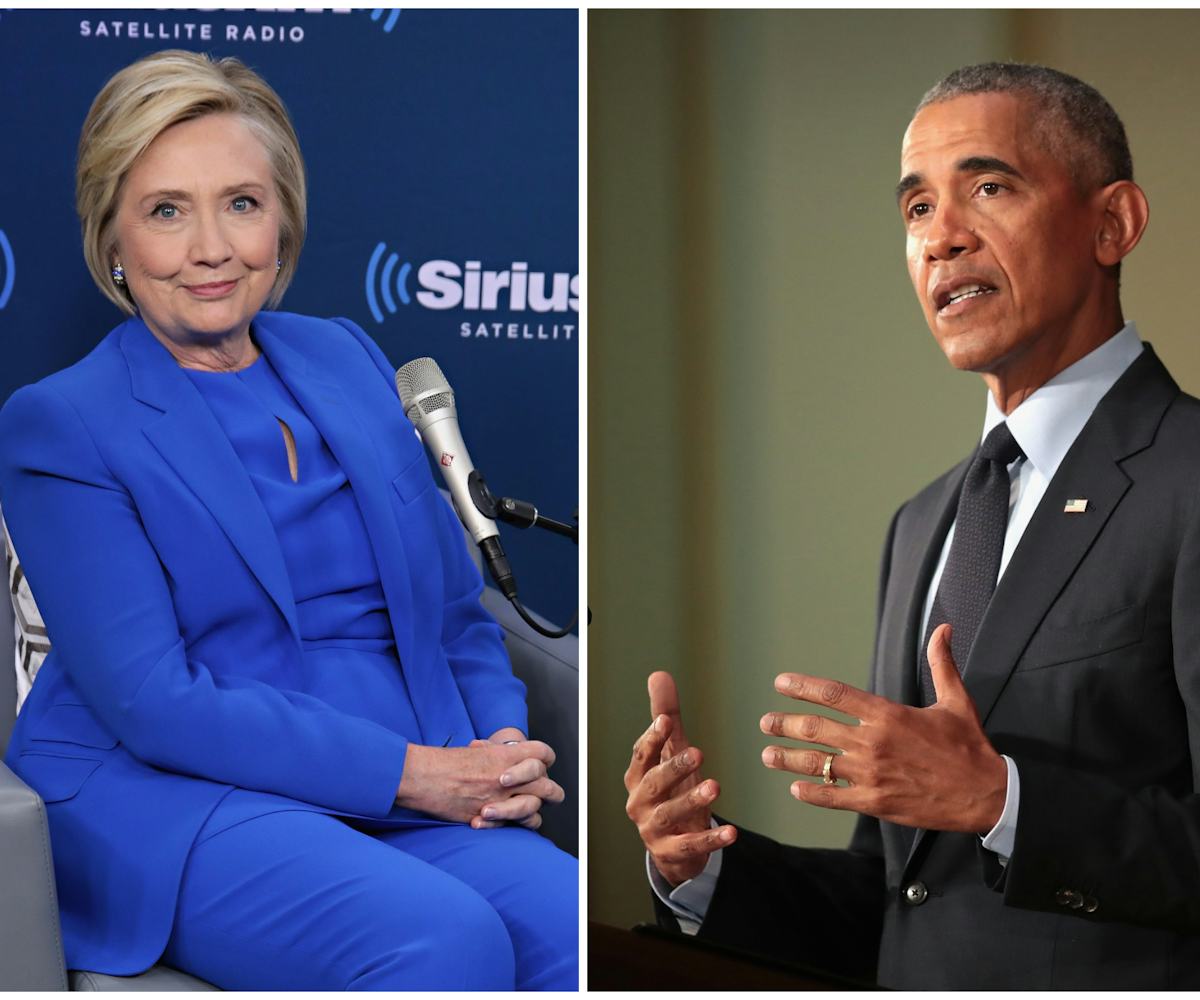 Photos by Cindy Ord/Getty Images for SiriusXM and Scott Olson/Getty Images
Explosives Found In Mail Sent To Obama And Clinton
Along with other high-level Democrats
UPDATE 10/24/2018: According to the New York Times, two more suspicious packages addressed to Democratic Rep. Maxine Waters and former U.S. Attorney General Eric Holder have been intercepted. When describing the bomb sent to CNN, a senior law enforcement official said that the package and device were the same as the others found: in an envelope measuring about "5-by-8 inches," with "a printed white address label and half a dozen first-class postage stamps affixed to the outside."
According to a report from the Associated Press, two explosive devices have been found in mail sent to Barack Obama and Hillary Clinton. A U.S. official told the publication that the explosives may be linked to one sent to George Soros, a billionaire and liberal donor. A similar device was also sent to CNN's New York City offices, which led to an evacuation of the premises and a police bomb squad.
The anonymous official also stated that one of the packages bore former Democratic National Convention Chairwoman Deborah Wasserman Shultz's return address, which they explained could be an "ironic reference." A statement from the Secret Service says that it has "initiated a full scope criminal investigation that will leverage all available federal, state, and local resources to determine the source of the packages and identify those responsible."
The statement also notes that neither Obama nor Clinton actually received the packages, nor was anyone hurt. "The packages were immediately identified during routine mail screening procedures as potential explosive devices and were appropriately handled as such," it reads, as quoted in the New York Times. "The protectees did not receive the packages nor were they at risk of receiving them."
The White House has also responded, condemning the attacks. "These terrorizing acts are despicable, and anyone responsible will be held accountable to the fullest extent of the law," the statement reads. "The United States Secret Service and other law enforcement agencies are investigating and will take all appropriate actions to protect anyone threatened by these cowards."
As of now, no one has been identified in connection to the crime.