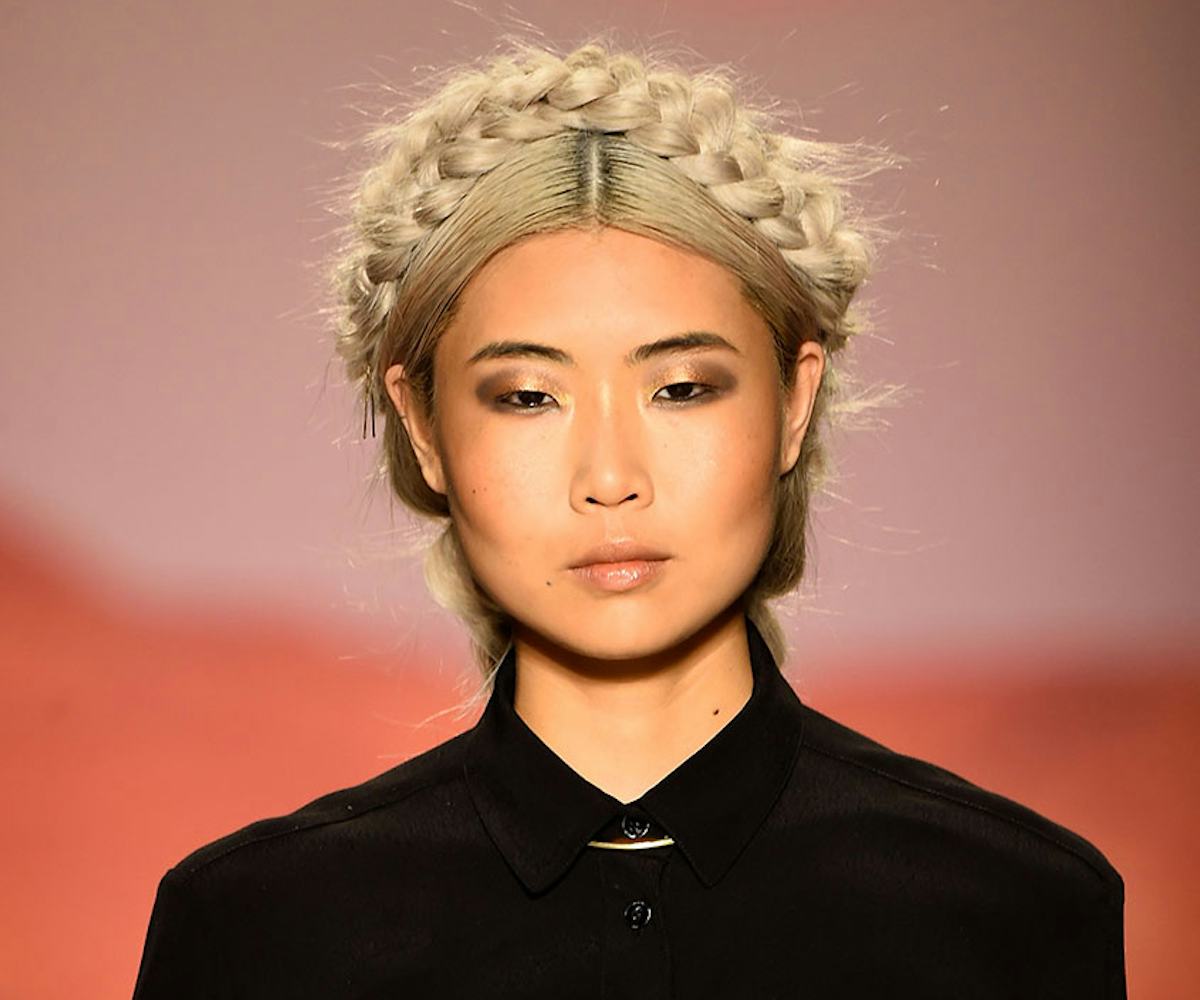 Photo by Frazer Harrison
Take Your Fall Look To The Next Level In Two Minutes Or Less
The easiest upgrades ever.
For some, fall means pumpkin spice (in its many variations), cozy wardrobe staples, and new planners. For us, it's all of those things—but most importantly, it's a prime excuse to step up our beauty game. And because you're reading this, we'll assume you're with us.
Undone waves, low 'tails, rocker eyeliner, and metallic eyelids are four trends that caught our eye this season. But now that these looks are ubiquitous, it has us itching to make each of them a little more personalized—because the best part of a trend is when you figure out how to make it your own.
So, with this goal in mind, we enlisted makeup artist Amy Strozzi and hairstylist Charles Dujic to show us how to take the aforementioned looks and add our own unique spin—in as quickly as two minutes, flat. Check out their super-easy tips, ahead.
Undone Waves, Meet Bohemian Braids
Fact: A foolproof way to take waves to the next level is to integrate a braid (or multiple braids) into the style. You can make it as simple or as intricate as you desire, but Dujic's favorite method is definitely worth trying. "To add a real Boho vibe, take a section of hair at the front of the hairline and plait it into a braid," he said.
"When finished, tuck the tail under the hair in the back, and bobby-pin it to give the finished appearance of a braided headband." Finally, add some texture by tugging gently on some of the woven strands.
Heavy Metal—Not Just for Your Lids
Rose gold, shimmering jewel tones, gunmetal grays…they were made to add light and drama to our lids—but that's not the only place metallics can make an impact. Strozzi swears by the Anastasia Beverly Hills Metallic Luster Liner for two things: Creating a bold, gilded cat eye and spicing up the brows. For the latter, simply use the pencil (available in silver and gold) to lightly shade over your eyebrow hairs for a subtle wash of shimmer. Strozzi also loves the Make Up For Ever Aqua Creams, which she uses all over the eyelid, or to draw dots above the brows and on the inner and outer corners of the eyes. "You can also tip your mascara with the aqua color for a cool effect," she says.
Take Your Pony to New Heights
Low ponytails are ideal for bad hair days (and running errands, workouts, et cetera). But if you do it right, a low 'tail can also be elegant, sophisticated, and sexy, too. The key, Dujic tells us, is volume. For this, you'll want to start by working some dry hairspray (Dujic prefers Big Sexy Hair Spray And Play) throughout the hair. Then, use a paddle brush to back-brush the roots of the hair on the top into the crown and around your face. "Then, with your paddle brush, slightly glide the bristles over the hair to take away the fuzziness that teasing creates. Be sure to comb gently; you want to leave the lift that you established by back-brushing in the first place," Dujic says. "Next, as you're looking in the mirror, gather the hair into a low ponytail, and look at the angles to make sure that it is balanced with some soft volume on top and in the crown," he explains. Finish by securing the ponytail with a non-slip elastic band and gently pulling out some pieces of hair to achieve a slightly messy, lived-in look.
Ditch Your Basic Black
Rocker liner and inky-black kohl have always gone hand-in-hand. And for good reason—it instantly increases your edge factor. But this season, we're daring you to swap your onyx pencil for something more colorful. "Use Makeup Forever Kohl Pencil in Turquoise Blue or Laura Mercier in Black Violet instead of the traditional black," Strozzi suggests. "Line the tearline heavily and squeeze your eyes closed for a quick second to naturally smudge the liner into the lash line a bit," she said. Finish by using the softened liner to smudge on the lower lash line only—leave the lash line clean," Strozzi says.