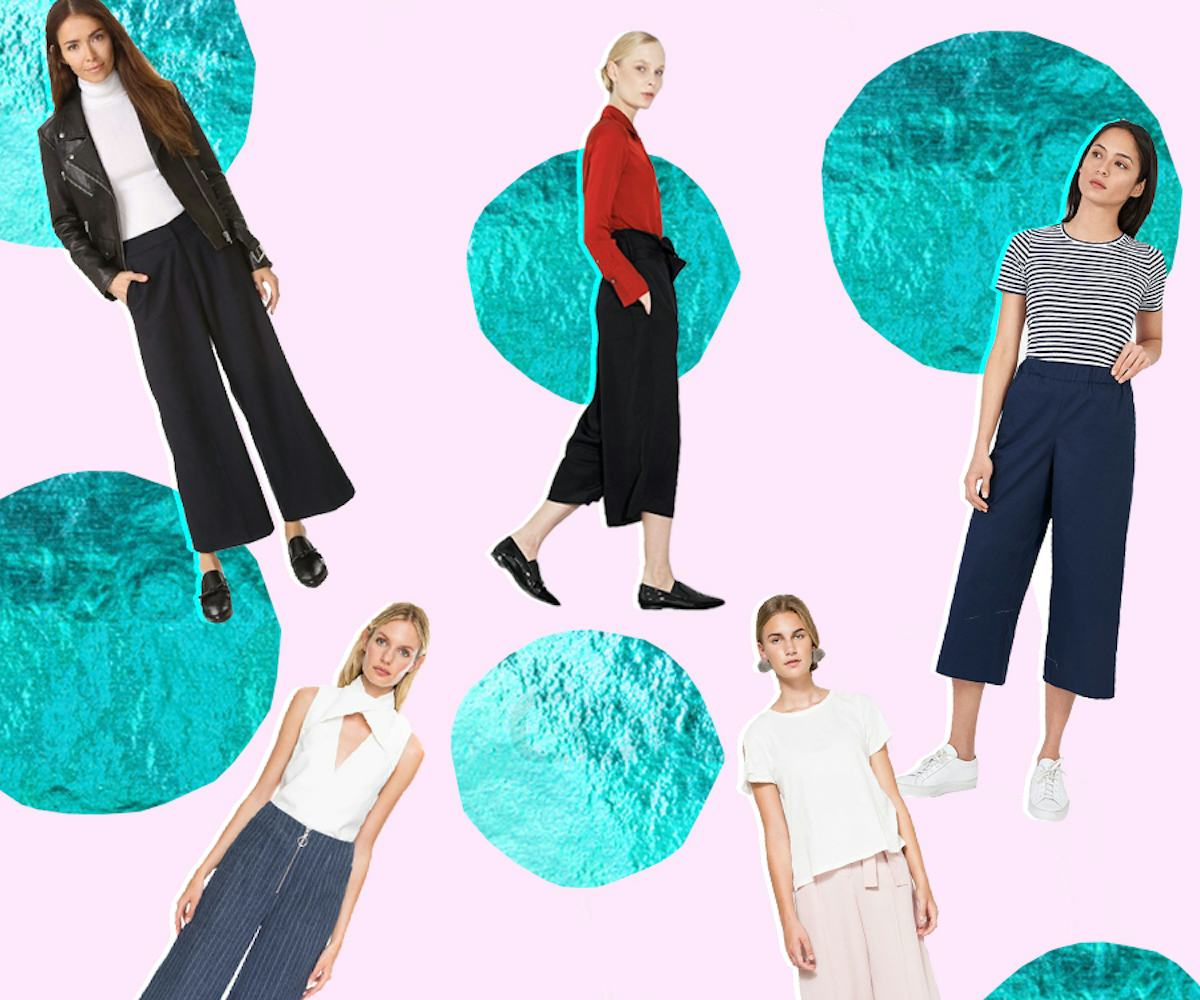 15 Fall Culottes That Prove The Trend Is Here To Stay
The perfect way to kick-start your autumn wardrobe
No matter how you may feel about culottes, there's no denying they're here to stay. An originally '30s trend, culottes have been readopted by fashion insiders and street style's savviest players in the past year and are now quickly becoming the new closet staple for the masses.
A quick look at the fall 2016 runways proves the wide leg, slightly cropped trousers aren't going anywhere anytime soon; they were seen strutting down the catwalks of Saint Laurent, Gucci, and Monse (in velvet, nonetheless). So if you haven't already accepted the culotte pant into your life, now may be the right time. They're the perfect way to give your fall look a modern, minimalist boost.
Unlike the breezy, light versions we wore all summer long, fall's culottes are made with thicker, more structured materials. You can keep your legs warm when the temperatures drop in wool-twill and even leather versions of the style. Until the temperatures reach below freezing, there's no excuse not to show a little ankle. We rounded up 15 of our fall favorites, from printed plaids to solid pastels and basic black, to kick-start your fall wardrobe.
Click through the gallery below to check out our picks.
Zara, Culottes With Slits, $39.90, available at Zara.
Mango, Check Cotton Trousers, $59.99, available at Mango.
Topshop, Pinstripe Cropped Wide Leg Trousers, $58, available at Topshop.
Stelen, Overaly Wide Pants, $79, available at Need Supply Co.
Leith, Wide Leg Culottes, $59, available at Nordstrom.   
ASOS, High Waist Culottes With Deep Turn Up, $65, available at ASOS.   
Vince, Leather Culotte, $995, available at Vince.
Alexander Wang, Pleated Cropped Wool-Twill Wide-Leg Pants, $565, available at Net-A-Porter.
Tibi. Salome Plaid Edie Culottes, $445, available at Tibi.
Boohoo, Ruby Pleated Wide Leg Cropped Culottes, $30, available at Boohoo.
C/MEO Collective, Stay Cool Pinstripe Pants, $180, available at Fashion Bunker.
Diane Von Furstenberg, Stanton Culottes, $440, available at Matches Fashion.
James Jeans, Julie Ankle Length Culottes, $202, available at Shopbop.
Genuine People, High Waist Bow Tie Crop Pants, $240, available at Genuine People.
Everlane, The Cotton Poplin Culotte, $68, available at Everlane.