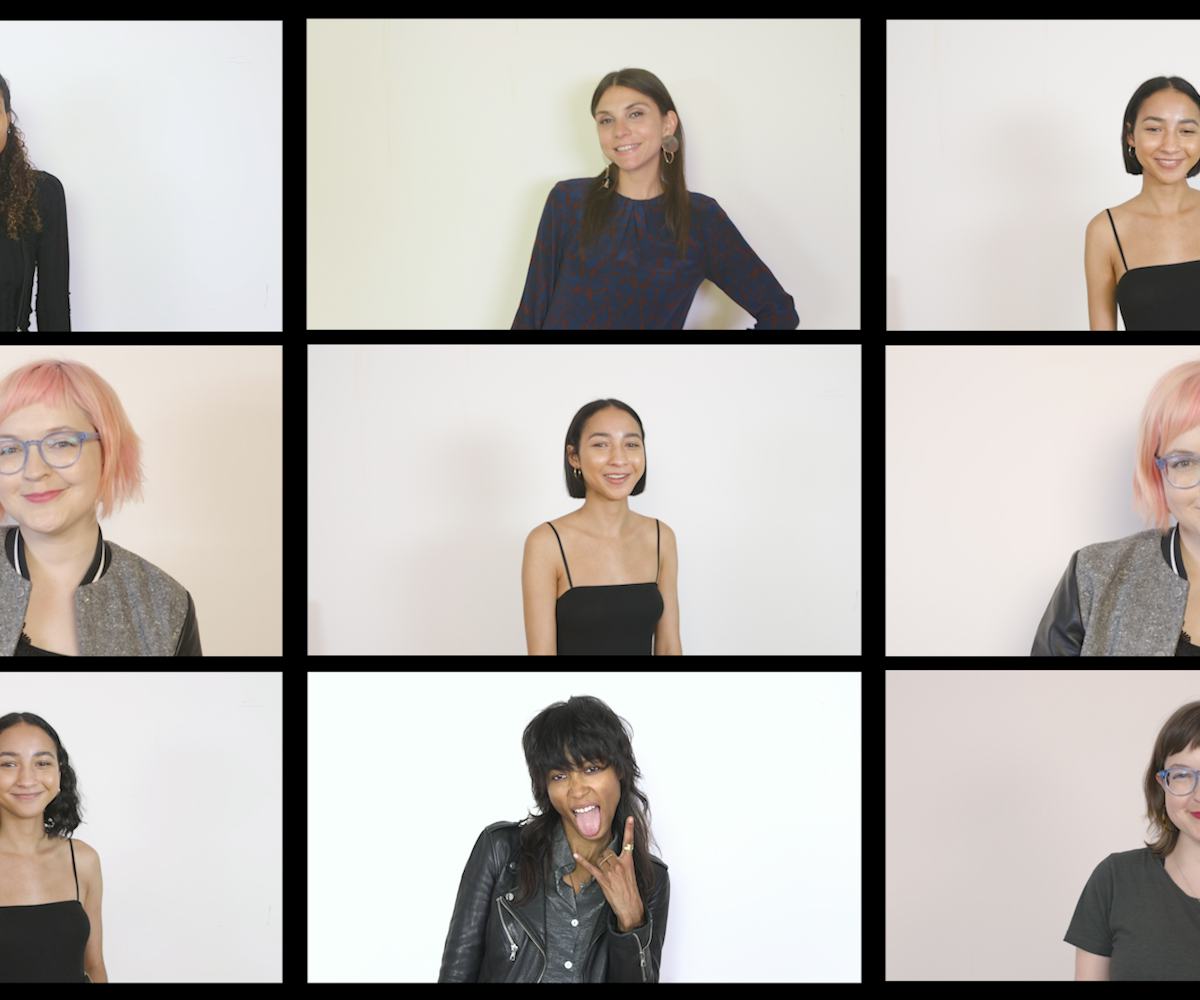 In Need Of Some Fall Hair Inspiration? Check Out These Four Makeovers
Go big (and bright) or go home
There's something to be said about the power of changing up your look. Whether you're embarking on a totally new life journey or simply looking for a confidence boost, switching it up can be empowering—and just what you need for a fresh start.
With the change of the seasons comes the perfect opportunity to try out something new. This can mean anything from overhauling your wardrobe to giving the latest makeup or nail trend a try, but, let's be real, what can be more exciting than totally transforming your hair?
That's what we did for four NYLON staffers when we dared them to get the hair makeovers of their dreams—even if that meant stepping outside of their comfort zones. From a hot pink dye job to a full-on fashion mullet (yes, a mullet), we teamed up with some of New York City's most talented stylists, colorists, and salons for the ultimate transformation story.
Consider this your sweater-weather hair inspo. Read more about how each one got to kick off fall with a killer new look, below.
Angela Lashbrook, social media editorYears ago, I had a bleached blonde pixie cut, and it was, by far, the cutest and most confident I've ever felt. I eventually dyed it back to brown for financial reasons, but I've missed it every day since. So when I had the chance to change up my hair, I obviously jumped at it. But I didn't want to just go blonde—I wanted to do something a little more wild, but that would also easily fade into the brilliant, cool-toned white I'd had before.
I decided to go pink.
I went to FOURTEENJAY, a small salon in Tribeca that has quickly become a favorite of many a NYLON girl (and guy) and a popular destination for anyone seeking a pop of color. David, the salon's master colorist, had me choose a color from a book of dye swatches, out of which I selected a violet-toned bright pink.
Strangely—given how dark my hair is naturally—I spent hardly any time in the chair with bleach on my head (and thank god, because if you've ever had your hair bleached, you know how uncomfortable it can be!). It was, rather, the color process that took several stages: wash, apply, sit, rinse, dry, repeat. I think I got my hair shampooed four times in the seven hours I was there. Of course, a special Aveda protein treatment that went on after the bleach helped keep my strained strands intact.
In the end, my hair turned out a peachy pink rather than the purple-y pink I originally had in mind (but that element of surprise is part of the beauty of dyeing your hair, isn't it?), and then it was time for a cut from Taylor, one of the salon's talented stylists.
Thanks to David and Taylor, FOURTEENJAY, and the help of some wonderfully-scented Aveda treatments and products, my hair was transformed from an awkward, shoulder-length brunette cut that curled up at the ends to a bright pink shaggy bob in only a matter of hours (which in salon time, is practically minutes).
Though the color didn't go exactly as planned, I still couldn't be happier with the result—and I think, instead of letting it fade to white as I'd originally decided, I'll be staying pink. I just like it way too much to let it go.
Tina Vaden, senior video editorMost of my finest style decisions have been inspired by the likes of Joan Jett and David Bowie. My fashion mullet of the early aughts was no different, and challenged the heights and length of the Goblin King in all the right ways.
However, in more recent years, I started to feel as if my hair had become boring, due to my mission to grow out as much of it as I could, so that I could donate to Locks of Love. So when the opportunity for a dramatic change arrived, I leaped—and a modern interpretation of my former fashion mullet seemed like just the ticket to meet my length goals and feel cool again.
Amy Bradbury, head stylist at Kennaland Salon in Greenpoint, Brooklyn, made the dream come true. The salon alone was worth the trip, with all of the beautiful natural light and the best playlist I'd heard in ages in the background.
First, Bradbury and I had a consultation, where we discussed the inspiration photos I brought and my fantasy of going from Goblin King to paying homage to a super-andro Jett. She was just as excited about it as I was.
I let her know I was willing to take a break from my curls for a second but wanted to keep shrinkage in mind while she was cutting because I was definitely rocking them more often than not. Like the genius stylist she is, it turns out she was already considering that.
Finally at ease, I relaxed into the experience and enjoyed a quick wash and condition before a wet cut, to start finding the shape before the blowout and major chop.
Bradbury was really mindful and kept checking in, which was much appreciated, and when she finished, she added some Water Killer Dry Shampoo to my roots, Love Perpetua Shine Drops throughout the length of my hair, and Casual Act Molding Paste to my ends. I couldn't believe how incredibly cool I walked out of the salon looking and feeling. I was also shocked by how fast it all happened. Bradbury is truly gifted because she nailed it in an hour!
Meredith Davis, brand partnerships directorMy hair has always been my "thing." It has a medium thickness with a natural wave that cooperates with styling. I've always avoided being adventurous with cuts and color out of fear of ruining my security blanket.
After being so conservative with my coif for all these years, it was a shock when all it took was one bad haircut to turn my symbol of confidence into one of my biggest insecurities. The cut was overly razored, layered, uneven, making my hair look thin and ratty. This was particularly troubling leading up to my upcoming New Year's Eve wedding, where I most certainly want my hair to look its absolute blanket-y best.
While letting it grow out is always an option, I needed a quicker solution with my wedding just a few months away, and so I decided extensions were the way to go.
That's when John Warren at FOURTEENJAY came in to save the day. I met with him for a consultation with Cher's post-Sonny pony mane as my inspiration; he immediately recognized the bad haircut I had received—and thankfully, didn't ask me for any explanation.
Any concerns that extensions might damage my already fragile hair were put to ease when he explained the quality of the Vomor Hair Extension System and the safety of the tape-in process. It only took about an hour and a half and was completely pain-free, and I ended up with all of the thickness and length I could have ever dreamed of. I have felt like my best self. Every. Single. Day. Since.
The best part? The Vomor System extensions are reusable up to one time, so I'll be able to keep this beautiful mane for up to five months. I look forward to giving off major #CherVibes with a voluminous down 'do for my wedding.
Hafeezah Nazim, digital assistantI had beautiful long hair for the first half of my life, and spent the second half trying to grow it back after a bad ear-length cut I got in middle school. After this truly traumatic experience, I spent the rest of middle school and high school straightening it every single day to keep it looking as long as possible. Eventually, it was the hot tool damage that won, and my hair never managed to grow past my shoulders. It wasn't until college that I realized that my dream of luscious, long locks was no longer a viable option (I mean, my hair was fried) and began to embrace my shorter mane.
However, recently I decided that it was time for a change. I had been considering a blunt, short bob—a length I've never tried, but one that seemed versatile enough to work for my facial structure—for some time, so when this opportunity came up, I thought, Why not just go for it?
When it came time for my hair makeover, I stepped into the Antonio Prieto Salon with sky-high anxiety. Remember: I have never cut my hair this short in my life. However, upon being greeted by Dan Islava, who would be my stylist for the next two hours, I immediately felt a sense of relief. We began by talking about why I wanted to take the plunge and how short I wanted to go. I explained that, though nervous, I thought this length would be flattering. Islava agreed, and we went for it.
To prep my naturally curly hair, Islava first washed my hair with Kérastase's Bain Fluidealiste Shampoo, then applied the Nutrition Concentre Óleo Fusion Treatment with an added discipline booster for extra frizz control.
After I was all dried off, Islava began to cut off inches of my hair, sending me into a frenzy of both relief and anxiety. Once it was all over, Islava used Kérastase's Fluidissime Spray to smooth, control frizz, and provide thermal protection against blow-drying and straightening. To ensure I stepped out into the heady September afternoon in style, Islava finished me off by adding a drop of Essence Absolue Oil by Shu Uemura through my ends, to seal in that extra dose of shine and moisture.
It sounds cliché, but by the time it was all over, I felt like a new woman. While I thought sporting a new, blunt cut would cause me to apply more heat (and thus, more damage) to my hair, by using Islava's tips and extra steps to take care of my hair's health, my mentality toward my hair totally changed.
Was the experience nerve-racking? Yes. But sporting a new look can do wonders for your self-esteem and confidence. This was the first time I let my guard down, and it certainly won't be my last.