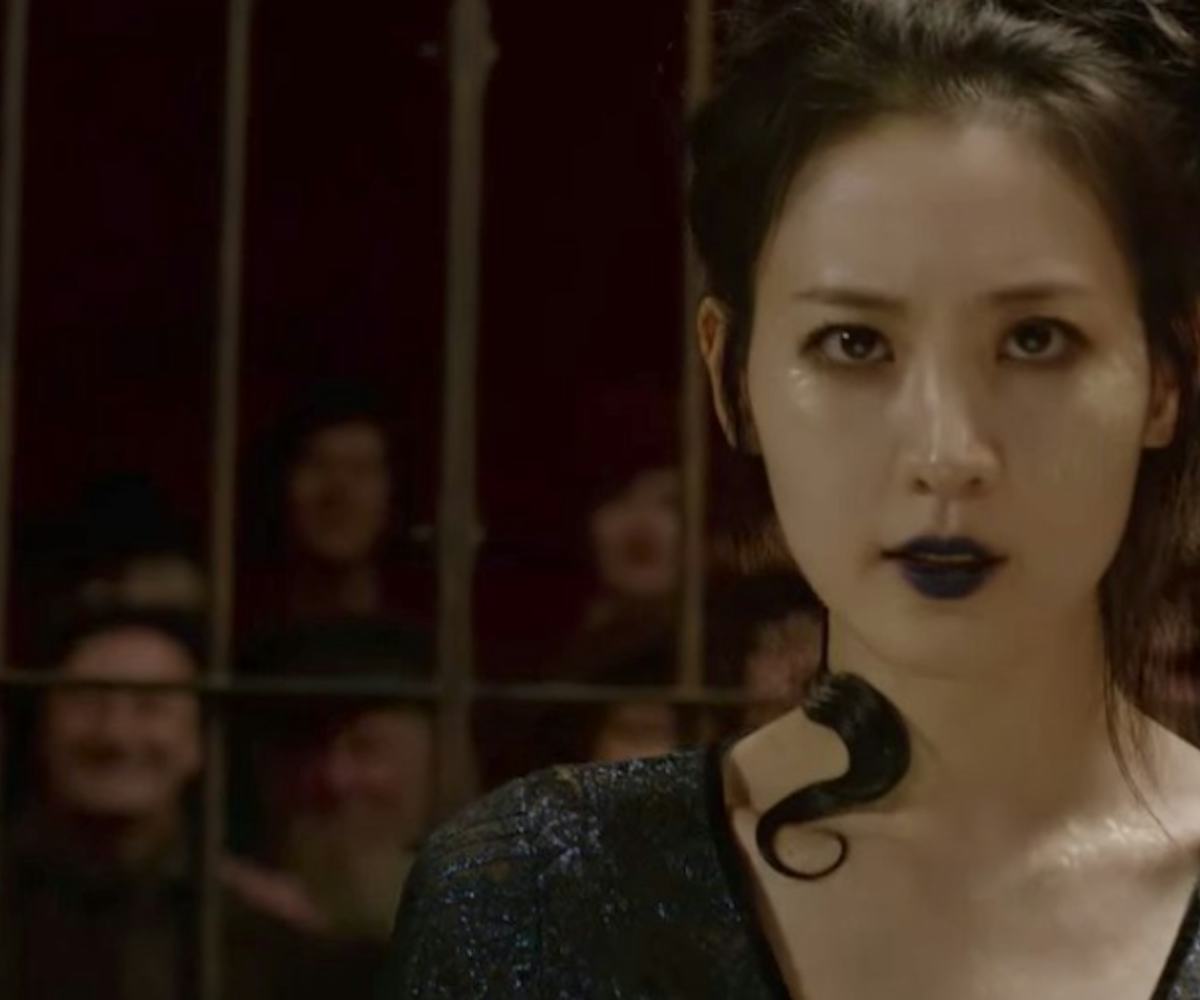 Photo Via Warner Brothers.
'Fantastic Beasts' Fans Lambast "Racist" Casting Of An Asian Woman
"Let's retroactively turn a woman of color into a literal object owned by a white man inspired by Nazis"
A surprise reveal in the latest Fantastic Beasts: Crimes of Grindelwald trailer has divided fans with some calling the twist "racist."
On Tuesday, Warner Brothers' final Fantastic Beasts trailer confirmed a fan theory that's been swirling around since earlier this year which involves Voldemort's snake and final Horcrux, Nagini. In the new trailer, we see Ezra Miller's Credence Barebone call out to Nagini, a circus performer with "a very convincing transformation act for muggles," per Entertainment Weekly. Her talent? Morphing from a woman into the snake that eventually becomes Voldemort's designated killer and beloved pet. But the casting of South Korean actress Claudia Kim as Nagini isn't sitting well with some Harry Potter fans, who believe the symbolism of having a woman of color play the literal embodiment of evil is racially insensitive. Not only that, but as many pointed out, the fact that she's a Horcrux means that Nagini is technically an "object."
"Do the people behind Fantastic Beasts really not see the issue with having Nagini, Voldemort's *pet* who is *beheaded* in the final book, actually be an Asian woman?" writer Morgan York asked via Twitter. "*That's* the Asian representation?"
Combined with the insinuation that Kim's casting as Nagini plays into the "dragon lady/snake lady stereotype"–not to mention the point that the name "Nagini" references sacred Southeast Asian mythology—and you have a pretty bad creative choice, all around.  
Author J.K. Rowling's declaration that this was a reveal she was waiting to make for about 20 years also didn't sit well with the internet, as the statement led to accusations that Rowling was retroactively trying to diversify Harry Potter's legacy—yet again.
Rowling and Warner Brothers have yet to respond to the backlash.