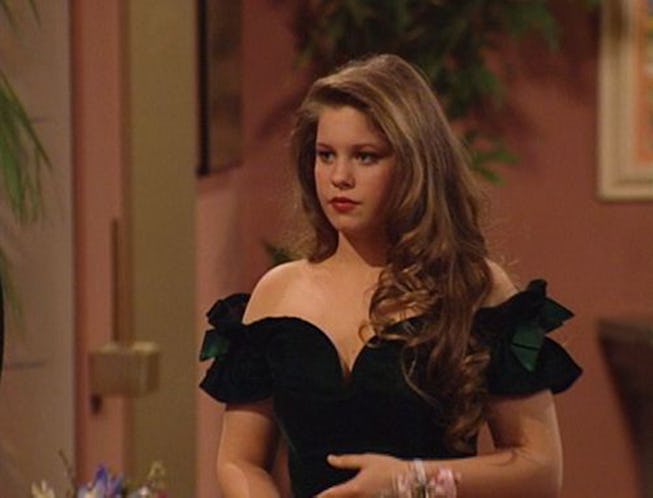 Image via Jeff Franklin Productions
12 iconic fashion moments from 'full house'
Full House isn't loved and remembered for its fashion. After all, protective dad Danny Tanner made it tough for his daughters to follow the increasingly risqué trends of the '90s—remember when DJ was teased on her first day of junior high for wearing the same neutral-paletted menswear outfit as a teacher on lunch duty? Things weren't always so easy in sunny San Francisco. But still, as one of the most iconic, beloved shows of the decade, Full House unexpectedly gave us some seriously nostalgic outfit inspo. 
From prom dresses to grungier looks, these 12 outfits make Full House an unassuming treasure trove of '90s style. Flip through the gallery to see the outfits from the show that we loved and might still wear today. If only we could get a guarantee that Fuller House would be filled with such great fashion.
Related Articles:
Will Mary-Kate and Ashley Olsen Be in the Full House Reboot?
John Stamos Calls Out Olsen Twins On Twitter
As she got older, Stephanie Tanner came to appreciate simplicity a bit more, pairing a plain white sweater with the cutest plaid mini.
Aunt Becky may have been a busy mom of two, but that didn't stop her from being a Cool Mom. Check out that subtle crop top.
Oh, Kimmy Gibbler. Your personality may have been wild, but this outfit? This outfit is just right.
It's no wonder Steven's ex and DJ tried on this same prom dress—it's something we still have in our closets today.
Ah yes, the punk-rock phase of style icons MK and Ashley.
DJ's actual prom dress wound up being extremely lovely—an elegant, daring neckline paired perfectly with her flowing waves. We had hair envy and dress envy.
OK, we know we're not supposed to like bad girl Mickey (who tries to convince precious Stephanie to smoke), but just look at how cool she looks. This outfit is something we'd happily wear today.
Why do the bad girls always look so good?
Before she's "Aunt Becky," Rebecca Donaldson gets in a bidding war at a charity auction to "win" heartthrob Uncle Jesse. And of course, she looks like a '90s siren while doing so.
No scrunchies or feather boas—this is one of Kimmy Gibbler's most toned-down looks. But it's definitely one that we'd love to have in our own closets.
Although her crop top gets her a scolding from her dad, Stephanie Tanner did manage to look like 1998 Britney way back in 1993.
Years before The Row, Stylemint, Elizabeth and James, and an entire fashion empire, Mary-Kate and Ashley served this badass look.