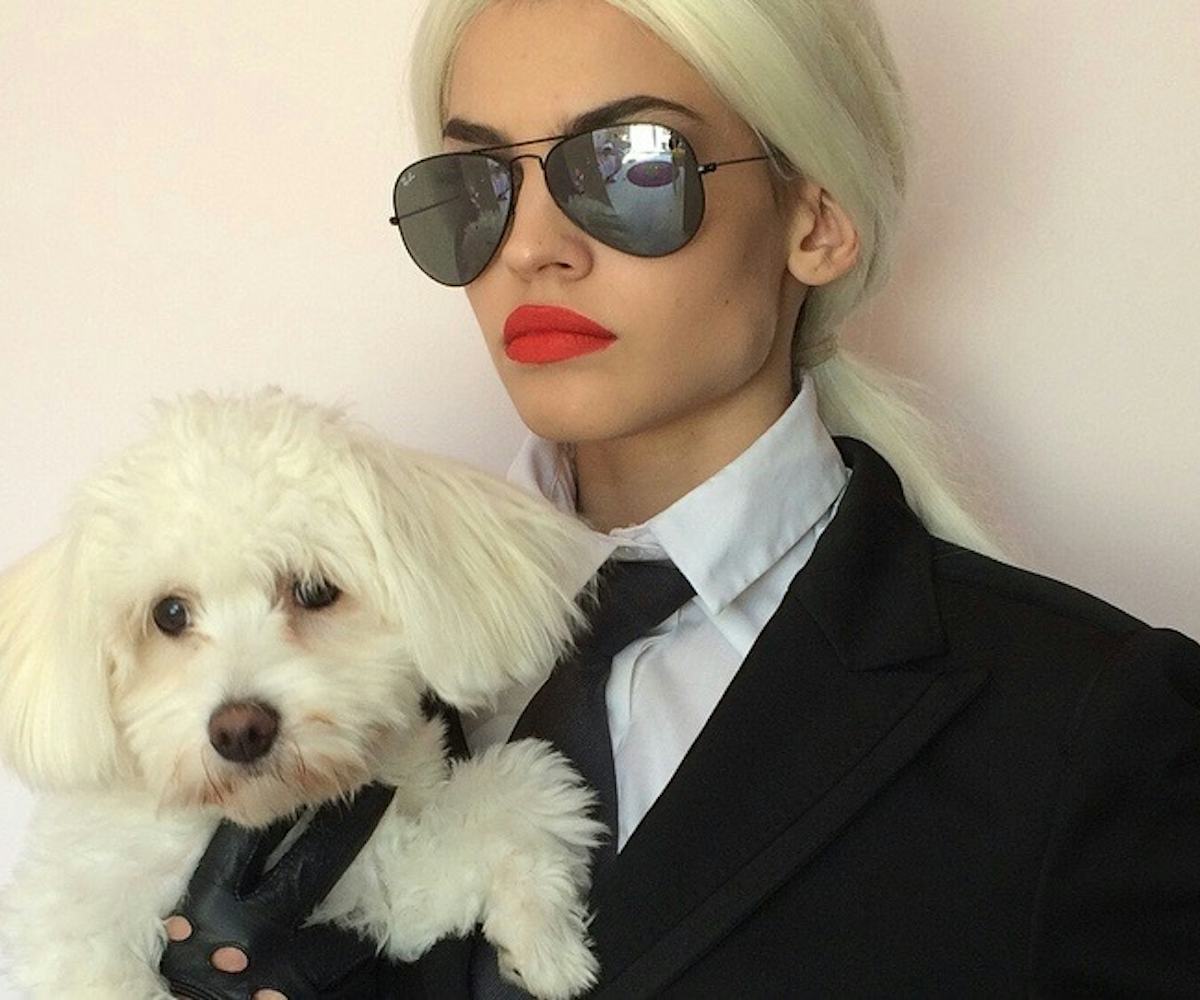 Photo via @mermaidtalia Instagram
12 Fashion People To Dress Up As For Halloween
When brainstorming ideas for the perfect Halloween costume, where do you look to fuel your inspiration? Is it film, or music? Perhaps it's art à la the Knowles-Carter clan?
Of course, when you really want to stand out, look no further than the fashion industry moguls themselves—and we're not talking about the models. Whether an editor-in-chief or a makeup artist extraordinaire, chances are these celebs have signatures styles that make for Halloween costume (and therefore, Instagram) gold.
There's no need to resort to wearing the same witch hat you wore last year (and the year before that) or spending serious cash on a tacky "sexy Pennywise" costume. Instead, stand out in a sea of Halloween sameness, by opting for a one-of-a-kind look courtesy of some of our favorite fashion people. It is, after all, an industry where creativity thrives.
Below, check out our 12 favorite fashion people to channel this Halloween.
Anna Wintour
Not just anyone can impersonate the high priestess of the fashion industry, but don't let that intimidate you. You will, after all, be portraying the most powerful woman in fashion—act the part! Superstar Kim Kardashian West donned her best bob wig and sunglasses for Halloween back in 2014, while drag queen Alaska Thunderfuck put on her best "Chanel" skirt suit as a judge on Season 7 of RuPaul's Drag Race. Don't be afraid to channel your inner devil, and for the love of Miuccia Prada, don't forget the Starbucks.
Grace Coddington
We first got a glimpse of Grace Coddington's bright Titian red hair in R.J. Cutler's iconic documentary The September Issue. She's the undisputed greatest fashion editor that's ever lived; her unforgettable photo stories are living proof of that. What better way to pay homage to the model-turned-stylist? Adopting her laid-back (and oh so cozy) pajama-chic aesthetic for Halloween, of course. Finish off the look with a rich dark red lipstick and patent Prada platforms, and you'll be sure to turn heads wherever you go. This costume is ultimately for the dreamer, but should Coddington's style not be your cup of tea, then we suggest referencing her fashion fairy tales from 2003 and 2005. 
Marc Jacobs
Being unafraid to mess with gender norms is probably the secret to living your best life—just look at fashion designer Marc Jacobs. From his groundbreaking 16 years as creative director of Louis Vuitton to his own eponymous line, the designer has always been fearless when it comes to fashion. From his "controversial" ensemble at the 2012 Met Gala to this iconic tartan kilt-and-black combat boots number, channeling your inner M.J. is not only sure to grab attention but also challenge those pesky social constructs that constantly keep us down. What could be more stylish than that?
Pat McGrath
Fashion isn't just about clothes—it's about beauty, too! And who better to prove such a truth than the queen of makeup/living legend herself Pat McGrath. For nearly two decades she's been the makeup artist of choice for the most influential fashion shows of our time and launched her own incredible makeup line last year. Pat's personal style is gloriously low-key, perfect for a no-stress Halloween costume for the undiscovered makeup maven within: black long-sleeve tops and trousers. Complete your look with a subtle pair of pearl earrings and an embellished headband. Extra points if you walk around with her epic Subliminal Palette. 
Donatella Versace
Need to release your inner Italian goddess? Look no further than Donatella Versace, the woman responsible for putting J.Lo in that dress and who's being played by Penelope Cruz in Ryan Muphy's upcoming season of American Crime Story. It's the perfect costume of choice for anyone who isn't afraid of a little high-octane glamour, drinking loads of Champagne, and smoking a Marlboro Light or two. Live la dolce vita as you strike a pose in your most out-there evening gown. Complete your look with a Judith Lieber-esque evening bag, a pair of strappy stilettos, and a long, platinum blonde wig before hopping on your jet to another fab party. 
Karl Lagerfeld
Ahh, Uncle Karl—a fashion icon through and through. After all, the man lives by the mantra, "You cannot fake chic." Having served as creative director of Chanel for over 34 years (in addition to playing creative director of Fendi and having his own line), it's only natural that the German-born designer has been deemed the Kaiser of the fashion industry. Did we also mention he's a cat person? If you're still not convinced, try taking a cue from Kendall Jenner and Fergie, who have both rocked interpretations of Karl's signature powdered ponytail and fingerless leather gloves. Or, you know, go as a cat in a couples costume. After all, every Karl needs his Choupette. 
André Leon Talley
Something comfy, but make it fashion. André is known for being extravagant (and shady, especially around Met Gala season). As a contributing editor for Vogue, he makes sure his opinion is known always, and with good reason—the man can dress! Taking inspiration from him for the holiday is guaranteed to bring the drama. Layer an oversized silk cape coat over a tailored navy blue suit to get the look above, or branch out into something even more outlandish like this little number he wore on The Wendy Williams Show. It is Halloween, after all. Be as extra as you can (and want) to be.
Betsey Johnson
We can't believe we haven't thought of this sooner: What could be a more epic Halloween costume than the coolest designer alive? Our creative side is shook. Here's where you can get absolutely wild with loudly printed tights and studded belts. Color is your best friend, so don't be afraid to experiment—Johnson sure isn't! Chop up a honey blond wig and paint in some streaks of yellow and pink for that unique Betsey twist. Finish off your outfit with a sparkly top hat and an extra-ruffled tutu skirt for effect. Guys love B.J., and so do we!
Mary-Kate and Ashley Olsen
You know we had to. The Olsen twins' fashion journey is worthy of a novel, having gone from spunky TV actresses to bona fide (and legitimate) fashion stars since establishing their fashion house, The Row, back in 2006. Gather your bestie (or actual twin) and coordinate a pair of similar-but-different monochromatic looks worthy of any red carpet. If the look above is a little too casual, take a gander at their avant-garde dresses from 2015's Met Gala. No matter what Olsen look you decide to go with, remember to say "prune" when posing for pictures.
Bruce Weber
Photographers in fashion tend to get a bad rep, but as far as the greats go, none are as talented (and as nice) as Bruce Weber. The all-American photographer has shot everyone who's anyone, from Naomi Campbell to Natalie Portman. Opting for Bruce would be an unexpected costume of choice, but that's the same spirit and beauty you can see in his photos. His accessory of choice is the bandana—any color will do. What's holding you back? Put on your best man drag and grab your camera.
Carine Roitfeld
Trends may come and go, but style, as we know, is forever. Few people fit this description, but CR Fashion Book founder-editor Carine Roitfeld does so implicitly. Once the editor-in-chief of French Vogue, she's the lady responsible for making "porno chic" a thing (with the help of Tom Ford at Gucci, of course). A fashion icon in her own right, she's an embodiment of that Parisian style so many girls would kill for; each look she wears is able to make the transition from day to night—perfect for heading to a Halloween gathering after a long day at the office. Choose pieces from a color palette of strong neutrals (black, beige, army green...) and opt for dark eye makeup. C'est divine!
Suzy Menkes
Known fondly by her closest friends as "Samurai Suzy," the fashion journalist and critic has made her mark on the fashion community by publishing over 1.7 million words on fashion! Channel your inner intellectual by donning her unique boho-granny style and quirky tidal wave pompadour. Also, be sure to carry around a handheld notepad and pen—perfect for critiquing everyone else's choice of costume. You are, after all, an expert.