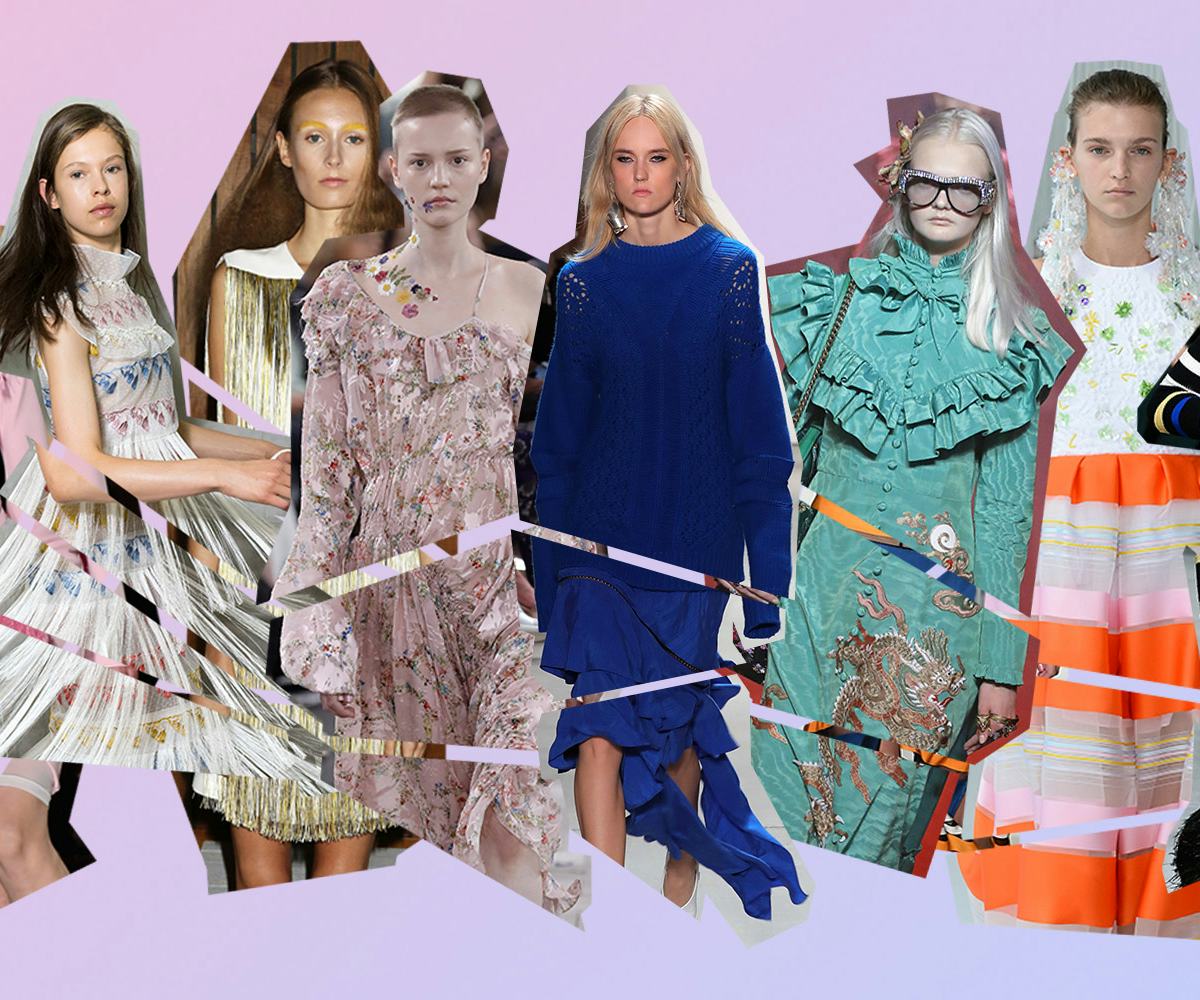 The 7 Trends You'll Be Wearing This Spring
From New York to Paris, get a sneak peek of what to shop for this March
At last, fashion month has ended. We're not going to lie, after seeing runway show after runway show of the best that New York, London, Milan, and Paris have to offer, we're already dreaming of a spring awakening. And yes, we're well aware that winter isn't even here yet, but can you blame us?
This spring, you can expect things to be full of whimsy—with delicate feathers, fringe, and ruffles making appearances in every city. On the other hand, many chose to make loud, bold statements with everything from club kid-inspired footwear to bold, contrasting stripes and neons. 
We rounded up the seven trends we know we'll be seeing everywhere come spring's warmer weather. Click through the gallery below to read on.
Bold Stripes
Stripes this spring are not to be taken lightly. Thick, bold bands of contrasting colors were a print of choice at Proenza Schouler, while a combination of neons and muted tones overlayed sheer fabrics at Delpozo and Adam Selman.
Bras Over Tops
This winter, it may be best to stock up on some pretty bralettes because come spring, you'll be wearing them over your clothes. At Giambattista Valli, models wore actual lingerie over their tops, while at Prada and Claudia Li, the look was less lingerie-like and more sporty with fun prints and knits.
The Raver Flatform
'90s club kids, rejoice! This spring, we'll be seeing chunky flatform sandals of all sorts. Whether they're bedazzled à la Balmain, cow-printed like Proenza Schouler's, or feature sky-high foam like Ugg's collab with Preen by Thornton Bregazzi, get ready for some statement-making footwear.
Feathered Friends
Once we saw feathers all over NYFW, we knew it was going to be a major trend for all of fashion month. In addition to Sally LaPointe's whimsy feathered pieces and Adam Lippes' (incredible) feathered coat, Prada adorned everything from tops and skirts to shoes and sleeve cuffs with the detail.
Frills, Frills, Frills
Ruffles and frills were seen all over the spring runways, and in every which way. Gucci's inspiration came from the Victorian era, while Preen by Thornton Bragazzi's models were boho-chic, and we even saw sportier looks at Prabal Gurung.
Really Mini, Mini Bags
Mini bags may have been a thing for a few seasons now, but this time around, mini bags are just, well, mini-er. Some are so tiny, they're basically lockets (like at Valentino), but you may be able to fit a chapstick (certainly no iPhone 7) in Givenchy's and Hermes' versions.
Whimsy Fringe
While we saw fringe of all sorts during NYFW, as fashion month continued, it was obvious that everyone was moving toward whimsy looks. We first saw it at Ji Oh and continued to see it pop up everywhere, from fringed accents at Givenchy to full-on tiered gowns at Giamba.