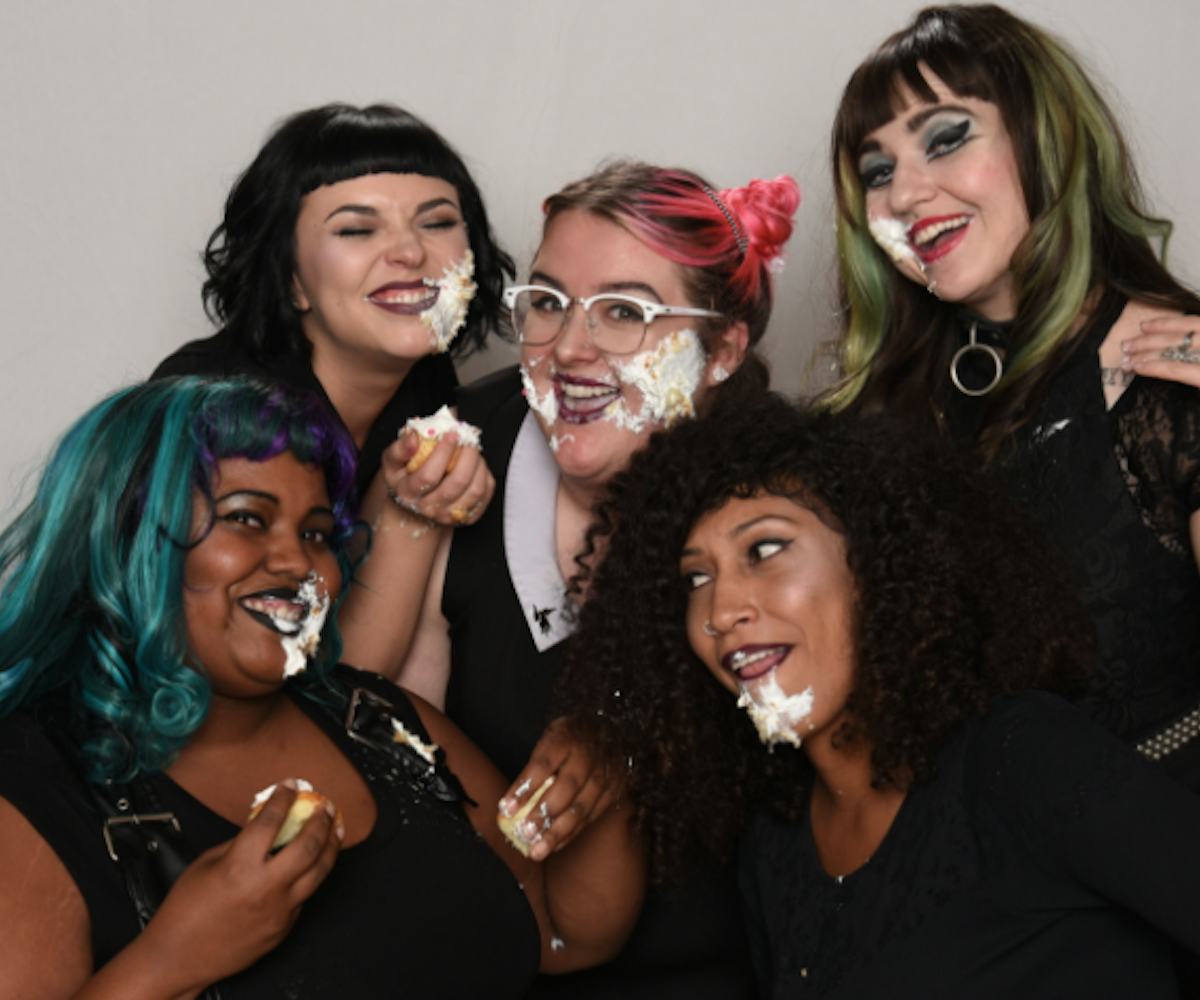 Photo by Liz Cabrera
Anxiety Is No Match For Fatty Cakes And The Puff Pastries In New Video
They talk grrrl gangs and Hello Kitty baseball bats
Panic attacks can sneak up on us in a variety of ways. Sometimes we know they're coming, and the dread intensifies the problem. Other times, they're frustratingly random—we were fine five minutes ago, but now our brain's completely on the fritz. The femmes of Fresno, California posi-punk bandFatty Cakes and the Puff Pastries know that struggle firsthand. Their latest video, premiering today on NYLON, tackles that very subject. "Panic Attack" is an ode to the issue that not only assures us we're not alone but also highlights how friends can be key in helping guide us back to safety.
There's a far-ranging spectrum of panic attack remedies: herbal tinctures, intentional breathing exercises, CBD, the five-step calm-down technique, and prescription medication. But in coping with the aftermath, when we sometimes feel embarrassed (which, don't!), and already in fear of the next episode (which can be triggering), turning to a band like Fatty Cakes and the Puff Pastries might help. They are, after all, probably the most fun and empowering grrrl gang you can imagine.
The band formed about five years ago around singer and electric ukulele player Amber Fargano's solo project. Fargano was joined by Vishinna Turner (bassist), Staci Mcdowell (Qchord), Victoria Crow (glockenspiel), and Audrey Johnson (drums), and they quickly became a tight-knit, mutually supportive, and forever-laughing "Grrrl Gang."
A handful of singles and EPs later, Fatty Cakes and the Puff Pastries are now prepping the release of their eponymous debut full-length, out November 9 on Emotional Response Records. To learn more about the LP, the making of "Panic Attack," and what it really means to be part of a grrrl gang, we caught up with the band as they rehearsed ahead of their upcoming West Coast tour. Check out the Q&A, below.
Let's talk about "Panic Attack." What's the message of the song, and how is it represented in the video?Amber Fargano: We were all at our drummer Audrey's other studio, playing around with one of her bands, actually. I think it was the Eighteen Hundreds who were there. So we were just jamming around, and me and Vishinna created this little riff, like a really fun, wild kind of riff. From there, I could just feel the emotion of it. I've had situations at shows where I met amazing people, but I was so stoned when I met them that I could not be my full self.In general, I'm a very seemingly extroverted person, but I'm actually naturally quite shy, was quite a shy child, and it's taken a lot of work for me to be outgoing. I still have anxiety pretty bad. So it just kind of stemmed from there, all the insecurities I had been thinking about, to create this wild song.
Once we recorded it, I knew exactly what I wanted the video to look like. I had it in my mind. So I sat down, and it was just another stone-y evening where I wrote out all the themes and storyboard. I wanted it to be this really fun, but also really nervous, energy to the video. I wanted to create this choreography where it's like switching up on you a lot, but then there's that moment of release that always happens after a panic attack, which you can find in our glittery slow-mo scenes, too. It was a very natural song, I think, because it was so personal.
Does anyone else want to talk about anxiety or any personal connections to the song?Vishinna Turner: I personally experience that going out, in the same way that Amber does. I'm very introverted as a person, and I'm seemingly extroverted, but I really suffer from not feeling comfortable or safe in spaces, so I have to surround myself with people who make me feel safe, like my friends. When I used to go to shows, when I didn't have this comfort zone, I was already, like, probably the only black, queer person in the space, so feeling very [looked at] in a space where I did not want to be the focus. This video kind of helps to talk about instances of that, too. That feeling of looking around and feeling unsettled at first, but when the music started, I would always find my comfort zone. I always found comfort in punk and riot grrrl music and stuff like that, so as soon as the music started, I was in a whole other place of comfort, which is that glittery scene that Amber was talking about. But I definitely felt that focus when walking into the space, and in the video, you'll also see that we focus in on our mouths doing different things that are really anxious. I feel like that part really describes that feeling.
Victoria Crow:I feel like my whole life is a constant panic attack.So for me, being in Fatty Cakes is that release, is that calm. Finding the calm in the storm, calm in the chaos, which is this band and that song. I feel more safe and sound than in my entire life.
Staci Mcdowell: Hearing that "oh no, not again, not again, not again, not again," [and how] that goes back to that panic attack, that alarm ringing in your head... like, I am freaking out right now inside my head and my body, and what am I gonna do? I deal with anxiety and things like that myself, and it feels good to take that and turn it into something fun and make a fun song of it that I can share with my friends and have fun at shows, rather than hiding in the background more and more and more because of that. It feels good to take control of something like that and make it into something bright and fun instead.
AF:Audrey's freaking out! She has no answer! 
Audrey Johnson: I don't know, I feel like you guys nailed it. I think for me, I feel more anxiety like, I don't know, like everybody's saying. A lot of times music is what makes me feel better—playing music. I play music all day if I can. I try to. Life can be pretty anxious.
Can you tell us more about your forthcoming album?SM:Recording it was one of the best experiences of our lives. 
AF: We got the honor and the privilege to have our fairy punk mother, Alice Bag, take on our album. She came to us and asked if we wanted her to produce us, and we said yes, yes. It was about a year-long project for us to get there, but we ended up recording with Mark Rains at Station House Studio in Echo Park. The songs are a real range; about half the album are songs that have been in the Book of Hymns from the Church of Fatty Cakes for quite some time now, then there's the other half, all new songs. I feel like we definitely have a very strong political voice in this, a strong voice based in empowerment, a personal voice sharing our personal truths, and then just an overall fun place, where our goal is to, like, make you laugh and make you think and [in a voice like a metal-singer-wrestler hybrid] make you rage out at the same time!
VT:I do have to say that one of the other crowning moments of recording was Darkness. Darkness is the most beautiful puppy who looks kind of like an otter, kind of like a seal, kind of like a hippo. She has this kind of short, stubby little tail, kind of like a pig. She was definitely an inspiration, definitely kept us going and what made us super-ready to go and record every single day. So thank you, Mark, for introducing us to Darkness.
AF:Darkness made it okay for us to not have cheese and dairy. Alice Bag put us on a cheese and dairy limit so that we would have the clearest vocal cords, and it was the hardest week of my life. We were so excited to work with Emotional Response Records because they're the people who put out theTypical Girls compilations. They are awesome. Stew and Jen are awesome. And it was mastered by Margot Padilla at The Shelter in L.A., and she's someone we've worked with before. It's just an amazing team involved.
What does being part of this grrrl gang mean to each of you?SM:It's a support system. That's our family. A grrrl gang, that's our support, that's our team, that's our family. It's that family and that protection that a lot of us lack. And knowing that there are women here that have my back no matter what is what keeps me going through this life. Knowing that I have women who will help me stand up against any man, any person on this planet—it's super empowering to me.
VC: It's definitely like therapy. I'm able to get together with my best girlfriends, and if shit goes wrong that day, I know they've got crowbars.
VT: We have crowbars, and Amber has a Hello Kitty baseball bat with any shitty person's name on it. So just let her know, and she will show up with that bat.
AF: I have honestly shown up with Victoria with a baseball bat and told a dude to leave her alone. And he did! He went away.
AJ:I think girls just trying to have each other's back, and hold each other up, and hold other women up instead of tearing them down. Just being a friend, being nice to people, can go a long way. And we want people to join our gang. I guess they should start their own band because, you know, we can play shows together.
VT:I feel like being a part of this grrrl gang is about upholding your friends and making sure that everybody's safe and making sure that the spaces that we're in are safe. Like I was saying before, if I go out without my friends, I feel very anxious. But as soon as I have my grrrl gang near me, it makes me feel immediately safe; it makes me feel like I have a space to go. I also feel like it encompasses letting your friends know like, "Hey, this thing is happening in the world, this thing is happening in my life," and having them listen to you, and take that on and help to build a better space around you. I feel like that also is encompassed in our grrrl gang. We're very good at listening to each other, and learning from our mistakes and trying harder to be good friends.
AF: We hold each other accountable. We're human beings, so we hold each other accountable to the hopes and dreams that we want to see in the world.
Help support Fatty Cakes and the Puff Pastries' tour via their crowdfunding campaign.