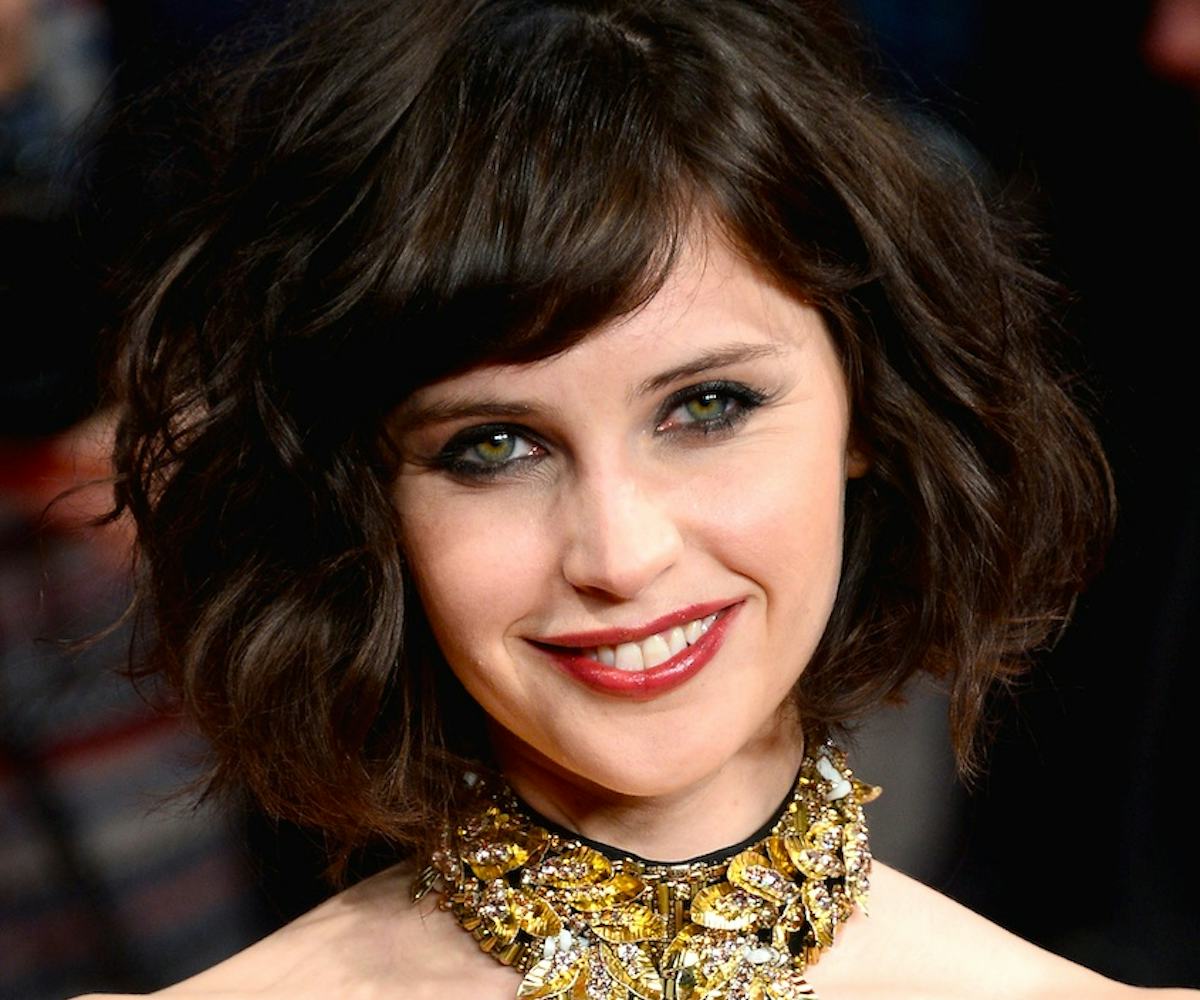 beauty queen: felicity jones
double the drama, double the pretty.
Makeup pros often talk about balance--meaning, you should pick one part of your face to focus on, and leave the rest of it alone. So if you're rocking a deep smokey eye, then go easy on the lips. Or if you want to swipe on a traffic-stopping red, then it's typically best to just do mascara and call it a day.
But while we do see the point of all this, who says you actually have to follow the rules? There are sometimes when you just want to go all out, and leave it to Felicity Jones to be a seriously glamorous exception. The Breathe In star went for the drama on both her eyes and lips this week at the premiere of Invisible Woman, and surprise, surprise: she looked beautiful. Get the tips on copying her bold beauty look below, and get ready to whip it out on your next big night. 
DARKEN IT: Marc Jacobs Beauty Tonite Lights Glitter Dust- $32
Using a small brush. swirl it in this gunmetal grey powder shadow, then apply it all over your lid. It's cool if you go a little bit outside the edges--clearly we're all about breaking the rules here, anyway. If you want a little extra "oomph," layer it again, just on your eyelid. Line the tops and bottoms of your lids with a black kohl pencil (we're into this one), then finish with two coats of mascara on your top lashes.
FLUSH IT: Covergirl Cheekers Blush in Natural Rose- $4
Add a little extra radiance with a sweep of sheer rosy blush, swirling in an upward motion on the apples of your cheeks. 
COLOR IT: NARS Lipstick in Afgan Red- $26
We love this lipstick because it's a deep, dense red--but not like, cherry red, which makes it the perfect hue for the middle of winter. And just in case you were wondering, it looks just as cool when you do decide to play the balance game and go barefaced.