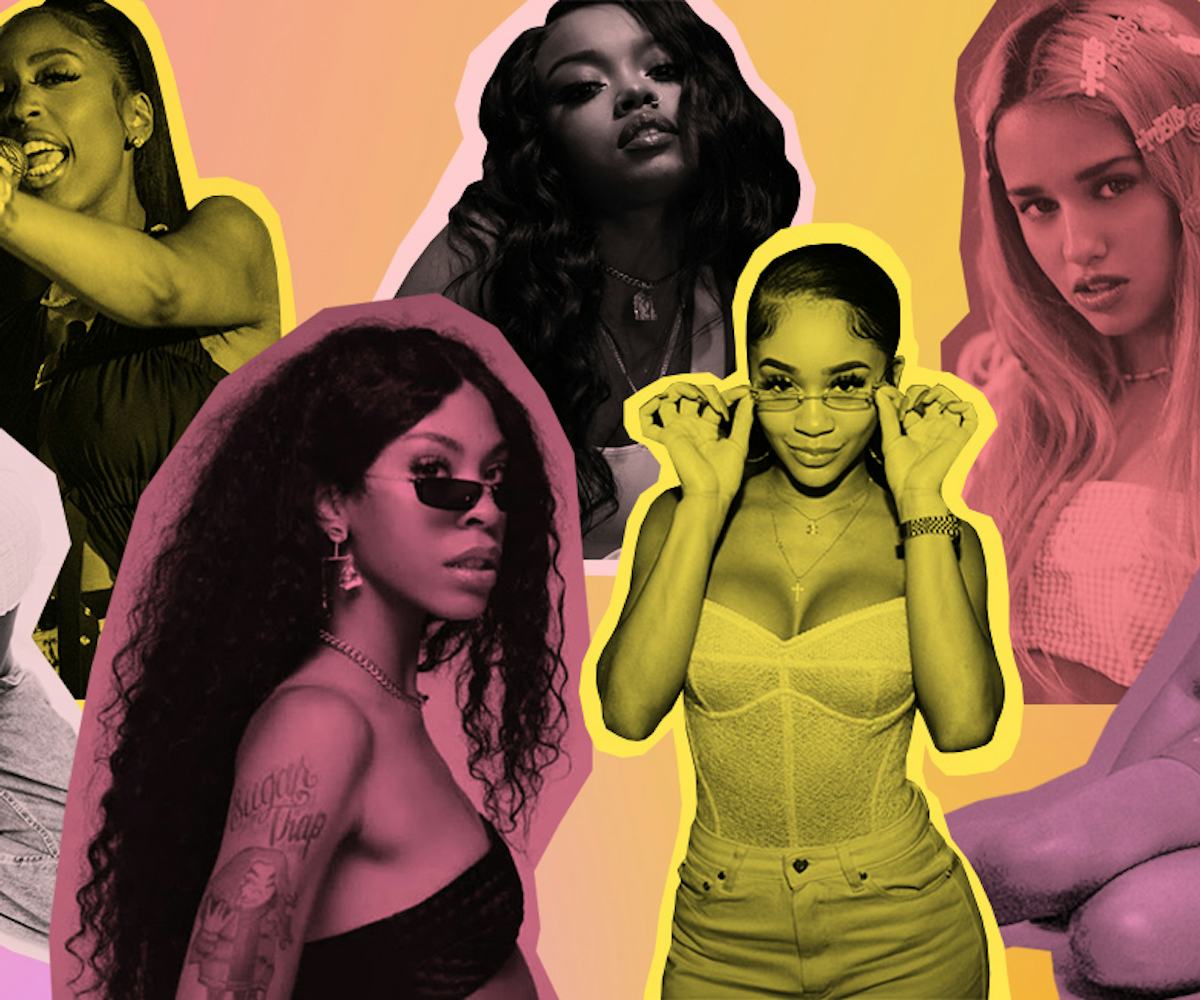 photos via instagram, collage by lindsay hattrick
7 Female Rappers Your Summer Playlist Needs
Listen now, thank me later
It's no secret that the music industry, especially hip-hop, has severe diversity issues. Other than a select group of superstars, women emcees are largely ignored and often left out of the mainstream music conversation.
And, yes, while it's great that we have gems like Cardi B. and Nicki Minaj ruling our summer playlists, it's frustrating that so many other women who tirelessly work on their craft get little to no recognition. And that needs to change.
Below, get to know seven of the genre's hottest newcomers worthy of your summer playlist's attention. Stream now, thank us later.
Name: Maliibu MiitchHometown: Bronx, New York
Songs you should download: "The Count," "Give Her Some Money," and "Crush On You (Remix)."
If some of your favorite rappers include Foxy Brown and Lil Kim, you should be listening to Maliibu Miitch. Her husky voice and old-school flow will give you so many '90s vibes, you'll probably (definitely) get whiplash. We guarantee if you play any of the above tracks at your next house party, they'll be crowd favorites.
Name:Rico NastyHometown: Born in New York, raised in Maryland
Songs you should download: "Bitch I'm Nasty," "Smack A Bitch," "Poppin," and "Pressing Me."
Rico Nasty is one of the most unapologetic rappers out right now. Not only does she draw inspiration from punk rock and underground rap in her songs, but she's not afraid to say whatever's on her mind. In short, if you need to vent, throw on some Rico Nasty and scream with her at the top of your lungs.
Name:SaweetieHometown: Bay Area and Sacramento, California.
Songs you should download: "ICY GRL," "B.A.N," and "ANTI."
Saweetie's music will have you feeling yourself. She's got zero time for fuckbois or petty friendships, and she lets that be known in almost all of her songs. When you top those sentiments off with a laid-back, Cali-inspired production, you've got a match made in summer playlist heaven. 
Name:Tierra WhackHometown: PhiladelphiaSongs you should download: "Hungry Hippo," "Mumbo Jumbo," and "Bugs Life."
If you're looking for a rapper whose vision is basically a Wes Anderson film on drugs, allow us to introduce you to the wonderfully weird universe of Tierra Whack. Her debut release, Whack World, features a plethora of minute-long, genre-bending hits, including a mumble rap jam, "Mumbo Jumbo," and a slow-burning tune, "Cable Guy." You can see her 15-minute album, below.
Name:SimpsonHometown: VirginiaSongs you should download: "Switch Lanes," "Radio Song," and "The Meadows."
Trying to go with the flow this summer? Let rap newcomer Simpson soundtrack your chillest days. By combining old-school-styled drum pockets and '70s-inspired guitar loops, Simpson's laid-back and inspirational vibe will provide you with the comfort you need this summer. Let live, let go, and let Simpson be your guide toward a more positive life.
Name:Kash DollHometown: DetroitSongs you should download: "Check," "Run Me My Money," and "Dividends."
On days when you want to feel like that chick, let Kash Doll motivate you to get your money and confidence up. There's no one in the industry with a more #unbothered attitude, and sometimes, as women, that attitude is necessary in order to simply get through the day. After one stream of Kash Doll's "Check," I guarantee you'll be taking on your next project in stride.
Name: Tommy Genesis
Hometown: Canada
Songs you should download: "Lucky," "Tommy," and "Big Boi."
Self-proclaimed "fetish rapper," Tommy Genesis has always made it known that she prefers to keep her life as private as possible. That preference, intentional or not, filters into her music, too, and allows her to not be confined to any one genre, which is why many of her songs are so scattered in terms of a cohesive sound. But if you're into being surprised with unexpected, genre-bending bops, Tommy is the one for you.