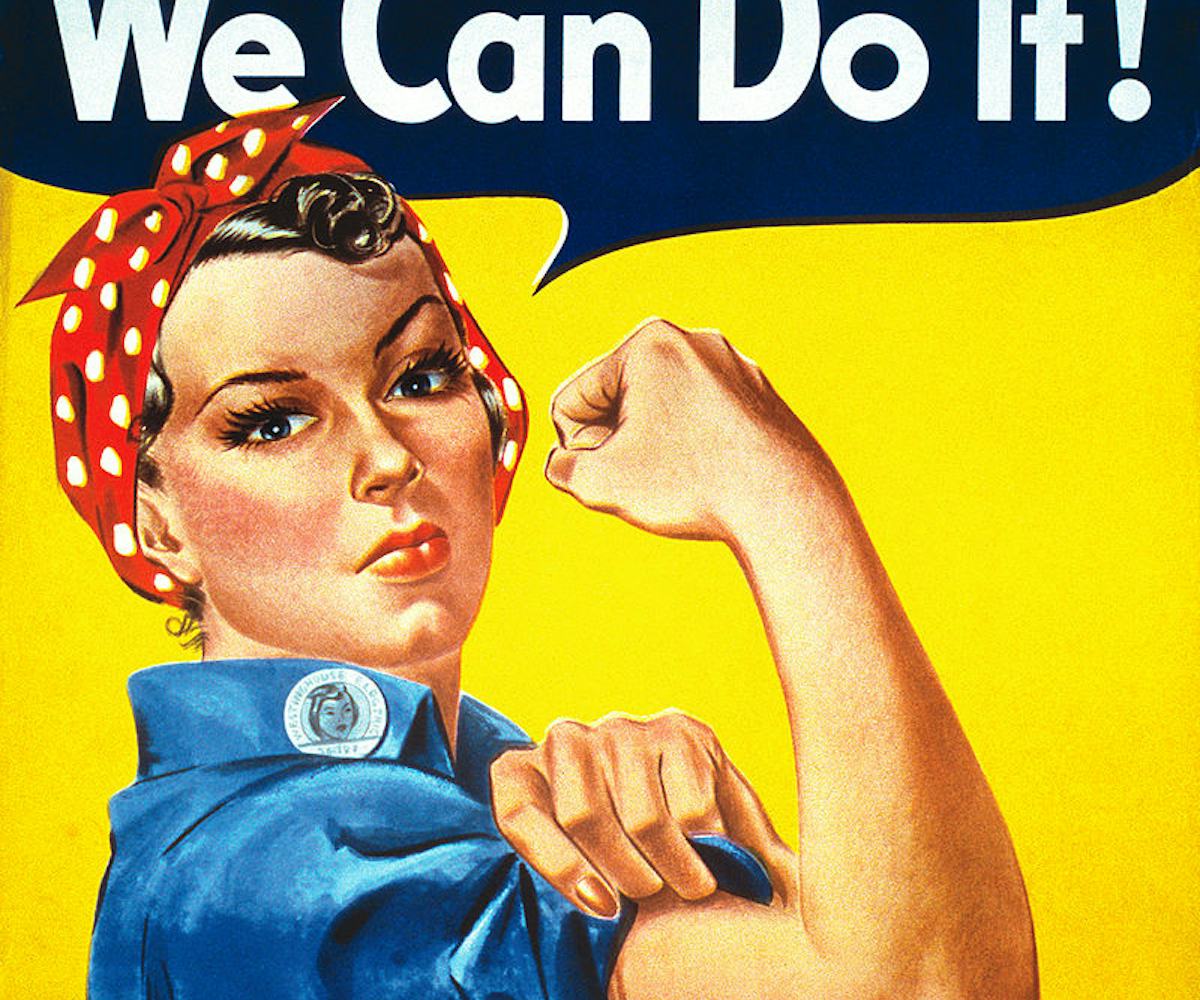 The Girl Power Guide To NYC
Patriarchy got you down? We feel you. New York City can occasionally turn into every feminist's nightmare with its minefield of catcalling and subway manspreading. So for those New York minutes that seem criminally devoid of girl power, we've found some antidotes. Channel your inner Gloria Steinem (or maybe you're more of a Lena Dunham?) and hit up our seven favorite spots for womyn-friendly fun, including gender-challenging apparel, body positive dance routines, and zines galore. It's been waiting for you.
Elizabeth A. Sackler Center for Feminist Art
It might be true that a woman has to be naked to get into the Met's collections, but not so at the Sackler Center. Tucked away on the fourth floor of the Brooklyn Museum is 8,300 square feet of exhibition and education space for the Elizabeth A. Sackler Center for Feminist Art. For 10 years, the center has been a platform for supporting female artists and feminist works. "It's always important to support women artists and to show the world how influential and valuable feminism continues to be, but this moment of intense political challenge makes it vital," said Catherine Morris, Sackler Family Curator. "This space remains an essential platform, as feminism must be a driving force in all future conversations about inclusion and equity."
Anyone looking to wear feminism on their sleeve should make a beeline for Otherwild. This L.A.-based boutique is currently stationed for a long-term pop-up in the basement of Coming Soon on Orchard Street. The store sells cool-girl clothes, accessories, art, and apothecary goods, with a focus on female empowerment and gender breakdown. Otherwild developed the popular "The Future is Female" tee, worn by likes of Ariana Grande and Cara Delevingne. "Otherwild decided to make and sell clothing and accessories with feminist and gender-defying slogans to explore forms of shared inquiry and empowerment," says owner Rachel Berks. The brand donates 25 percent of profits from its "The Future is Female" tee to Planned Parenthood. Also, look out for their "Feminist" underwear and other tees with slogans like "Matriarchy Now" and "Gender is a Drag."
Lemonade might not fit neatly into every wave of feminist thought, but "Formation" is undoubtedly an anthem of female empowerment. Those looking to catch some of Queen Bey's body positive vibes should get in formation and head to Broadway Bodies. The Chelsea dance studio offers weekly "Formation" dance classes, teaching choreography based on Beyoncé's own music videos. Now would be a good time to let your friends know you'll need some extra room to #slay next Saturday night.
Semi-permanently tucked inside Mermaid Laundromat in Bushwick, Brooklyn, is Troll Hole, a pro-intersectional LGBTQIA feminist zine, book, and adult gift shop. This stop is a must for those interested in more niche and modern sects of feminist theory. "Our feminist lens advocates centering women, trans women, young women—especially black and non-black women of color—while living under white supremacist, capitalist, heterosexual patriarchy," says co-owner Monica Yi. "We hope to engage with our neighbors and to continue learning, and un-learning, about how to better survive and support each other in today's uber-luxe environment. We believe New York City isn't dead yet."
Chinese Hawaiian Kenpo Academy
Any chauvinist-shoving feminist living the big city must, unfortunately, be ready for her adversaries mentally and physically. For over 20 years, the East Village's CHKA has been offering their "Smash Class," a free walk-in women's self-defense class. On Tuesday and Thursday evenings, participants get the chance to master punching and kicking techniques.
A small corner of Manhattan is reserved for those looking to connect to a community of women on a spiritual level. Flower Power Herbs and Roots, the cozy all-natural herb dispensary in the East Village, hosts Wild Woman New and Full Moon Circles. Bring a teacup, journal, and pillow to Flower Power to celebrate the moon in all its feminine glory. Trained leader Cole Lopez holds the bi-monthly gatherings at Flower Power on dates coinciding with the moon cycle. The Wild Woman Project is an international movement aimed at bringing like-minded women together in lunar appreciation.
It'd be hard to miss Bluestockings while strolling down Allen Street. The space, which serves as a bookstore, fair trade cafe, and activist center on the Lower East Side, was originally opened by a women's collective in 1999. Run completely by volunteers, Bluestockings carries thousands of titles related to feminism, queerness, and gender studies, and other types of social justice. They've even got a specific section dedicated to feminist zines. Bluestockings also hosts a variety of events almost every night—from film screenings and feminist book clubs to Deep Yoga classes and singles' mixers.