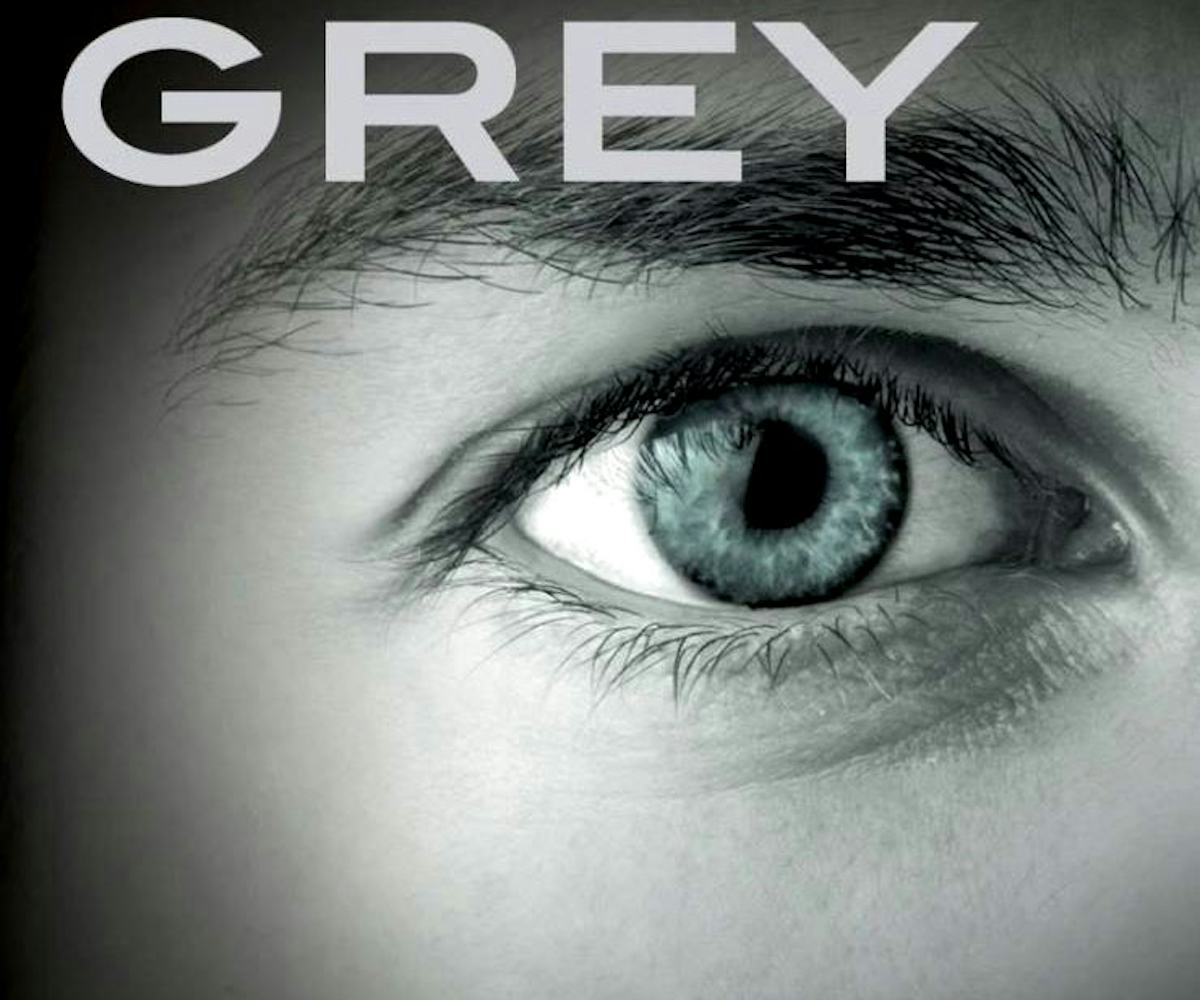 Photos via Vintage Books
the most ridiculous quotes from the new 'fifty shades' book
Christian Grey is a pig. If there's one thing to be gleaned after devouring E.L. James' Fifty Shades of Grey spinoff book Grey, it's that its title character is a troubled boot-knocker with a less colorful vocabulary than the infamous Anastasia Steele. The 500-plus page narrative is decidedly less playful than its predecessors. Readers get a glimpse into his abusive past and can begin to put the pieces together as to why he's drawn to BDSM—a question that goes unanswered in the first novel. (This very topic is heated.) Grey's vocal need for sex and dominance has no trace of "inner goddesses" doing the "dance of the seven veils." It's harsh—like that mature porn you never meant to stumble upon.
But James' unique wordplay never ceases to disappoint—whether the words are troubling or not. Grey will still fly off the shelves; its fans reading it seriously. So, we're unpacking the most ridiculous quotes housed in the fourth installment of James' series because we hear that if you scream into the void, the void will scream back at you…or something.
OOP
"Do you always wear jeans?" I ask.
"Mostly," she says, and it's two strikes against her: incurable romantic who only wears jeans…I like my women in skirts. I like them accessible." (p. 39)
COCKURRENCE
"I have never slept with a woman. I've fucked many, but to wake up beside an alluring young woman is a new stimulating experience. My cock agrees." (p. 63)
WORDPLAY
"You don't know what you're saying."
"Enlighten me, then."
Her words travel straight to my cock.
Fuck." (p. 71)
GREY GETS POETIC
"I picture her sleeping beside me, soft and small…and my cock twitches with expectation. I could have woken her and fucked her then—what a novelty that would've been." (p. 82)
COCKURRENCE, PT. II
"And there she is: disarming once more, surprising me at every turn. My cock agrees." (p. 89)
O MY!
"'Oh.' Her lips form a perfect small o. My cock hardens further. Yes, I'd like to fuck that mouth, that o. I stalk towards her like she's my prey. Oh, baby, I want to bury myself in you." (p.103)
NICE TO MEET YOU, TOO
"'You're very beautiful, Anastasia Steele. I can't wait to be inside you.'" (p. 105)
¯\_◉‿◉_/¯
"I withdraw my thumb from her vagina. 'Open your mouth,' I order, and when she does I thrust my thumb between her lips. 'See how you taste. Suck me, baby.'" (p. 111)
RHYTHM NATION
"Between each thrust I utter one word. 'You. Are. So. Sweet. I. Want. You. So. Much. You. Are. Mine.'" (p. 113)
CHARMED, I'M SURE
"'Turn around. I need washing, too.' She does, her face rosy, her eyes bright, her pupils large. Lifting my hips, I grab my cock. 'I want you to become well acquainted, on first-name terms, if you will, with my favorite and most cherished part of my body. I'm very attached to this.'" (p. 124)
HOW ASSTUTE!
"I'll agree to the fisting, but I'd really like to claim your ass, Anastasia." (p. 241)
MMM!
"I trace my fingers around her ass and insert one into her vagina. She's wet. Very wet. 'Oh yes. My sweet girl is ready.' I spin her around and slip my finger into my mouth. Mmm. Salty." (p. 249)
IMAGINE THIS AS A HALLMARK CARD
"She has a fine ass. And I'm going to make it pink…like the champagne." (p. 258)
THE POWER OF BRITNEY COMPELS YOU!
"She taps on a song, and Verdi's dulcet strings are replaced by a pointing beat and Britney Spears. ''Toxic,' eh?' I observe, with wry humor. Is she trying to tell me something? Is she referring to me? 'I don't know what you mean,' she says innocently. Does she think I should wear a warning?" (p. 437)