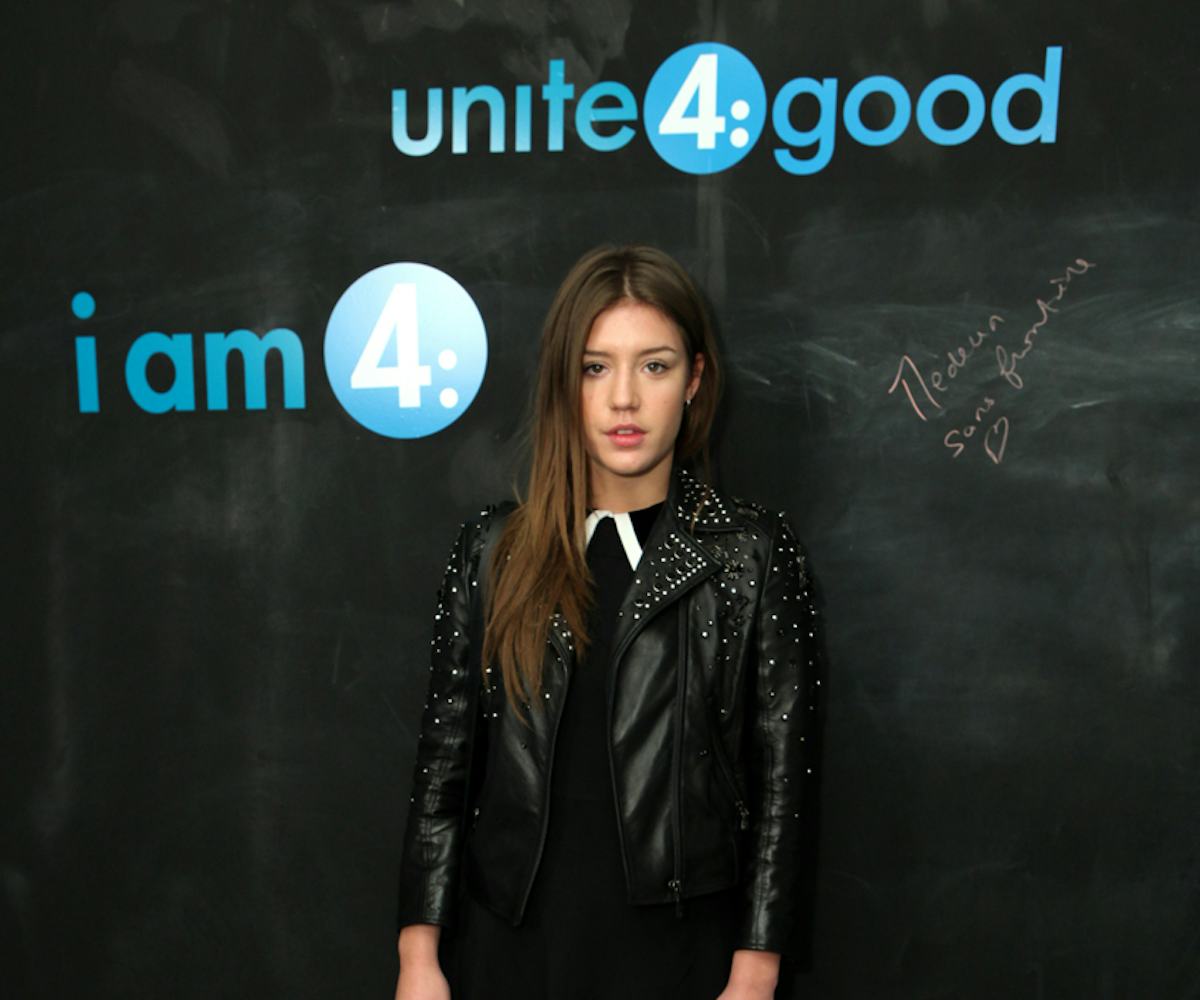 all photos by getty images
the ultimate guide to leather jackets
marlon brando, eat your heart out.
Yesterday morning I was lucky enough to attend the opening of the Museum of the Fashion Institute of Technology's new exhibit Beyond Rebellion, an in-depth look at the history of the leather jacket. As much of an everyday item today as a pair of jeans or Chuck Taylors, the leather jacket's rise to fame was an interesting and subversive one.
In America, the original motorcycle jacket was manufactured for men by Schott in 1928 (they also started producing ones for women in the '30s), and became famous when Marlon Brando wore one in the film The Wild Ones. Then came the rise of motorcycle gangs, punk rock, Vivienne Westwood, Gianni Versace, and--boom!--the leather jacket was as ubiquitous as a white T-shirt. Fast forward to 2014 when brands like Acne, Saint Laurent, Burberry, and Comme des Garcons have all created masterful interpretations of the iconic piece. 
So in honor of the coolest jacket around, here's the NYLON guide to finding your perfect moto match. Because a Brando-esque Schott Perfecto and a Chung-style jacket are two takes on the trend you need to try.  
IF YOUR STYLE ICON IS: Agyness Deyn
YOUR LEATHER JACKET SHOULD BE:
BCBG Max Azria Fringe Leather Jacket with Blue Trim -- $519
IF YOUR STYLE ICON IS: Marlon Brando in
The Wild One
YOUR LEATHER JACKET SHOULD BE:
Schott Perfecto Moto Jacket -- $500
IF YOUR STYLE ICON IS: Adele Exarchopoulos
YOUR LEATHER JACKET SHOULD BE:
Guess Zip Leather Jacket -- $348
IF YOUR STYLE ICON IS: '50s Biker Girls
YOUR LEATHER JACKET SHOULD BE:
Acne Rita Leather Jacket -- $1,150
IF YOUR STYLE ICON IS: Alexa Chung
YOUR LEATHER JACKET SHOULD BE:
Elizabeth and James Erwan Leather Jacket -- $995
IF YOUR STYLE ICON IS: Lou Doillon
YOUR LEATHER JACKET SHOULD BE:
All Saints Oakes Shearling Coat -- $1,815
IF YOUR STYLE ICON IS: Mick Jagger
YOUR LEATHER JACKET SHOULD BE:
Muubaa Patent Leather Biker Jacket -- $752.76
IF YOUR STYLE ICON IS: Charlotte Casiraghi
YOUR LEATHER JACKET SHOULD BE:
Armani Exchange Asymmetrical Zip Leather Jacket -- $448
IF YOUR STYLE ICON IS: The Ramones
YOUR LEATHER JACKET SHOULD BE:
BLK DNM Leather Jacket 8 -- $1,248
IF YOUR STYLE ICON IS: Poppy Delevingne
YOUR LEATHER JACKET SHOULD BE:
Just Female Convertible Leather Jacket -- $385
IF YOUR STYLE ICON IS: Bianca Jagger
YOUR LEATHER JACKET SHOULD BE:
Tory Burch Erica Jacket -- $1,295
IF YOUR STYLE ICON IS: Sienna Miller
YOUR LEATHER JACKET SHOULD BE:
Burberry Brit Studded Leather Biker Jacket -- $4,775
IF YOUR STYLE ICON IS: Joan Smalls
YOUR LEATHER JACKET SHOULD BE:
Needle & Thread Legacy Leather Jacket -- $564.57
IF YOUR STYLE ICON IS: Alice Dellal
YOUR LEATHER JACKET SHOULD BE: