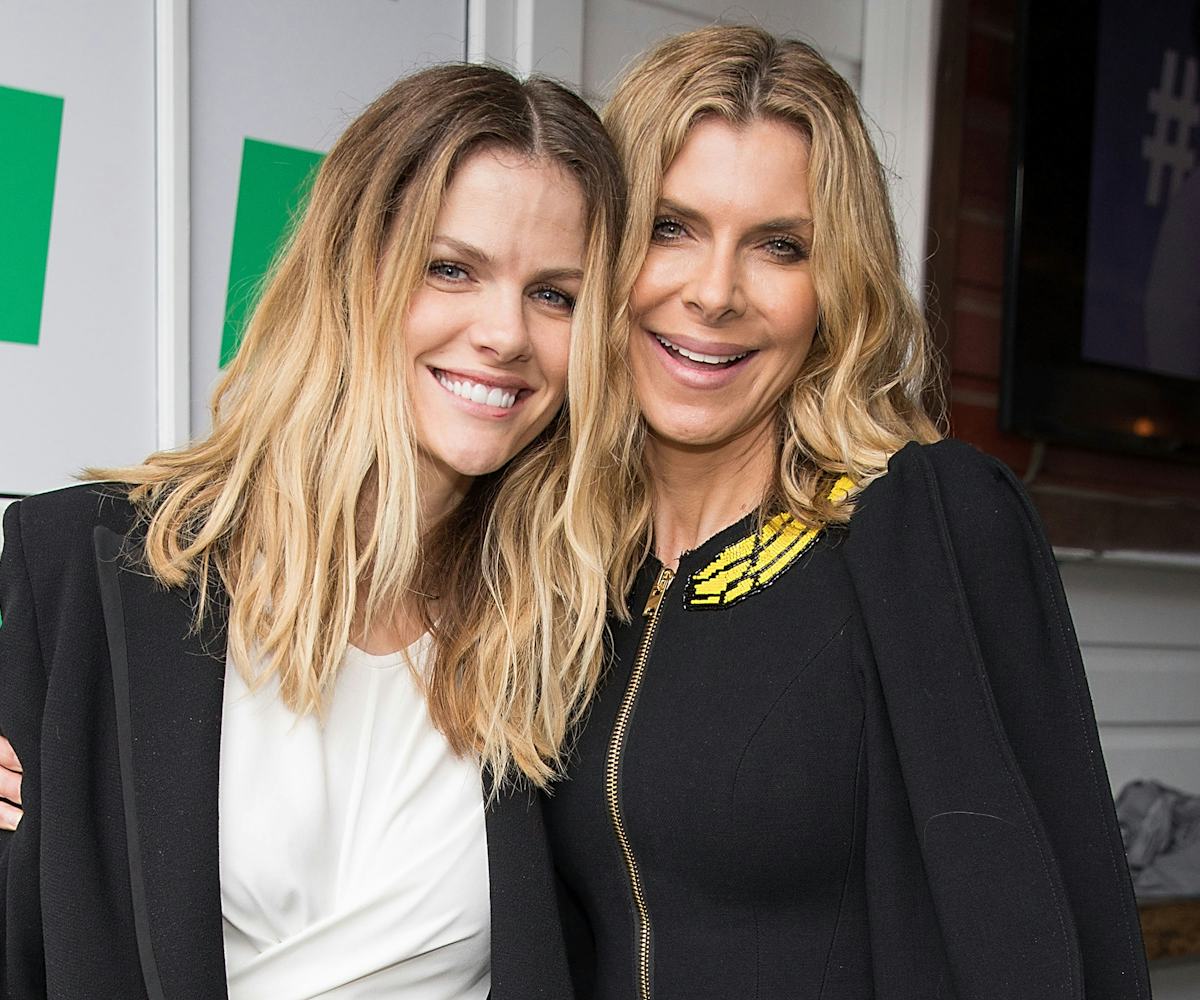 Photography by Rick Kern/Getty Images.
This New Website Will Change The Way You Dress
And you've got Whitney Casey and Brooklyn Decker to thank for that
"Women wear just 20 percent of their wardrobe," says Brooklyn Decker, supermodel, actress, and now chief design officer behind Finery, a brand-new online wardrobe operating system. "I think women don't utilize the other 80 percent because they don't see what they have, and we're giving them that capability." And who, aside from true Marie Kondo devotees, hasn't experienced the infuriating scenario of picking the same few go-to outfits, over and over again, from an overfilled closet that is threatening to burst at the seams and take down your whole apartment with it?
Finery aims to fix that. Having just launched last Thursday, and founded by Whitney Casey, former television anchor and book author, who serves as the company's CEO, Finery has life-altering goals: Its function is to highlight the full diversity of your entire wardrobe and answer that perennially confounding question: "What do I wear?"
While at first glance, Finery might bring to mind the labor-intensive and time-consuming closet organization apps of the last few years (you know: the ones we all downloaded and then abandoned after uploading photos of the first five articles of clothing from our closets), upon first use, you'll be convinced of Finery's ability to fulfill its promise to give you back 10 years of your life (that's eight years of shopping and two years of picking out what to wear that we'll spend in our lifetime, according to Casey). 
"If the idea is to save you time, why would you spend hours combing through everything you own to manually add it to a wardrobe that exists online?" says Decker of predecessor apps. Not to mention the wastefulness of buying clothes that might fall into the aforementioned 80th percentile. "There are all these management systems for everything—music, money, etc.—but your clothes. And women will spend more than $300,000 on their clothes in their lifetime. That's a shit ton!" says Casey.
Here's how it works: After signing up for a free account with your email, the systems goes through your email receipts and order confirmations to pull images of every item you've purchased online in the last decade and log them into its database. For items bought in-store and vintage pieces, you can either search for them online and add them to your virtual wardrobe (even if they are sold out) or, as a last resort, upload photos manually. "We don't want you to spend hours inputting the data; we link with 10,000 stores and brands, and we find the clothes that you have purchased, and we put them into your closet for you," says Casey. "This is why we call ourselves an operating system, because an operating system runs in the background. You're not doing any work."
After Finery inputs the items, it will catalog them by the desired category, whether brand, color, or product. When I point out that the OCD part of me loves seeing my entire closet color coded as it is IRL, Casey enthusiastically agrees. "You can also turn all your shoes in the same direction," she excitedly tells me. "The closet can be displayed to suit any personality, and you have the option to be as anal retentive as you want." The software, then, can be used as a styling tool with users being able to drag items from their closet to make everyday looks or ones for special events like weddings, work trips, and vacations.
If Finery sounds like an all too common story of an entrepreneur bringing on a celebrity to front the product in hopes of gaining more attention, you'd soon think again when you see Casey and Decker interact; in fact, it's hard to tell whether their friendship came first or love for the project (spoiler alert: it's the friendship); they appear completely in tune, interrupting each other to highlight an exciting feature, finishing each other's sentences, and teasing and complimenting each other throughout the presentation. Decker looks right at home at Casey's stunning Kelly Wearstler-designed SoHo apartment, wearing one of Casey's sweaters, and having just landed in Manhattan several hours prior. "Brooke is the genesis of Finery," confirms Casey. "We were friends for a long time. We've always wanted to start something together, but had terrible ideas." Until now, that is.
The idea has been so well-received that Finery calls influencers like Lauren Santo Domingo and Leandra Medine early adopters, and style and entrepreneurial luminaries Miroslava Duma and Nasiba Adilova their investors—a fact that the duo is thrilled about. "It's very rare in tech to be funded by women," says Decker. And "tech" is a word that Finery stresses, so don't go around calling it a fashion website, Casey warns. If anything, Finery borrows more from algorithm-driven business like Mint, Spotify, and TripIt than styling sites like Polyvore. "We are not a shopping site. We're a tech company that's for the consumer. Because we think there's way too much consumption happening, and we want you to wear the clothes that you have," says Casey. 
On that note, the reason they landed at three in the morning on the day of the launch was because they were on the heels of a tech panel held in San Francisco where they talked about being part of the 6 percent of women that have started tech businesses. "Coming from my world, Hollywood, there are obviously huge gender biases in that industry, but I think being that small of a sect in tech, being the 6 percent, women truly band together," says Decker. "We found women who have no skin in our game—they're not investors, they're not a part of the company—and yet they are making connections and setting us up with meeting and helping us run events. I've never seen a more supportive group of women."
In addition to being able to visually carry your entire wardrobe on the go (for when, say, you're waiting for your coffee or on the subway and want to plan outfits for that work-play trip you're leaving for the next morning), you can also log in looks that you plan to borrow from retailers like Rent the Runway to see how they'd work with what's already in your closet. And despite the dismissal of "shopping website" label, Finery does allow users to create a "wishlist" on the website and add items (using a browser extension and a button not unlike Pinterest) you want to buy or are missing from your sartorial arsenal, track when they go on sale, alert retailers when they need to price match, and even send you a refund for the price difference. "If you're on any website, like a blog or something, and you see an outfit that you like, you can click the button, take the item, and add it to your wishlist. Once you're in your wardrobe, you can take all of these wishlist items and combine it with what you already own; if you put it with something you already own, you're less likely to return it," says Decker. Speaking of returns, Finery will alert you of all the return or exchange deadlines and manage the paperwork process for you should you decide that you don't want something.
In the future, Finery will also evolve to suggest outfit combinations, even taking into account what you already own and your monthly budget, and analyze your shopping habits to let you know when you might be purchasing your 10th gray cashmere sweater or pair of skinny jeans. But at the end of the day, Finery is an app for everyone and not just for the fashion- or organization-obsessed. "Even if you don't really care about what you wear, we still get dressed. So we really wanted to put everything together to optimize the time spent with our friends and families," says Casey. "I think some of our problems are inherent to women and time, so it's great to see a lot of female tech entrepreneurs come out and start doing things, because we're going to have problems specific to us that are solved. I mean, a woman did make the bra. It's a little-known fact. A woman also made the high heel, but the man wore it first."