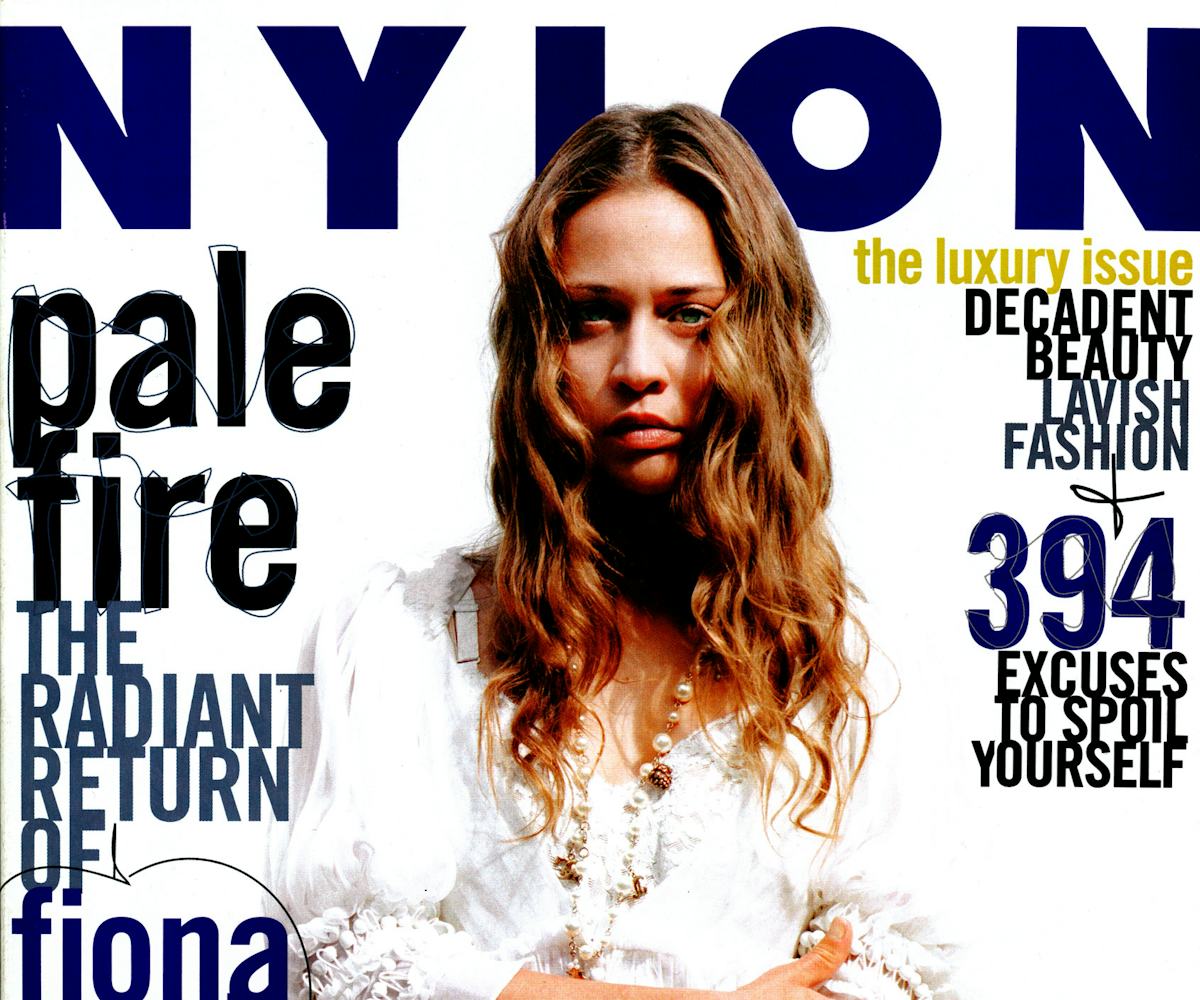 photo by jason nocito
flashback friday: an apple a day
kick back and relax with our november '05 cover story with fiona apple.
Our weekly Flashback Friday just got a whole lot cooler. We're still posting some of our favorite covers from past issues of NYLON, but now you can go even more in-depth with our faves by reading the cover stories in their entirety! Yep--consider this your really rad trip down memory lane. This week takes us to November '05, when our cover star, Fiona Apple, talked with NYLON editor April Long .Check out the full article below and the awesome photos in the gallery.
She went out to dinner with friends and afterward they all came back to her Los Angeles home to drink and talk and celebrate until the stars began to fade into the pale blue sky of dawn. It was a perfect night; but as the partygoers prepared to depart, the birthday girl suddenly felt smashed by a wave of anxiety. This was the last day of her life. At least, that's the way it felt. The next morning she would fly to New York to begin promotion for a new album -- a circus of interviews, photo shoots, videos, and live appearances -- for the first time in six years. So she wanted to suspend the moment, stay in that bubble of calm and comfort forever. "I knew everything was about to go really crazy, and I was excited, but I was also like, 'I'm not ready!'" she says now, a few days later. "I actually started getting pissy with my friends for leaving because I knew that my birthday was the last hurrah before..." She gestures vaguely. "This." 
This is a hotel room high above Times Square, which today has been busy with the jabber of publicists, agents, and journalists, all milling in and out, asking her questions. There are dresses laid out on the bed for an event later in the week, and a table filled end-to-end with generous platters of freakishly large fruit -- blackberries the size of baby's fists, pineapple wedges like wagon wheels, vicious-looking kiwis (but, strangely, no apples). A photography book lies on the floor, open to a portrait of Bob Dylan. And Apple, wearing a floor-sweeping black skirt and oversized fleece sweater, is curled up on a couch by the window, hugging a pillow. 
It's been nine years since the singer debuted with Tidal, a gripping, stark, angry album that made her an instant celebrity, not only for her precocious talent, but for her troubling back story, which involved a rape at the age of 12, an eating disorder, and a tendency to slice into her skin with her fingernails when she was upset. As far as angst musicians went, Apple was the real deal: a traumatized teen who took to the piano to bash out her frustrations, and came up with songs that were brave and bemused, tragic and triumphant. But at the same time when record companies were looking for a new Alanis, she refused to be pigeonholed--a defiant attitude that was exemplified in 1999 by her second album, which she named with a ninety-word poem (shortened to When the Pawn...) that set a record for the longest album title in history. 
The six-year gap between that album and the release of Extraordinary Machine this month has taken on a sort of mythic quality among Apple's fans. Rumors were rife: she'd gotten fat, she'd had a nervous breakdown, she had recorded an album that was rejected by her record company. Only the latter explanation has truth to it. Apple started recording Extraordinary Machine in 2002 with producer Jon Brion (who had worked on Pawn, as well as the score to her then-boyfriend Paul Thomas Anderson's 1999 film, Magnolia, and recently finished Kanye West's new album). The process didn't go very smoothly, partly because Apple was dealing with her break-up from Anderson, and partly because she wasn't sure she want to make another album at all. "I was really on the fence about doing it again," she explains, "and I didn't really know what I wanted for the songs. I wasn't ready I wasn't able to make the decisions and really be there, and so it kind of became more of a Jon Brion record. Which is beautiful and wonderful, but I wasn't satisfied because I knew that I hasn't really worked on it. And as I started to feel more ready to captain the ship, I decided I wanted to do other versions of songs." In the meantime, her label, Song, had rejected the material she had made with Brion, complaining that there wasn't a radio-friendly single. And when Apple asked if she could re-record the album with producer Mike Elizondo, she was told she would have to turn in the songs one by one for approval before they would give her money to proceed.
"That just wasn't acceptable," she says. "I saw that it was going to be quicksand, and a bad situation for me personally and professionally. I felt like if I could let that happen, then I'm dead, then I've given up something really important to me, which is my autonomy and writing music. So I quit." She shakes her head, and says it again: "I just quit." 
But then something remarkable happened. The unmastered Brion sessions were leaked onto the Web, prompting a group calling itself Free Fiona to send 1,500 apples to Sony, lobbying for the album's release. When Apple heard about it, she was watching TV in her bathrobe at her mother's house in New York, and she started to cry. "I was just blown away," she recalls. "Sine I had quit, Sony wasn't calling me up begging me to come back, and it had been six years since I had put anything out, so I kind of assumed it was over. And to find out that people were doing things like that on my behalf really touched me. And it worked! Because of that, I was able to go back and have the label say, 'Do whatever you want.' Thank you, Free Fiona.!"
Whereas the leaked Brion songs were more experimental--embellished, literally, with bells and whistles--Elizondo's interpretation, that ultimately became (with two original Brion tracks) the released album, is more subtle, allowing Apple's smoky vocals and beguiling melodies to come to the fore. Her songs have always had torch-song cadence, and Extraordinary Machine confirms that Apple's sensibilities lie far closer to singers of the '20s and '30s than to any of her contemporaries. Some of the tracks, like "Waltz (Better Than Fine)," sound positively antique. The lyrics, too, are the strongest and most resonant she's written yet, spiked with wit, pathos, and strikingly poetic turns of phrase ("The early cars/ Already are/ Drawing deep breaths past my door").  She's written in the past about overcoming obstacles, put-downs, or emotional devastation, and on Extraordinary Machine these themes have matured: Many of the songs are about being able to look back at relationships and appreciate the good in them. 
"Yeah!" Apple nods eagerly. "That's definitely there. I'm very proud to say that I'm friends with all of my ex-boyfriends. I'm a firm believer in keeping the people that I love. Just because it didn't work out one way doesn't mean that I don't want them in my life. 'Parting Gift' [which includes the lyrics, "It ended bad/ But I love what we started"] is a lover letter to all of my boyfriends, because they're great men I'm proud to have been with."
She's reticent about how much of the album was directly sparked by her relationship with Anderson, though. "It would be ridiculous for me to say, 'No, nothing has anything to do with Paul,' because he's definitely a big part of my life," she says. "But then I've also had other relationships since we broke up. There are specific things about some people in the songs, but then there's also general stuff about a lot of people, not all of them boyfriends." 
Every morning when she wakes up in L.A., Apple takes a walk to clear her head. Today, however, meandering through the grimy havoc of Manhattan near her hotel, it didn't work. She felt a niggling sense of unease; something was biting away on the edges of her calm, but she wasn't sure what it was. And then, as she began to think about the busy day of interviews and photo shoots that lay ahead, and it came to her, in the form of a question: Why was she doing this again?
She didn't know the answer. "I think this is true for a lot of people who do any kind of writing," she says, now looking solemnly out the window, and talking as if she's having an ongoing interior dialogue with herself at the same time that she's speaking out loud. "When you start out it's because you have something to prove to the world. You're trying to find your place, and maybe there's an element of revenge on people from your childhood... Then, after that, it becomes more about the art itself. But I don't really know what it's about for me right now." Then her eyes snap back into focus. 
"Except! Wait--I'm just realizing this now!--I think maybe it's a science experiment. Like, it's a personal thing for me, to see how I handle it this time around. It's a gauge of how much I've grown." She starts laughing. "I am totally using you as a therapist right now." 
Here are a few things you should know about Fiona Apple: She's incredibly funny, even goofy. She's disarmingly nice. She's unusually honest. And she's not crazy. Unfortunately, though, that's how she was perceived earlier in her career--even though she wasn't anymore bananas than most teenagers. It's as if people didn't know what to do with this young woman who was deep and damaged but also resilient and brave. She was a little bit lost, but she was no victim, no whiny waif. She would find her own way, and if it meant that she sometimes said things that shook people up, so be it. "I can't help myself, and I don't really see any reason to. In my ideal world, everyone would say exactly what they felt all the time." 
Her outburst during her acceptance speech for Best New Artist at the 1997 MTV Music Awards--in which she admonished fans not to copy her or anyone else on stage that night, because "this world is bullshit," is the most notorious example of Apple's tendency to speak her mind. She struck a pin into the music industry's inflated sense of itself, striking right at the heart of what sustains the entire machine: its ability to dictate taste. And people condemned her for it. 
"That shit hurt my feelings!" she says with a laugh. "I was perceived as a loose cannon, just because I can't hide it when I'm upset. I don't have a good poker face! But I don't regret anything. I'd do it all again." Apple has grown up a lot since then. For one thing, she's tremendously happy and confident in a way that she didn't seem to be before. Now that she has almost 10 years of perspective, she says that finding fame so young was "ultimately good, and incredibly lucky," even though it was hard to digest. "It all at once gave me self-esteem and then knocked the shit out of my self-esteem. And it gave me a huge mountain of experience. It was kind of like speed school. I went through so many of my worst nightmares that I can look at things now in a really mature way. I hear people who are in their 70s talk about things like, 'I've seen this, so I'm alright. I know that in time, everything will always be fine.' I can actually say things like that to myself." 
A week after our interview, Apple steps onto a makeshift stage in a downtown Manhattan Virgin Megastore for the first public performance in New York in a very long time. She's wearing a blue T-shirt, cinched at the waist with a wide belt, and the same long black skirt she wore the other day. Her hair hangs loose to her waist. She confesses that she's so nervous she might faint. Jon Brion is at her side, playing guitar, and another friend plays stand-up bass, but even if Apple were just singing a cappella, it would be enough to give you chills in the 90-degree heat. She sounds phenomenal and looks radiant. Her mother, a beautiful gray-haired woman with an infectious laugh, watches proudly from the side of the stage, offering the occasional good-natured heckle. It's amazing how the atmosphere in the icky, fluorescent-lit store is transformed into something as intimate as a shadowy jazz club. Her fans know the words to the songs, of course, even though the album's "official" release is still weeks away. And when she sings the chorus to the title track, everyone in the room sings it with her: "If there was a better way to go then it would find me/ I can't help that the road just rolls out behind me/ Be kind to me/ Or treat me mean/ I'll make the most of it/ I'm an extraordinary machine." The excitement and admiration emanating from the crowd's voices is staggering, and you can tell that Apple is overcome by the force of the moment. If she was still harboring any doubts about why she's doing all of this again, they're most certainly gone now.