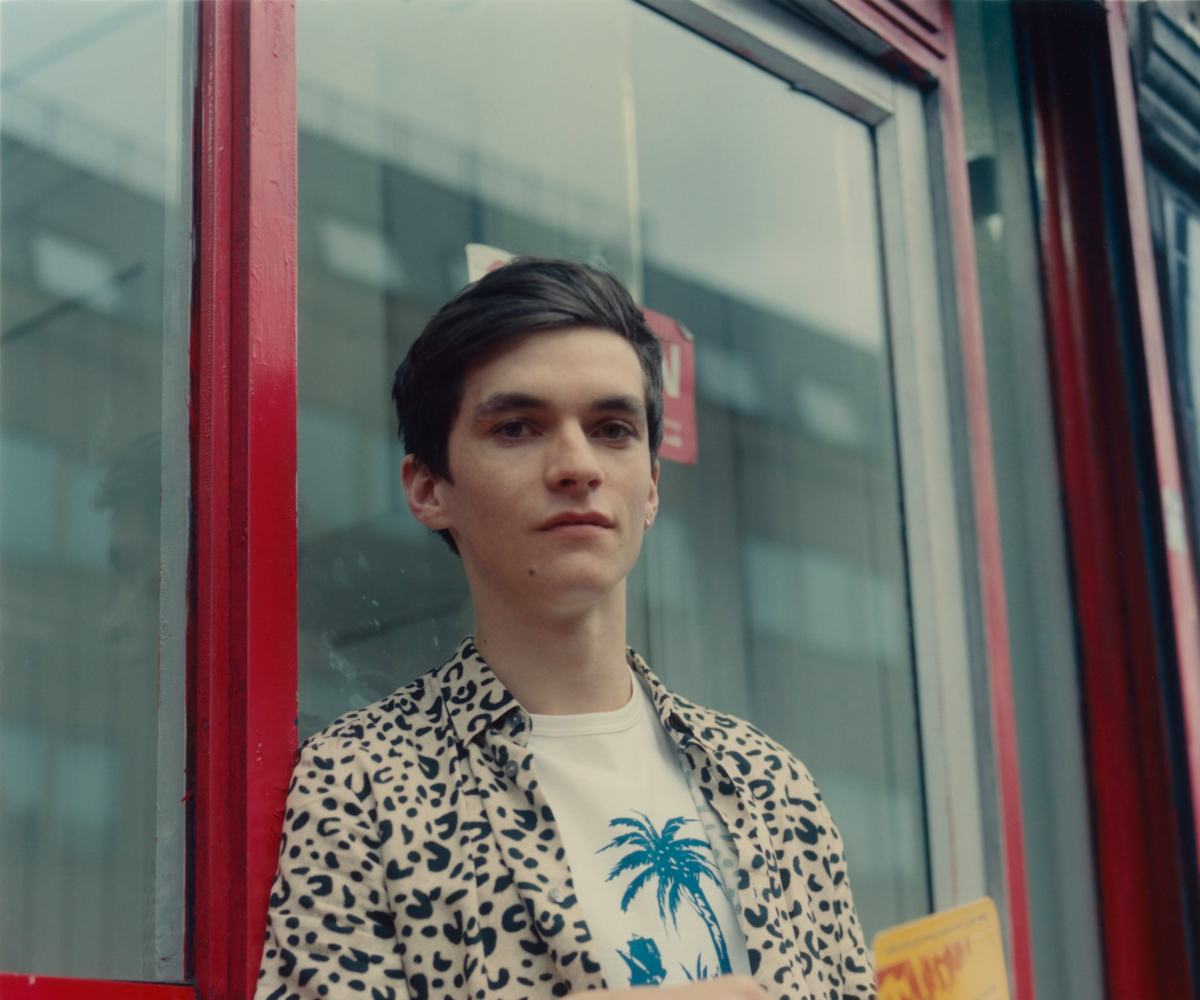 Photographed by Maxime Imbert. Styled by Laetitia Mannessier. Shirt by McQ Alexander McQueen, t-shirt by Sunspel.
Fionn Whitehead Shines In 'Dunkirk'
Get to know the 19-year-old actor
The following feature appears in the May 2017 issue of NYLON. Every year, we round up the brightest rising stars in film for our Young Hollywood Issue. Get to know the actors and actresses who are set to take over the industry. To read more, click here.
Fionn Whitehead still gets amused when people struggle with the proper pronunciation of his Gaelic name (it sounds just like Finn), but the days of strangers wrestling with it are numbered. He'll soon be known worldwide as one of the stars of Dunkirk, Christopher Nolan's upcoming WWII epic and an all-but-guaranteed global hit. The dramatization of the Allied forces' retreat from the surrounded French beach placed the relatively green actor in a new world—not just the unfamiliar terrain of battle, where he was tasked with thinking like a man mere seconds away from death, but of big-budget Hollywood moviemaking. It was a major leap forward in the 19-year-old actor's career. So what's he got lined up next? Your guess is as good as his.
A Self-Taught Talent: Whitehead balked at the prescribed route for kids his age, preferring to instead blaze his own path. "It wasn't until I was about 15 that I thought acting would be something I could do as a career. Before that I wanted to be a break-dancer. I was convinced I would make it, but I was terrible at dancing. When I was 15, I did something called the National Youth Theater, and when I left higher education, I started applying for as many casting calls as possible. When we were shooting Dunkirk, Cillian Murphy and I were talking about drama schools. I told him I hadn't completed my formal education, and he hadn't either. He said to me, 'Do some theater.'"
Military Theory: Nolan assigned Terrence Malick's ravishing war picture The Thin Red Line as homework for Whitehead, but there's only so much a man can learn about combat from the movies: "I'd never played a soldier. Getting into the mind-set of someone at Dunkirk, that's a hard thing to do. The pressure they were under, you can't force your survival instinct to kick in like it did for them. The panic they all must have felt is impossible for us to grasp. I had to do a lot of research on people of the time and what they went through. We went to Dunkirk, went to museums and read firsthand accounts of soldiers at the time. I talked to my granddad, who wasn't there but did serve as a Marine for many years, from the age of about 16."
Profiles in Fear: Dunkirk tosses the war film rulebook overboard, and Whitehead appreciated the chance to explore a more nakedly human element of the battlefield: "The universal thing is fear, which is not heroic at all. War films always portray soldiers as strong, heroic types, which isn't quite wrong, but it misses out on something big. You never really know what you're getting into with war until you're there. That was especially the case with Dunkirk, because these were young soldiers who had no idea what they had signed on for. People joined the army at the drop of a hat. It was the only thing for a young man to do. It let them get away from home, so they portrayed it as an opportunity to travel the world. The other side of that wasn't talked about so much. I don't consider Dunkirk a typical war film. It's a retreat. Showing it from that perspective puts the audience in a position they don't often get from a war film. I would call it more of a suspense-thriller about survival."
Madness to the Method: Nolan's skyscraping ambition has actors lining up to collaborate with him, and Whitehead quickly saw what the fuss was all about: "I got along really well with Chris. Very down-to-earth guy, and he creates a close, intimate, safe atmosphere on set. He puts you at ease, lets you try things out, he's open to whatever you'd like to do. That's quite rare in someone who's got a clear vision himself…. The shoot was very physical, very intense. One of the great things about how Chris works is his focus on what's real, believing in the reality of things. He built these huge sets on the beach, where it all happened. Real Spitfires flying overhead. One day, we had 1,500 extras on the beach in full war gear. When we were shooting the scenes, it all felt real. High-octane stuff."