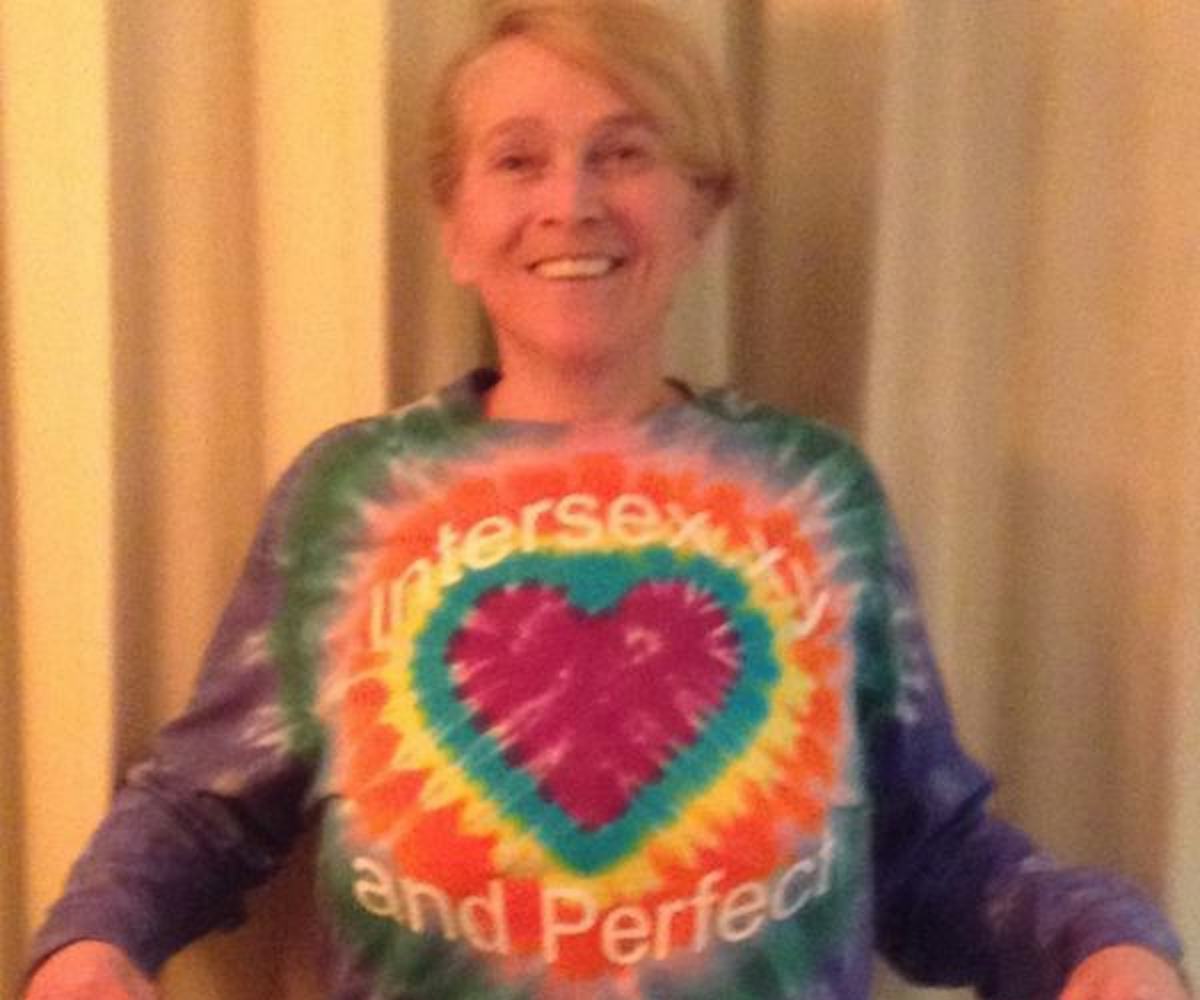 Image via Facebook @Sara Kelly Keenan
The U.S. Just Issued Its First Intersex Birth Certificate And It's A Huge Deal
"It is both shocking and empowering"
55-year-old Sara Kelly Keenan finally received her birth certificate—her third, actually. Born with both male and female genitalia and mixed internal reproductive organs, she was marked as a boy on her first birth certificate, and then after three weeks received another one listing her as a girl. Now, over fifty years later, Keenan (who uses female pronouns) is the first known person in the United States to receive a birth certificate with her gender listed as intersex, a huge triumph for those who do not fit into or identify with the gender binary.
Keenan announced her good news on Facebook wearing a shirt that says "Intersexxy and perfect" and thanking the city of New York for finally recognizing her for who she truly is. Indeed, it's been a long road: In addition to the multiple birth certificates and her parents and doctors agreeing to keep her intersex identity a secret, Keenan began hormone replacement therapy at 16 when she was told that she was "a girl that can't make hormones." According to a recent interview with NBC Out, she revealed that doctors initially wanted to construct a penis for her, but her father had declined. Keenan sees her birth certificate as paving the way for a "legal way for other intersex people who choose to embrace it in the same way to do so with a legally recognized sex marker" while also noting that "not all intersex people will choose to identify legally as intersex, and not all parents will choose to have their intersex child identified as intersex on birth documents. But for those who do, the option must exist."
2016 also saw another important victory for the nonbinary community. Earlier this year retired military veteran Jamie Shupe (who uses neutral pronouns) was legally allowed to change their gender to nonbinary, though this victory also serves to highlight just how far we need to go as a nation in recognizing and enabling individuals to exist outside of the male-female framework. A lengthy profile by The Daily Dot explores how even with this legal victory, Shupe can't get a passport, drivers license, or any other form of identification listing their gender as anything other than male or female. According to a recent Facebook post, Shupe has had at least one positive and respectful meeting at the Headquarters of the Oregon DMV and is optimistic that change will come. Although the legal red tape is maddening, the changes brought by Keenan, Shupe, and other members of the nonbinary community will undoubtedly have a great impact on nonbinary youth, especially as we head into uncertain times in 2017. By standing up for who they really are, these individuals are changing public perceptions of what gender means and not only creating a space for themselves to thrive, but for the next generation as well. We keep moving forward.
(Via Cosmopolitan)