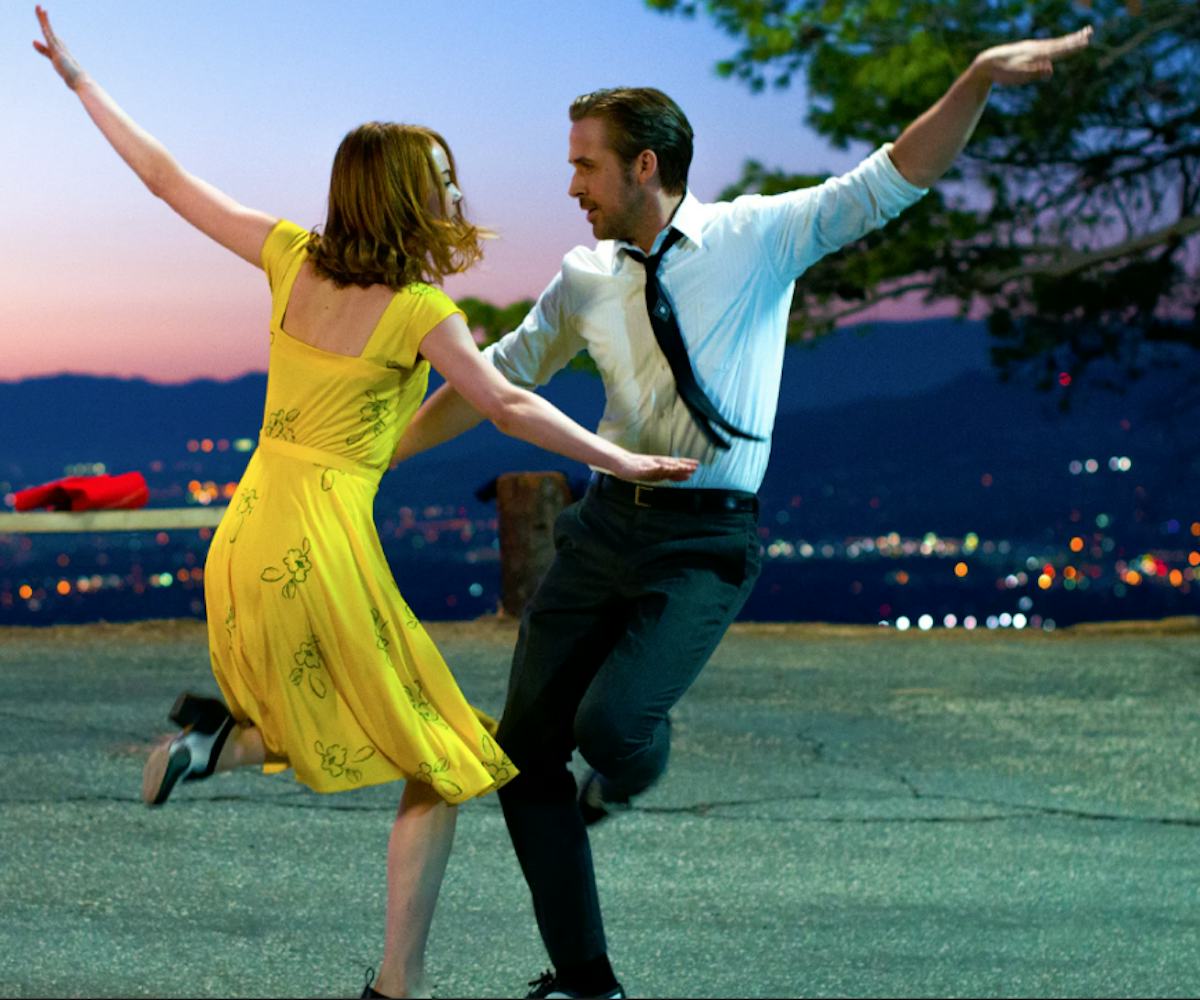 'La La Land' Opens The Venice Film Festival, Leaves Critics Breathless
The throwback musical starring Ryan Gosling and Emma Stone is an all-out success
When the first trailer for Damien Chazelle's La La Land hit the web, it left people charmed, dazzled, and also a little perplexed. Would this unapologetically throwback musical starring Ryan Gosling and Emma Stone resonate with modern audiences? Would it even work at all? Well, in the hands of Chazelle and its two leads, not only does the movie seem to work, but apparently it's an instant Oscar front-runner on its way to becoming a classic of the genre.
La La Land had its world premiere at the Venice Film Festival yesterday, and by all accounts has left critics breathless, with its throwback charms, performances, and musical score. Expectations were high: The on-screen chemistry between Stone and Gosling is well-established, and coming off Whiplash, Chazelle claimed his territory as one of the most promising young directors in Hollywood. 
It didn't take long for critics to get swept up in the movie's old-school allure. The story kicks off with an elaborate music number set during a Los Angeles traffic jam that caused critics at the first press screening to spontaneously break into applause as soon as it was over. "There's never been anything quite like the opening sequence," said a review in The Hollywood Reporter. Variety called it "one of the most extraordinary sequences in years."
Not surprisingly, much of the praise is being aimed at the movie's two leads, who play a struggling musician and struggling actress, who fall in love against the backdrop of a technicolor L.A. The Guardian, which gave the movie five stars, says Stone "has never been better, her huge doe eyes radiating wit and intelligence when they're not filling with tears." Variety also called the La La Land score "such a melodious achievement that there are moments it evokes the majesty of George Gershwin."
The Wrap praised Chazelle's audacity in bringing back the old-time musical and using it to tell a story that resonates today: "The musical is as malleable and eclectic a genre as any other, and Chazelle reminds us how effectively it can be applied to intimate moments as well as huge ones."
Finally, Pete Hammond of Deadline was similarly charmed:
But this is too smart a movie maker to just do a simple tribute to a bygone era, his film starring Ryan Gosling and Emma Stone is a gorgeous romantic fever dream of a musical that should hit contemporary audiences right in their sweet spot.  It has been a very long time since we have seen something quite this lyrical, lovely, and most importantly, original on the screen, but at the same time it is a musical that has its feet firmly planted in the real world, even if the one up there on the wide Cinemascope screen is very stylized.
La La Land is set to open in theaters on December 2.