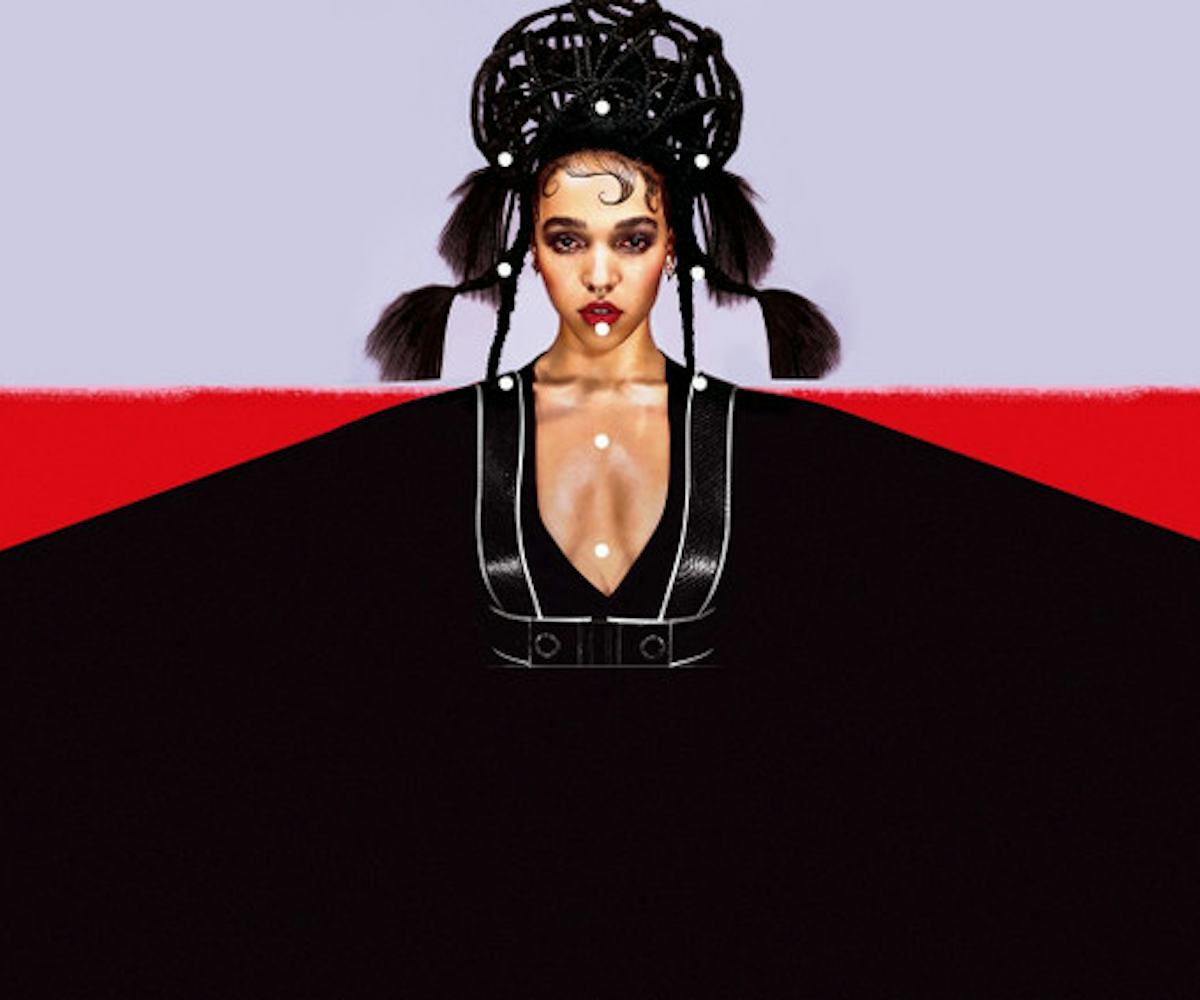 Photographed by Matt Irwin, Artwork by Ignasi Monreal
fka twigs on her 'amazing' relationship with robert pattinson
the mercurial singer opens up to complex
Like most of history's most mercurial artists, FKA twigs can be reclusive. She's not one to seek out paparazzi attention or fuel the media's incessant need for drama and superficial stories. Yet, she has recently found herself as a major topic of the general public's conversation—partly due to her artistic musical ventures, but, unfortunately, mostly because of her relationship with Robert Pattinson.
In her new Complex cover story, the 27-year-old talked about her creative process, music, and addressed her engagement to the Twilight star. The couple's big news was originally (accidentally) revealed by T-Pain in April. Anyone would venture to guess that was not the way twigs and Pattinson, who have been very private about their relationship, intended to announce their news. When asked about the incident, she said, "It's fine, I'm a pretty chill person, do you know what I mean?" She then said, "If you can't touch it, it's not real." 
Last September, Twitter trolls bombarded twigs with racist comments. In response, she tweeted, "I am genuinely shocked and disgusted at the amount of racism that has been infecting my account the past week. Racism is unacceptable in the real world, and it's unacceptable online." When asked by Complex about the intense criticism and lens that comes with dating a former YA hearththrob, she said, "I wouldn't say I'm completely numb to it now, but there's definitely a numbness there." Later, in a follow-up interview, she told the magazine, "It is pretty horrible. But ultimately, I'm in an amazing relationship. So it doesn't matter." 
Although it may seem surprising looking at her now, twigs struggled with learning to love herself, quirks and all. "Looking back on when I did LP1, I had a really deep, weird self-loathing," she said. "I was weirdly self-harming through the people who I was forcing on myself... The two years previous to me doing LP1, I just didn't have a lot of…." She momentarily loses her voice, trailing off. "I didn't have a lot of respect for my heart. Now, I have way more respect for my heart."
"I haven't had an easy life at all, but everything seems to be working out," she said. "I'm so grateful for that, because at times, especially when I was a teenager, I just couldn't see how things could ever get better, or how I'd ever be able to do this. I don't know what I thought I'd be doing. I'd always worked hard at music and at dancing, but I never thought I'd get the opportunity to be doing this, and have the belief of people to give me a budget to make a video."
Head over to Complex to read the entire story.
more fka twigs news, this way:
See FKA Twigs' Engagement Ring
Watch Robert Pattinson + FKA Twigs' Mesmerizing Coachella Dance
FKA Twigs Talks Pregnancy + Performance
Watch FKA Twigs' "Glass & Patron" Music Video
"I was banned from two classes for asking too many questions... I didn't stick out like a sore thumb. Maybe a boy would fancy me, you know?"
On doing press: "If this is what being an artist is, I'm just not really sure this is for me. This is horrific. I could be doing dance class right now."