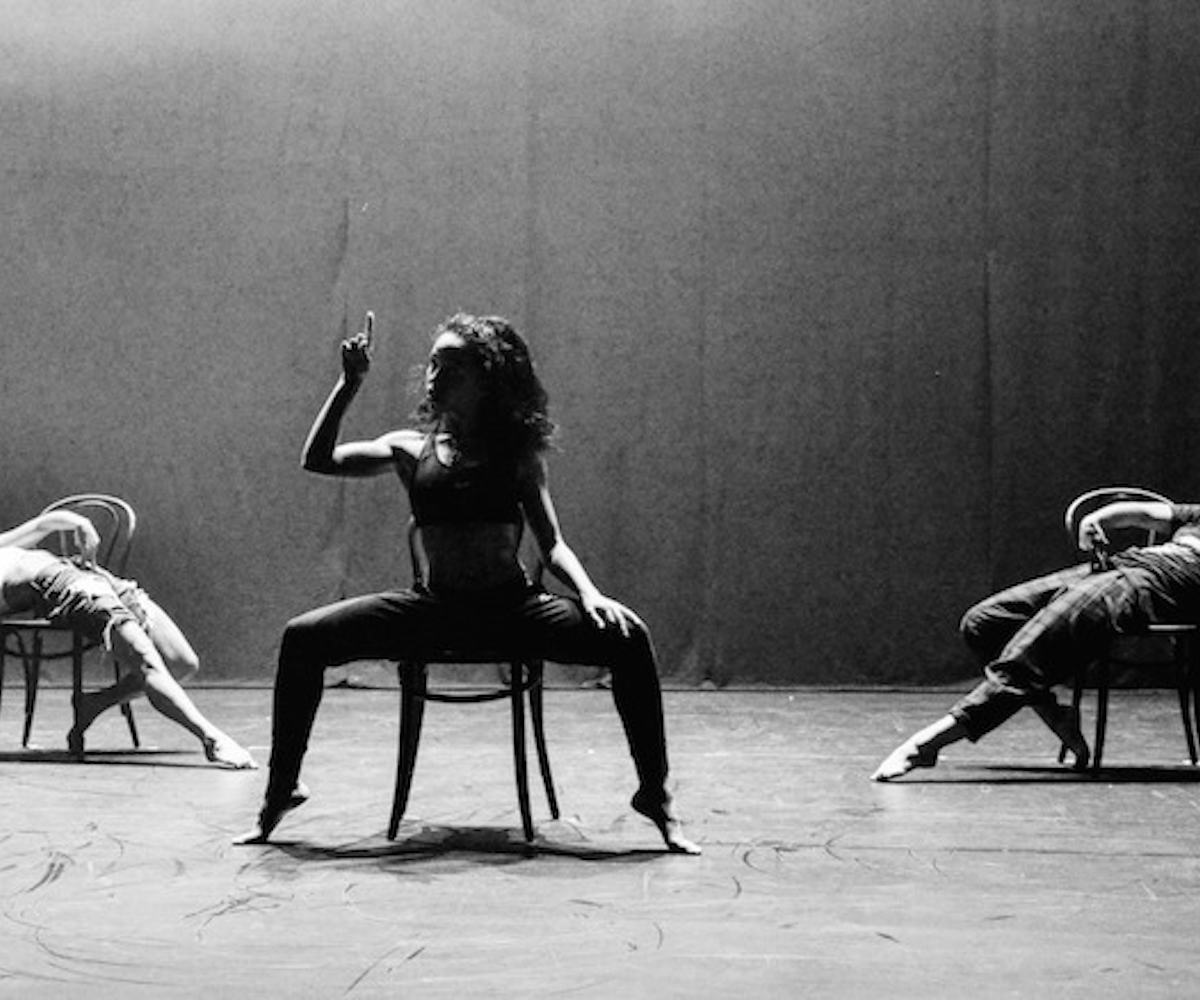 Photo courtesy of FKA twigs/Tumblr
Everything You Need To Know About The World Premiere Of FKA twigs' 'Soundtrack 7'
Flesh, sweat, feeling, muscle
Last night, FKA twigs held the world premiere for her 52-minute feature, Soundtrack 7, at the Brooklyn Academy of Music. The "abstract autobiographical" performance piece was produced during a 2015 residency at the Manchester International Festival, during which twigs and her collaborators spent a week creating conceptual art for seven different numbers paired with music from EP 2, LP 1, and M3LL155X. Each part is woven together by the narration of "I Find No Peace" by Thomas Wyatt, a poem which deeply resonates with her.
"I just realized, that's what I've been doing—you love another, and thus you hate yourself. You give so much to someone and they don't give you back what you want, and then you feel jealous, and then you feel hurt, and then you feel twisted, and then you hate yourself because you think, 'I'm not this person,'" she says. "A mother loves a child, and then the child does something wrong, and then the mother hates herself and feels like it's her fault for not doing it properly. I feel like I started applying it to so many different aspects of life, and I realized that maybe so many of us actually do that."
While we are used to watching twigs perform in highly produced music videos, it's incredible to see what she is capable of doing on a stage without the typical performance props. It felt like we were bearing witness to twigs in her most elemental form. As an artist compelled to speak her truth, she essentially created Soundtrack 7, a body of work that has been five years in the making, for that purpose.
"For me, when something's a truthful emotion, it doesn't even matter what it's about. Everyone can feel it," she says. "There are so many things that come into telling the truth for me. You've got to, first of all, remove your ego—because not everything's pretty—and then you have to be really open and trust yourself. And you've got to be able to respect people around you to help you."
Spectators that attended the rehearsals were given a rare opportunity to see twigs in action. She was involved in every aspect of the performance, from dancing and directing to camera panning and setting up the lighting. 
"I wanted to create something that felt really stripped back. Over the past two or three years, I've sort of been living by the mantra that you can't copy talent and you can't copy training, so that's something I wanted to portray in this," she says. "It's not heavily costumed, it's not about the makeup, it's not about anything like that."
All of the collaborators for Soundtrack 7 are close friends of twigs. Having known most of them for years, she completely trusted them as they worked together to execute this vision. 
"It's just about a group of people that have devoted so many hours to training in dance and training in feeling," she says. "It's difficult to talk about the process because when you get people who have talent and that like each other all in a room, if you know what you want, it just comes together quite easily, I think."
Every song that twigs makes expresses a specific feeling, so she wanted to convey that in a way that was relatable to everyone. "What I Wanna" is about being in a situation where you don't want to do something, but you feel pressured into it—"you're trying to get away to see the light, but feeling like something's dragging you back." Though she represented this idea in the form of a man trying to leave a gang on stage, it's a common feeling that twigs knows everyone has experienced on more than one occasion.
"We've all sort of felt that, at the end, where everyone's just searching for that intimacy and frivolous with their feelings. One time, dancing with this person, and the next time dancing with that and touching yourself, and you're touching other people, but it's really to validate yourself," says twigs. "That's a feeling that I've felt, and you can apply that to anything. That can be being physically reckless or emotionally reckless. I just wanted to create each piece with something that felt very personal to me, but through a story that everybody could relate to."
Since there's nothing but a stage in each frame, the setting for each section is minimal. "Ultraviolet" uses the most effects with a row of projected images. "Numbers" is twigs' dark, twisted version of Fosse. "Mothercreep" captures the feeling of loss that only a mother knows when her children decide to leave home. FKA twigs credits so many aspects of her creative process now to moments from her childhood, like coloring with crayons on textured surfaces and chasing imaginary spider webs.
"I feel like, still, I'm doing it now in my work," she says. "It's just working with different textures and different colors and seeing what happens if you layer one thing onto another thing. I guess in terms of being well-studied, I'm not."
Prior to this project, twigs said that she has always valued supporting herself. Early on, she would save all of her money to put back into her art so that it could reach the level of quality that it has today. But despite having reached her goals, she has always felt conflicted about some of the burdens of the creative professional life. 
"As an artist, I just don't want to inflict that on anyone. I want everyone always to feel really free, always be themselves, always be able to showcase what they have trained in," she says. "I want everyone to be able to just be their own personality when they're onstage."
Twigs also explained her concern for cultural appropriation within the subcultures of dance, though she never hesitates to give credit where it is due, and promotes the work of the original creators, not the imitators.
"For me, that's not studying, for me that's life. You get interested in something, and you show your appreciation by going to the [Vogue] Knights. I feel like maybe sometimes throughout history, artists who have a platform can sort of take a lot, and they don't realize that it hurts," she says. "If there's a culture that's grown out of pain and out of love and out of passion, there's a certain fragility to that."
Twigs is almost hyper-aware of the harm that more publicized artists do to these communities when they decide to borrow pieces of their culture. In fact, she's extremely self-conscious about her place in the mix which is why she has the utmost respect for the legends who are committed to these cultures.
"They've devoted their whole life to their passion for a community. Not for money, not for glamour, not for fame, but just to support their community," she adds. "That doesn't just apply to ballroom culture. That applies to so many different forms of art where people just do things just for the love. That's more where I'm from in terms of a dancer or art. I just want to support or create a community."
After the premiere, a woman in the audience thanked twigs for featuring Kaner Flex in the production. As the mother of a son with autism, she said that his inclusion was a huge inspiration for similar children and adults. Instead of accepting the praise, twigs allowed Flex to come down and speak for himself. He said:
I just feel like with my autism, I don't find it as a disability; I find it as an advantage. With me, my autism, it's just me, and it's a part of me, and I parade it, and I'm proud of it. It makes me who I am, and I'm not scared. I'm sure of the man who I am. I know that I'm good 100 percent from within, and I'm proud to let that out into the universe and into the world. And no disease, it's all titles. It's about your mindset and what you really want in life... Never stop what you love and what you're doing in life.
Twigs said that Soundtrack 7 is like a warning shot for something bigger on the way. If this short film is any indication, we can't wait to see what's next. 
Watch behind-the-scenes footage of Soundtrack 7 here.