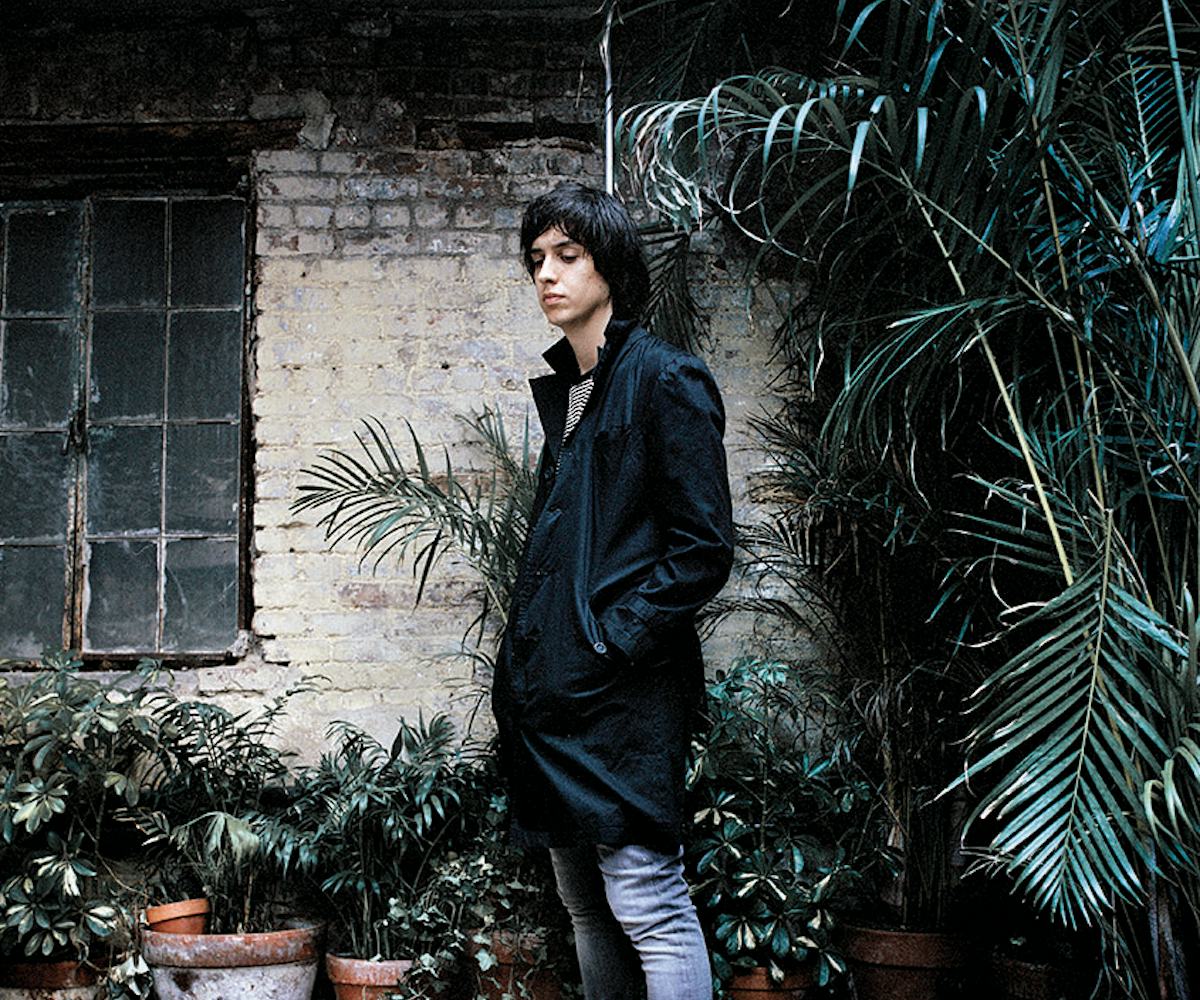 photo by ysa perez
read our '09 interview with julian casablancas
Our Flashback Friday this week is our exclusive interview with Julian Casablancas in the October 2009 issue, when he had just released Phrazes for the Young, way back before the Voidz came along.
It was a cinematic teaser video that first unveiled Julian Casablancas's upcoming solo debut, Phrazes for the Young. The clip, a mélange of apocalyptic, '70s cult-film images—picture Mad Max scaling The Holy Mountain,withdusty badlands and spiraling galaxies—is set to "Glass," a psychedelic, synthesized track. Could the Strokes' garage-rock poster boy have gone prog? Not exactly. "I want to write a simple pop song, badly!" professes Casablancas from under a straggly fringe. "But I always get way too ambitious." As such, the record blissfully lurches from church organ-buoyed dance grooves to electric-guitar-skewered dirges.
Change isn't easy for Casablancas. As the frontman for the Strokes, he's felt the weight of expectation ever since his band triggered New York's late '90s post-punk zeitgeist. But after Is This It (2001), Room on Fire (2003), and First Impressions of Earth (2005)— nothing. "It's natural to want to try new things," says Casablancas, fidgeting in his publicist's Meatpacking District loft. "I had ideas for some songs that were Strokes-y and some not. If I wanted them to have multiple percussions or super-long chords, I didn't want to compromise…. And seeing everyone else go outside the Strokes bubble to test their own mettle pushed me to do my own thing." Guitarist Albert Hammond Jr. and bassist Nikolai Fraiture have pursued solo projects, drummer Fabrizio Moretti formed Little Joy, and guitarist Nick Valensi took up photography. But Casablancas has only come out of hiding for sporadic collaborations—lending his vocals to "My Drive Thru," a Converse jingle featuring Pharrell Williams and Santigold, "Boombox," a gag song for Andy Samberg's comedy troupe the Lonely Island, and "Little Girl," for Brian "Danger Mouse" Burton, Sparklehorse's Mark Linkous, and David Lynch's surreal Dark Night of the Soul.
The songs on Phrazes actually materialized around two years ago—when Casablancas got inspired whil poring over Confucius's Analects and Oscar Wilde's Phrases and Philosophies for the Use of the Young. ("I wasn't trying to write it in an MC Skat Kat way," he swears of album's title, laughing. "I made a spelling mistake.") Ergo, nuggets of wisdom pervade the eight songs—like "Your faith has got to be greater than your fear," from "11th Dimension"—couched in Casablancas' personal, less-preachy lyrics. In "Out of the Blue," he confesses, "I know I'm going to hell in a leather jacket," and in "River of Break Lights," a "Hotel California"-esque tune, he claims he's singing about "the cutthroat tidal wave of shortsighted, suicidal modernism…and getting caught in traffic." He laughs again. "It's a fine line: You don't want to be heavy-handed, but you want the album to have depth." 
Sonically, Phrazes is also a study in contrasts. "You want to get this hypnotic, Dark Side of the Moon thing going, but you don't want the songs to sound the same.... I like the mixtape vibe," says Casablancas, adding that everyone from Bob Marley to Blonde Redhead to chamber-music composer Benjamin Britten "milk-shaked in my mind." For producers Jason Lader (Rilo Kiley) and Mike Mogis (Bright Eyes), the keyboard—that would be the trumpet, strings, and other "weird sounds" you hear—was the de rigueur instrument during recording. But where "11th Dimension" is a dance anthem with skittering bleeps and swelling bass, in another song, "4 Chords of the Apocalypse" it's an electric-guitar solo that careens into the singer's disarming drawl." "I think since it's still my voice; the album will have some cohesion," says Casablancas, who croons on Phrazes in ways you've never heard him intone before.
He'll get to test-drive his new sound on the road this fall with the Phrazes tour, which kicks off in Tokyo and has Casablancas plotting "over-the-top, Disney-like shows." But then it's back to his day job: recording the Stokes' fourth album, due out early next spring. With a handful of demos, he says, "we're close to nailing down a producer. We haven't decided what direction we want to go in yet, so we kept the songs really raw." Mind you, this is a more ambitious Casablancas speaking. So if he had his way, the singer says with a roguish smile, "we would mix a '70s, Thin Lizzy-type theme with cool '80s melodies, and maybe it would sound…futuristic?"