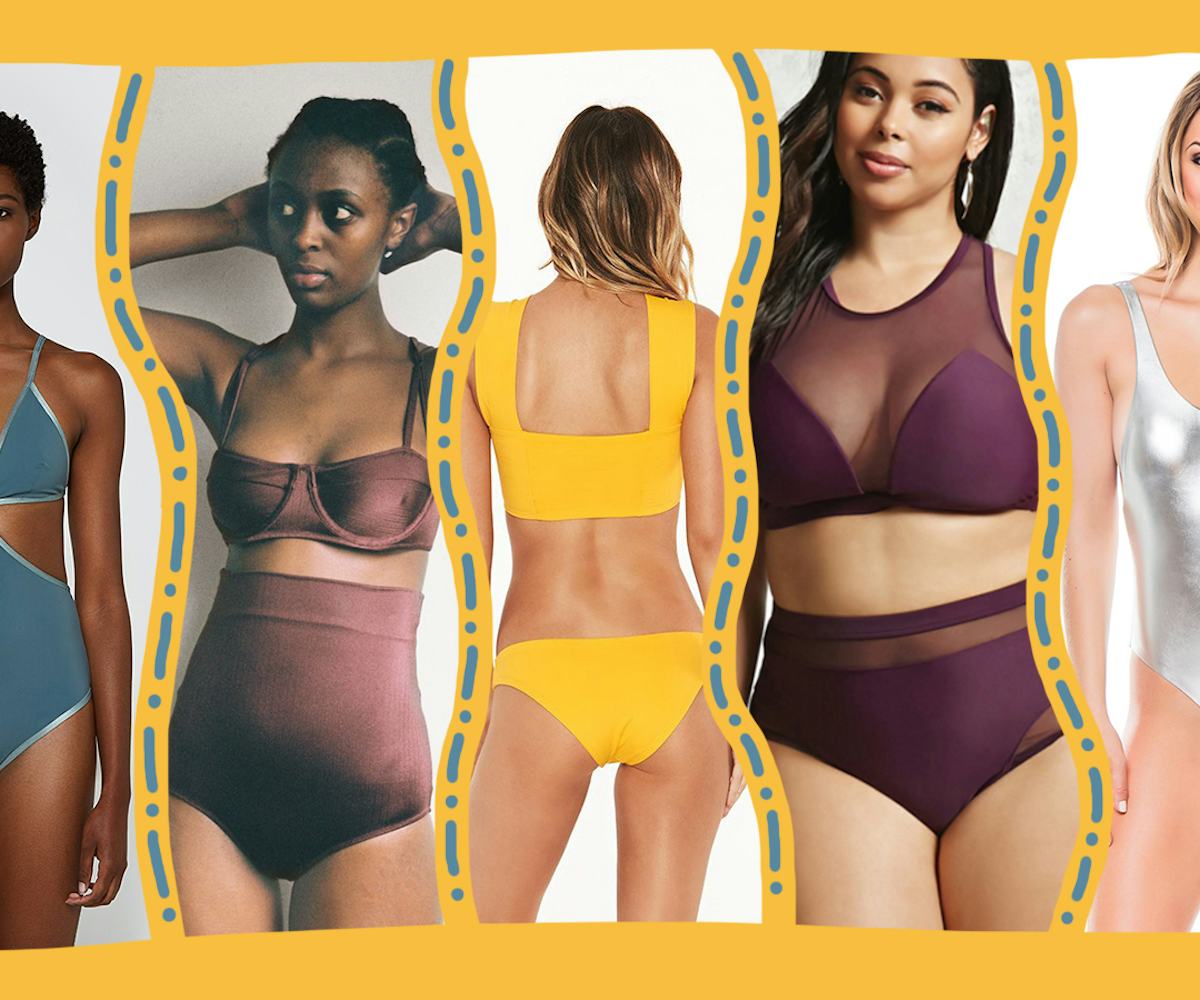 A No-Stress Guide To Finding The Best Swimsuit For Your Body
What to wear poolside this summer
For a large majority of us, bathing suit shopping can be quite a daunting—hell, even miserable—task. For some? Nightmare status. It doesn't have to be this way! Finding the perfect bathing suit can, and should, be easy—and we're here to make the search all the more enjoyable. Considering that beach season will officially be in full swing in just a few days, we wanted to make sure you're well-equipped take on shopping for swim like a pro. The trick to getting swimwear right is knowing how to flaunt and embrace what you've already got, so you can feel and look your best.
We chatted with three experts in the field about the best styles for seven common body types, and now have stress-proof tips to help you find the best suit for your bod, so you can get on to being the glowing beach goddess you're destined to be.
Small bustIf you're looking to play up a smaller chest without using padded bikini tops that could double as floatation devices, never fear. According to creative director and co-owner of Everything But Water Sabra Krock, ruffles, prints, and colors help add to the appearance of curves and work to draw the eye upward. Sara Mitzner, vice president of creative and branding for Swimsuits For All, agrees, adding that these styles will draw attention to detail of the top in a really fun and flattering way. Rather than find ruffled or printed tops, we rounded up three ruffled and printed tops, for a double boob-enhancing effect.
Lisa Marie Fernandez, Natalie Flounce Bikini, $395, available at Shopbop; Isabella Rose, Classic Bra Top, $80, available at Everything But Water; Swimsuits For All, Heartthrob Lyric Underwire Top, $36.40, available at Swimsuits For All.
Big bust"Built-in bras keep the girls in line," says Mitzner. For those with bigger busts, she says that tops with built-in bras just might be the answer you've been searching for. Since these styles tend to be carried in actual bra sizes, you'll be more likely to find a perfect fit than you would with just regular letter sizing. Krock adds that if you're not into the idea of an underwire, look for a halter top with a banded bottom. It still has all the needed support with a much less structured and more laid-back look.
Lonely, Daphne Bikini Top, $80.71, available at Lonely Lingerie; Robin Piccone, Banded Halter Top, $122, available at Everything But Water; GabiFresh x Swimsuits For All, D/DD + E/F Reflection Underwire Swimsuit, $70, available at Swimsuits For All.
Small buttIf your want to give your booty a boost, Mitzner suggests finding bottoms with either ruching or a sweetheart shape to give the illusion of a fuller, rounder rump. "These can add curves, while also contouring smaller and flatter butts," she says.
Swimsuits For All, Cataline Ruffle Brief, $22.40, available at Swimsuits For All; Pink by Victoria's Secret, Ruched Mini Bikini Bottom, $22.95, available at Victoria's Secret; Norma Kamali, Bill Ruched Bikini Briefs, $175, available at Net-A-Porter.
Big buttAccording to Monica Wise, founder of swimwear line L*Space, if you're looking to contain your bountiful assets, you should not go by the "more is more" theory and opt for a bottom with fuller coverage, even though this may be your first instinct. "In all my years in business, this piece of advice has never changed: the more coverage on the bum, the less flattering," she says. "Full-cut bottoms have a tendency to draw focus on the width of your backside, as opposed to classic cuts with moderate coverage."
L*Space, Sandy Bottom, $68, available at L*Space; Missguided, Green Stripe Lead Swimsuit, $32.40, available at Missguided; Topshop, Reversible Bikini Bottoms, $26, available at Topshop.
Curvy all overCurvy all over? "Own what you got!" says Wise. "Don't shy away from silhouettes that flaunt your curves, like curve-hugging, high-waisted bottoms." Top-wise, you can follow our lead on the bigger bust recommendations, opting for two- or one-pieces that offer support, be they banded halters or underwire bra tops. Of course, finding brands dedicated to offering stylish swimwear for curvier sizes, such as Swimsuits For All, is always a good bet, as you'll know for a fact these pieces have been tailored perfectly to flatter you in every way.
Swimsuits For All. Madame Yacht Cruise Underwire Bikini, $42, available at Swimsuits For All; Forever 21, Plus Size Mesh Bikini Top, $19.90, available at Forever 21; Forever 21, Plus Size Mesh Bikini Bottoms $17.90, available at Forever 21; Moxi Blu, Colorblock Bikini Top, $19.88, available at Moxi Blu; Moxi Blu, Colorblock Retro High-Waisted Bikini Bottom $16.88, available at Moxi Blu.
AthleticAccording to Krock, those with a more athletic physique can turn to the monokini for a flattering effect on their shape. This one-piece style uses side cutouts to give a straighter figure the illusion of curves.
New Look, Bandage Cut Out Swimsuit, $37, available at ASOS; Mara Hoffman, One Piece Monokini, $240, available at Everything But Water; Rachel Comey, Matriarch Suit, $253, available at Need Supply Co.
Short legsIf you're looking to lengthen your legs (or, well, give the illusion of lengthened legs), look for bottoms or one-pieces that offer a higher leg cut (think: Baywatch). "High on the thigh is the way to go for shorter legs," says Wise. "The higher the cut, the more elongated your legs will look, so look for pieces that rest above the hips." Krock agrees, mentioning that this style is back in vogue as well.
Dolce Vita, Reversible One Piece Tank, $120, available at Everything But Water; L*Space, Whiplash Bottom, $79, available at L*Space; Op For UO, Rainbow Hipster Bikini Bottom, $36, available at Urban Outfitters.