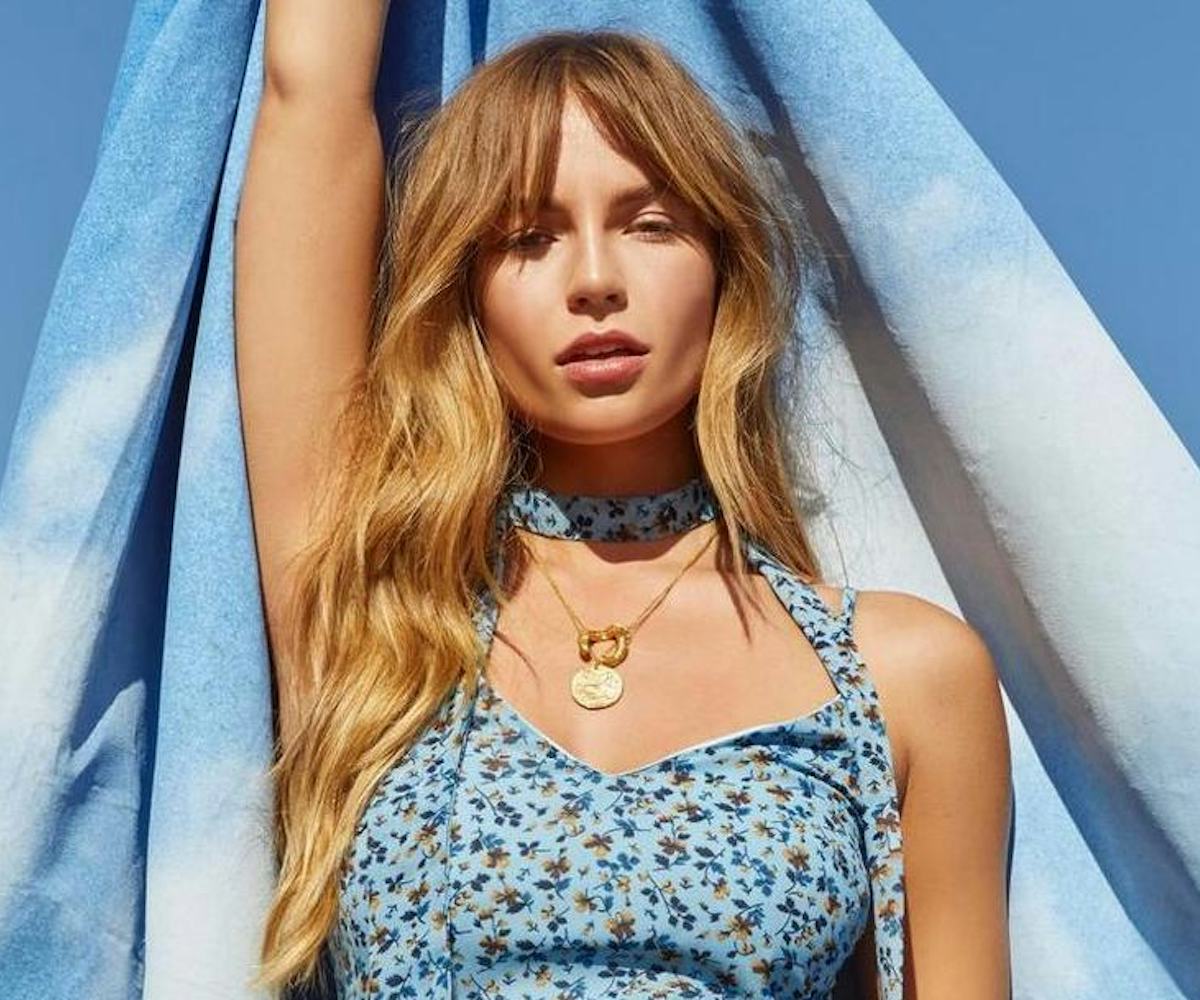 Photo courtesy of Nasty Gal
Freshly Picked: 13 Floral And Fruit Looks From Nasty Gal's Summer Sale
55 percent off for NYLON readers!
If you've been scrolling at all, we're sure you've already heard: fruit is in. With a whole slew of fashion campaigns featuring sweet summer harvests (peaches, bananas, oranges) as props—nested in transparent PVC bags, especially—the fruit trend is running wild at the moment. Yet, there's no denying, it's the summer trend of our dreams. Perhaps it's ridiculous. Perhaps it's ludicrous. Hell, we've even recently spoofed this quirky trend in a video!
While there are some who prefer to earnestly expose their produce in PVC bags, we like to wear our fresh pickings, whether fruit or florals, on our sleeves. Yes, right on our sleeves. From cherries and lemons to daisies and roses, fruit and flower prints are trending. Just ask NastyGal, whose summer sale is blooming with a large assortment of apparel of this kind. And not only is NastyGal currently featuring 50 percent off of the entire online store but also, from July 18 to July 23 with the code "JULY55," the retailer is offering NYLON readers 55 percent off of non-sale items. Welcome to Eden.
So, come on all and get to picking! For inspiration, we have compiled a list of some of our favorites, below.
NYLON uses affiliate links and may earn a commission if you purchase something through those links, but every product chosen is selected independently.
There's something incredibly timeless about this suit–– the simplicity of the white one-piece married to the ruffle's cherry pattern. We can already imagine ourselves sporting this look at the beach, paired with big sunnies, tanning. And even better: No shoulder tan lines with this off-the-shoulder cut!
Nasty Gal, I Miss You Cherry-Bly Off-the-Shoulder Swimsuit, $24, available at Nasty Gal.
Cherries are the hippest fruit and this is no anomaly. Bold and juicy, the red fruit is often used as a provocative metaphor. In the fashion world, however, somehow they have settled under solely the "cutesy" category. Change your cherry look up, goth it up, edge it up with this sleek cut and darker pattern.
Nasty Gal, Cherry Nice Indeed Swimsuit, $24, available at Nasty Gal.
Perhaps it is a stretch to say that this beret is "fruit-inspired;" however, it is undeniable that there is a striking semblance to those very maraschino cherries that peacefully perch upon heaping summer sundaes. Certainly a fruity-patootie, this beret is!
Nasty Gal, Level Head Beret, $16, available at Nasty Gal.
Polka-dots and cherries… could we make it anymore obvious? Classic. Actually, classic as hell. This is a real look to the tens. Not to mention, the scarf is extraordinarily versatile, boundless in the ways to don it.
Nasty Gal, The Cherry on Top Polka Dot Scarf, $10, available at Nasty Gal.
Don't argue with us: Gingham is summer, just think of all of your picnic blankets. This top has already stolen our hearts with not only the dynamic duo that is the gingham and lemon print, but also with its remarkably flattering cut.
Nasty Gal, Pull Up With a Lemon Off-the-Shoulder Top, $30, available at Nasty Gal.
We are living for this spunky set. In fact, we have already packed it in our vacation suitcases! Okay. Just kidding, but the tropical colors here really take this look to "stand-out" level. This set is perfect too for the minimalist packer, who can maximize their trip wardrobe by simply mixing and matching the top and the bottoms with other items!
Nasty Gal, If You Were a Fruit Pineapple Crop Top and Shorts Set, $50, available at Nasty Gal.
Hand-picked from the blooming vineyards of NastyGal comes the "Pass Me the Fucking Vino Relaxed Tee." Light and effervescent with notes of sardonic, this playful tee is a sparkling rosé, if you will.
Nasty Gal, Pass Me the Fucking Vino Relaxed Tee, $30, available at Nasty Gal.
We feel nothing (but love) for this weightless summer look! Oftentimes during summer and especially in humid places like New York, some struggle to find casual outfits to wear. It is simply too hot for many wardrobes. But with its light and looser features, this floral romper sure feels like freedom from the heat!
Nasty Gal, Sugar Magnoloa Floral Romper, $50, available at Nasty Gal.
A solid sneak is the real needle in a haystack. It is impossibly difficult to find that Goldilocks spot: the fine line between a shoe that is "too boring" and "too strange." But, NastyGal really nails it here. This shoe, detailed with small vibrant flowers upon the heels, is both simple and full of whimsy. Made with vegan leather, they are sure to last quite some time. Just be sure not to water them.
Nasty Gal, Stay Grounded Floral Sneaker, $30, available at Nasty Gal.
Seriously. What part of this, doesn't scream "sweetheart central?" This flowery outfit is sure to capture everyone's attention. Plain and simple. Sweet and chic. Maybe even take this outfit to the next level with the help of these espadrilles.
Nasty Gal, Got to Get Growing Floral Romper, $50, available at Nasty Gal.
Hop on it cowgirl and order this "West Coast Floral Dress!" With its length and sophisticated shape, this floral fashion is a breathtaking one––really, a horse's kick to the gut––so get on it! We especially dig this dress with edgy boots.
Nasty Gal, West Coast Floral Dress, $80, available at Nasty Gal.
This Moto Jacket comes in pink suede! We repeat, this Moto Jacket comes in pink suede! Don't know if that excites you as much as it delights us, but we are particularly into this statement look, because also we really are suckers for floral embroidery.
Nasty Gal, Bonjour Les Filles Faux Leather Moto Jacket, $90, available at Nasty Gal.
Though small, this top packs quite a punch as one of our favorite summer gothic florals, that could frankly, be worn throughout winter, as well. And of course, we still can't get over those fantastic flare sleeves.
Nasty Gal, Grow Ahead Floral Crop Top, $44, available at Nasty Gal.