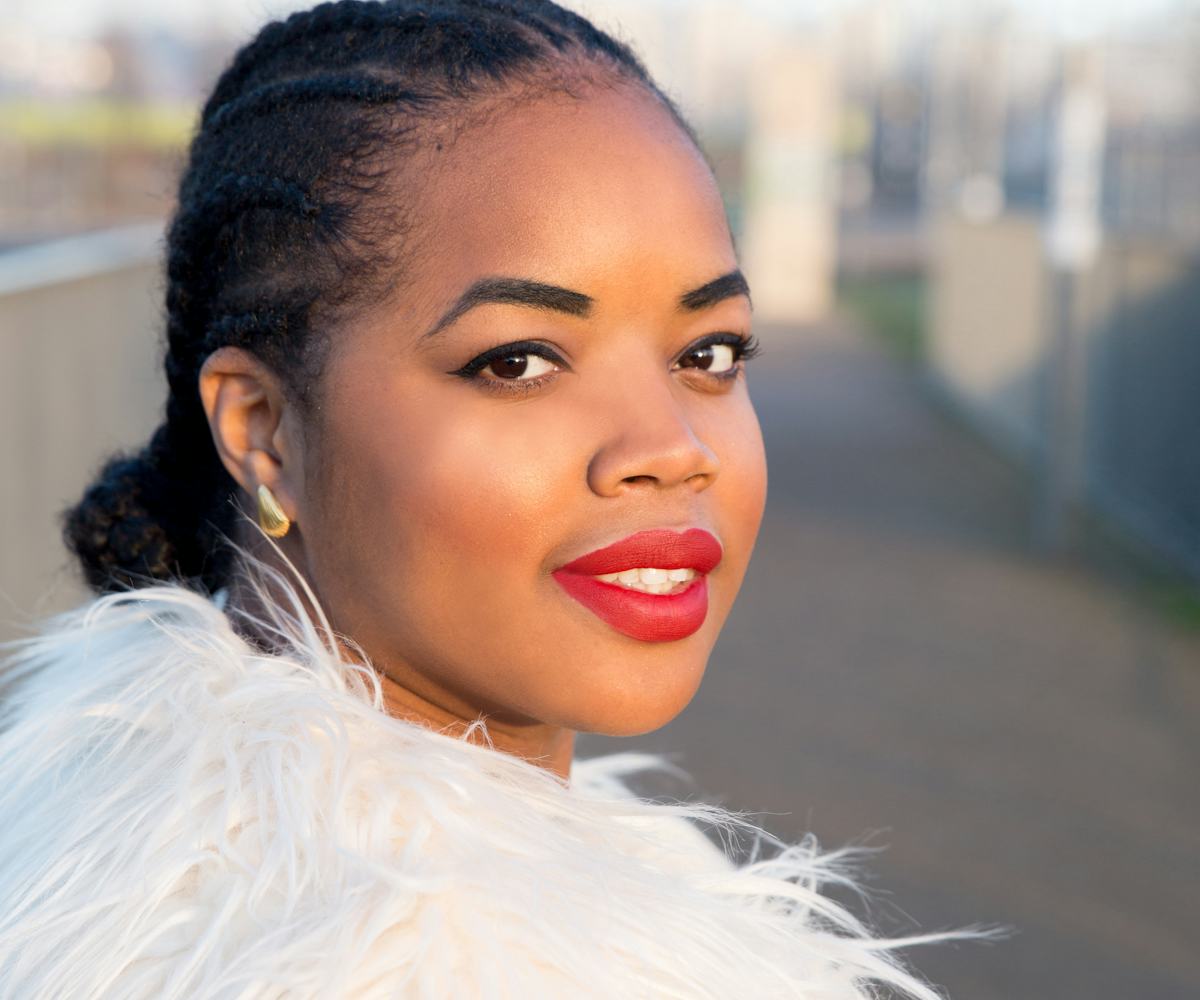 Photo by Danny Wonders
The Science Behind Florence Adepoju's Cosmetics Brand
Meet the founder of MDMflow
In celebration of Black History Month, NYLON is running a spotlight series called UNAPOLOGETIC. Every day, w
e'll celebrate different aspects of black culture through
profiles, interviews, roundtables, reviews, videos, and op-eds
. #Blacklivesmatter and we hold that truth to be self-evident.
When most girls are introduced to the world of beauty, they are taught that it's all skin-deep and don't really explore the research behind the magic. But from a young age, Florence Adepoju was interested in science, including when it came to makeup. Raised in Essex, England, by parents who "praised and championed" her academic achievements, it was when Adepoju got her first job working at a Benefit Cosmetics counter that she started to see the possibilities of doing something that was both scientific and creative. 
Adepoju enrolled at London College of Fashion with a focus in Cosmetic Science. Shortly after graduating in 2014, she launched beauty brand MDMflow. Now, the 25-year-old is running her own beauty empire with an aesthetic that pays homage to the bold and beautiful mid-'90s glamour era.
Every product comes in a flashy, bullet-shaped gold tube that practically screams "NOTICE ME!" The names of the bright shades are also tributes to some of Adepoju's hip-hop heroes like Kelis and 2 Chainz. So far, MDMflow is stocked with a luxurious range of lipsticks and mascaras that are available at retailers such as NYLONshop, Nasty Gal, Topshop, and Anthropologie. 
We talked to the cosmetic scientist about the process that went into building her brand, what she does to properly manage her time, and how she feels about representation in the beauty industry. Take notes from the interview, below.
Why was it important for you to get a college degree?
To be honest, at the time of getting my degree, I didn't really feel like I had any options. It was something that was expected of me, and all the people I aspired to be like went into higher education. I really loved the opportunity I had to work, study, and explore the beauty industry. I got so much work experience without having any real responsibilities. I was studying something I was incredibly passionate about, and it really set me up for where I am right now.
Can you outline the process and timeline that went into launching MDMflow?
I explored a few different things whilst I was in university. I organized charity fashion shows, co-founded a creative agency, and set up a web shop to sell independent brands called Flow's Boutique. But none of that stuff really stuck. When I went into final year and started working on my final year project, it really gave me the opportunity to hone in on the thing I was truly passionate about, and that was color cosmetics, namely lipsticks. Initially, I thought,
I'll finish my final year and then work on my company
, but during the project, I had so many micro indicators that the lipsticks I was formulating were good enough to sell. That led me to just going with the flow, working on developing my product, and ultimately launching at graduation.
How did you learn how to manage your own business?
I am still learning every day. When you start a business straight from university, you are just throwing yourself off the edge and hoping you don't crash and burn. I am constantly reading business books, listening to podcasts, and trying to learn from successful people around me. But it's a hard process because ultimately you get better by building positive habits and building new habits is the hardest thing ever. 
You seem extremely hands-on with every aspect of your company, so how do you productively multitask?
Initially, I literally did everything and that only worked up to a point, so now I am more focused on building a hardworking, passionate team and delegating. We meet weekly, go over everyone's weekly tasks and things we need to accomplish together, and take score of how it's all going. 
In terms of my personal tasks, I invested in a desire planner and I write down my intentions and tasks at the beginning or end of every day. 
What makes MDMflow stand out in comparison to typical cosmetics brands with the same products?
I know my stuff. I am a cosmetic scientist and I really care about the chemistry behind the products I am creating. I am very passionate about products not only looking good but being good; high quality, functional, and necessary. I think too many brands only care about trends and looking cool but don't really take much care with the stuff they are putting out. My hope is that the beauty industry becomes as developed, nuanced, and diverse as the fashion industry. 
How do you feel about representation in the beauty industry?
It's gotten a lot better over the last few years, but it's nowhere near where it needs to be. If we can't solve seemingly simple issues, likes foundations for a diverse range of skin tones being made widely available, how do we deal with more nuanced problems, like diversity in advertising and unrealistic beauty ideals? It's important for brands like mine to exist and give a different point of view. 
What motivates you to keep working every day?
Customer feedback—positive feedback legitimizes MDMflow's existence, constructive criticism keeps me on my toes and helps me do better. It's important to me that I keep my ear to the ground and create products that are necessary and relevant. I am also motivated by other founders creating incredible businesses too.
What is next for MDMflow?
Currently, we are working on the
. It's important to me that we lead to a conversation around beauty. We have some cool campaigns and new products coming up this year too.
What is one piece of advice that you would you give to a younger version of yourself?
It took me a really long time to be confident enough to talk about my ideas. I'd tell a younger me to let it out, share your ideas, let people laugh at you, and get rid of all that shame and, consequently, inhibitions
. Then I'd tell them, "Now that you've let it out, start working on it!"