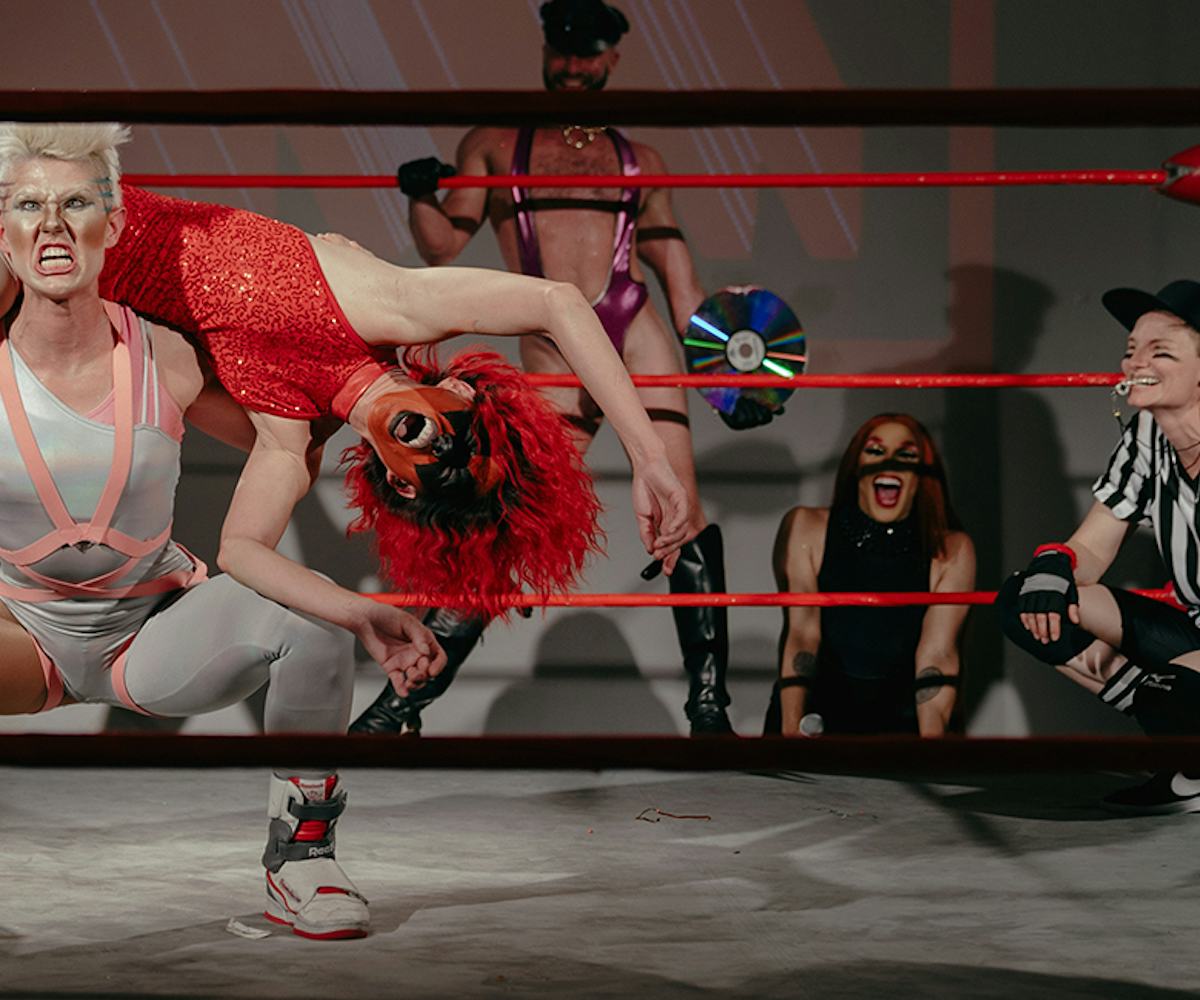 Photo by Katie Stenberg
F.L.O.W.: Women's Wrestling And Art Face Off In The Ring
It's the real-life 'GLOW'
Jennifer Juniper Stratford was eight months pregnant when she climbed into the wrestling ring.
It was the first live show of the Future Ladies of Wrestling—F.L.O.W. for short—and she wasn't going to be on the sidelines.
While the Netflix series GLOW may have helped bring new fans to female wrestling, Stratford has been dreaming of getting in the ring since she was a little girl watching the original Gorgeous Ladies of Wrestling pile-drive each other. "My mother and my sister and I would watch it together," she explains. "We were such huge fans that we actually hired Matilda the Hun to perform at a party in the 1980s and attack my mom's boyfriend."
Stratford's interest wasn't left in her childhood, either. She interviewed some of the GLOW stars for her now-defunct Vice column and took her whole family to see a screening of the documentary, G.L.O.W. the Movie. She has been enmeshed in the world of wrestling, long before Netflix came along. "This is a lifelong obsession," she says.
Photo by JJ Stratford
For her day job, Stratford is a media and performance artist who has been making immersive video art and delightfully odd web programming "since before YouTube" through her TeleFantasy Studios. It was really only a matter of time until she decided to turn her obsession with wrestling into an art form.
In 2016, she applied for a grant from the Mike Kelley Foundation and was awarded $5,000. "I took the money and I just gathered all these girls together," Stratford says. "It was kind of weird. I think I just had some kind of psychic inkling or something, because every single one of them was like, 'Yes, I've always wanted to be a wrestler.'"
Each of the women developed a wrestling persona, complete with detailed backstories and deadly moves, and now fully embody their characters—even in interviews. There's Chemtrails who worked in advertising until one day she woke up in a toxic waste dump with huge holes in her memory and superhuman strength. Lisa5000 is a cyborg who was "designed by the Fiber Optic Observation Network," and since cyborgs don't need to sleep, she spends her days and nights perfecting her lethal finishing move, "The Megabyte Swipe." Then there's Machine: "I take no shit and will take down anyone or anything that stands in my way." Hardcore Tina responded to a request for comment with a simple, "Fuck interviews."
Photo by Katie Stenberg
Once the wrestlers were set, Stratford wanted to find someone to train them in the art of slamming a rival's head into a turnbuckle. That's when she met Candy Pain. "I had been wrestling and performing in L.A. for a couple years, and JJ saw me perform and liked what she saw," Candy Pain says. "Maybe it was the show where I beat up three men at Cheetahs on Hollywood Boulevard and got the entire audience to chant, 'Fuck you, men!'" Now Candy Pain works as F.L.O.W.'s fight coordinator, training the wrestlers, while Lisa 5000, who works as a personal trainer and a fitness instructor, toughens them up for the ring. "The first time I put the ring together the girls showed up, and they were like little girls on a trampoline—they were just freaking out," Stratford says, laughing. "They were just jumping all around! We had been practicing on mats and watching videos of WWF and GLOW, so to finally get to wrestle was the best thing."
"The first time in the ring was magical," says Chemtrails. "Lisa 5000 give me a megabyte swipe, which almost made me puke, but in the end, I spit toxic waste on her and short-circuited her motherboard. It was the most natural high I've ever experienced."
Photo by Katie Stenberg
Once the moves and characters were set, Stratford started filming fights, pitting the bad girls vs. the good ones, Candy Pain vs. her ex-best friend Eruptia, Valibu Tina vs. the frightening Flesh Eating Corpulous. That's when Netflix's GLOW came along, which nearly derailed the project. "I started shooting in September of 2016, and then I heard about the new GLOW, and I was kind of bummed about it. I thought, Oh great, everyone's going to think we're like a parody or a bottom feeder copy from a network show," she says. "But I had to just ignore those feelings and keep going."
Over the course of the next few months, Stratford set to work documenting the fights and capturing what Stratford calls "the weird magic" of the women of F.L.O.W. She released the videos on YouTube and Instagram and started building a devoted fan base. After building buzz online, Stratford decided to stage a live show. They set up a ring, sent out the invites, and that's when Stratford found herself climbing into a wrestling ring, eight months pregnant, ready to announce the matches. "It was totally electric," Stratford says. "The place filled up and the crowd was doing everything we hoped they would do—chanting for their favorites, bringing signs. It was like a spell was put on this entire room full of people."
Photo by Katie Stenberg
"To be in that ring while all my fans chanted, 'Candy Pain!' is the best feeling, I felt like I was finally home," says Candy Pain. "Even though I lost my match that night against Eruptia, I knew I would come back and have my retribution!" (She did, too, throwing Eruptia out of the ring and battling Flesh Eating Corpulous to win the Ultimate Multiversal Warrior belt.)
They had so much fun doing it that they decided to another live show, this time with Stratford's newborn daughter, Xena, in tow. Soon, F.L.O.W. will go international, at the Do Disturb festival at the Palais de Tokyo in Paris in April. It just goes to show that when it comes to wrestling, the future is definitely female.