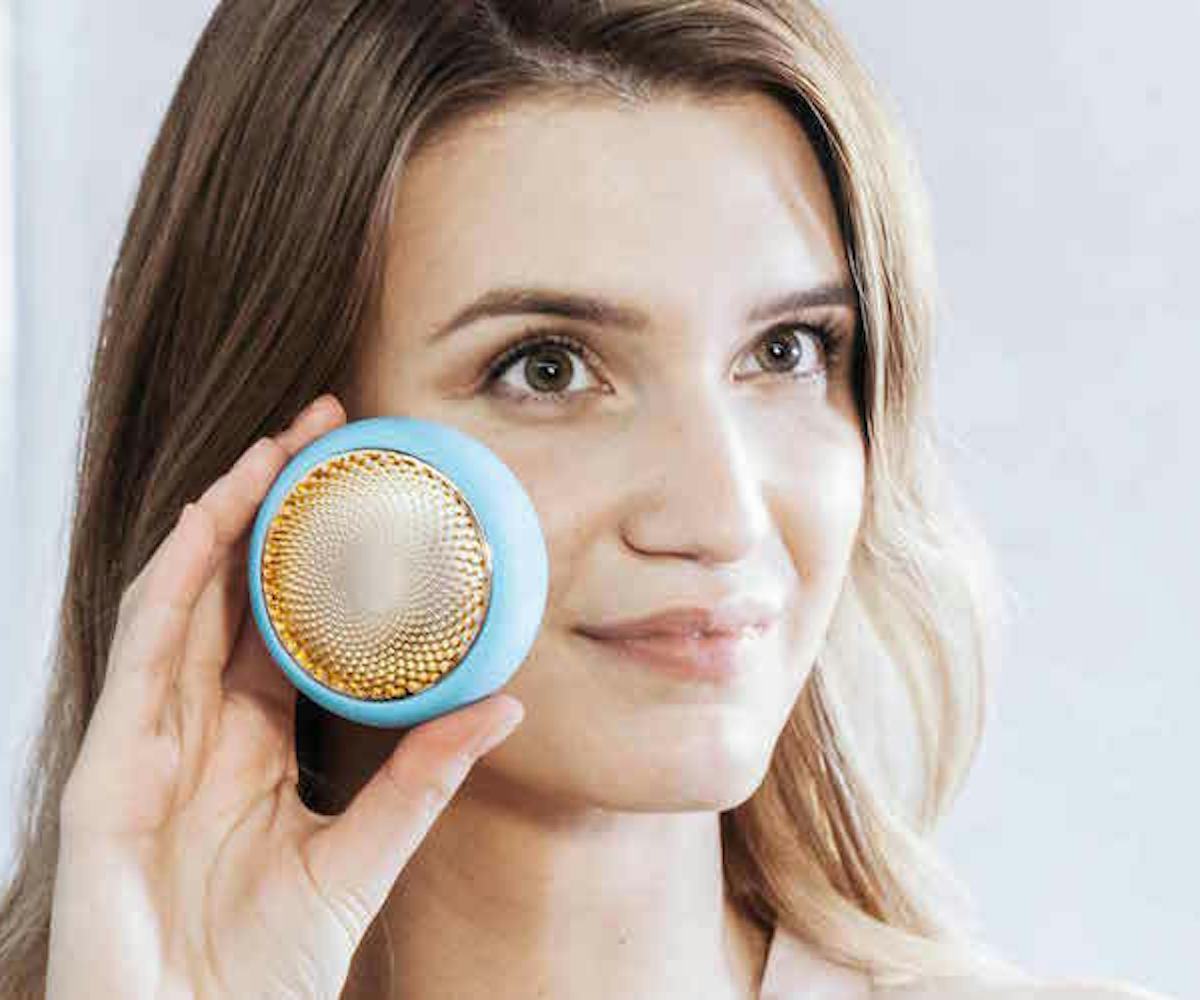 Photo courtesy of Foreo
The Future Of Face Masks Is Here
The world's first smart mask is coming, and it resembles a UFO
Are you into self-care, but just can't seem to find the time to sit still for 20 minutes with a sheet mask stuck to your face—let alone, find the time for a trip to the spa? Well, the world's first smart mask is coming our way from FOREO, the geniuses behind the cult-favorite Luna brush, and it will allow us to pamper ourselves with spa-level treatments in just 90 seconds.
Is it magic? No. The future? Yes.
The UFO, which stands for Ur Future Obsession, is a new device that combines a traditional sheet mask with LED light therapy, cryo-therapy, thermo-therapy, and T-sonic pulsations for optimal, high-result treatments. It will be launching with two different pre-programmed treatments, for day and night.
The Make My Day, a deeply hydrating and pollutant-protecting treatment, combines a hyaluronic acid and red algae sheet mask with 30 seconds of thermo-therapy and red LED light, to prep and open the pores. It then uses 30 seconds of T-Sonic pulsations, to enhance absorption, and finally switches over to 30 seconds of green LED light and low-frequency pulsations, to even skin tone and boost radiance.
The Call It A Night, an overnight nourishing and revitalizing treatment, uses a ginseng and olive oil sheet mask and begins with 30 seconds of high-frequency T-Sonic pulsations, thermo-therapy, and red LED light, which helps to infuse the ingredients deeper beneath the skin's surface. T-Sonic pulsations then switch to a lower frequency and higher rate of red LED light to enhance blood circulation and skin elasticity.
That's a whole lotta pampering for just three minutes a day.
And it's all activated by your smartphone. While the two current masks will be pre-programmed into the advice, the app will give users access to future treatments, control of the device's intensity, and easy reordering.
The UFO is currently still in its Kickstarter phase, but it's already beat its $20,000 goal almost 30-fold and is expected to launch in stores this April. When it does, it will retail for $279, with a mini version retailing for $179—which, when you think about it, is about the price range of one really good facial. Spring can't come soon enough!
Learn more about the UFO, below.