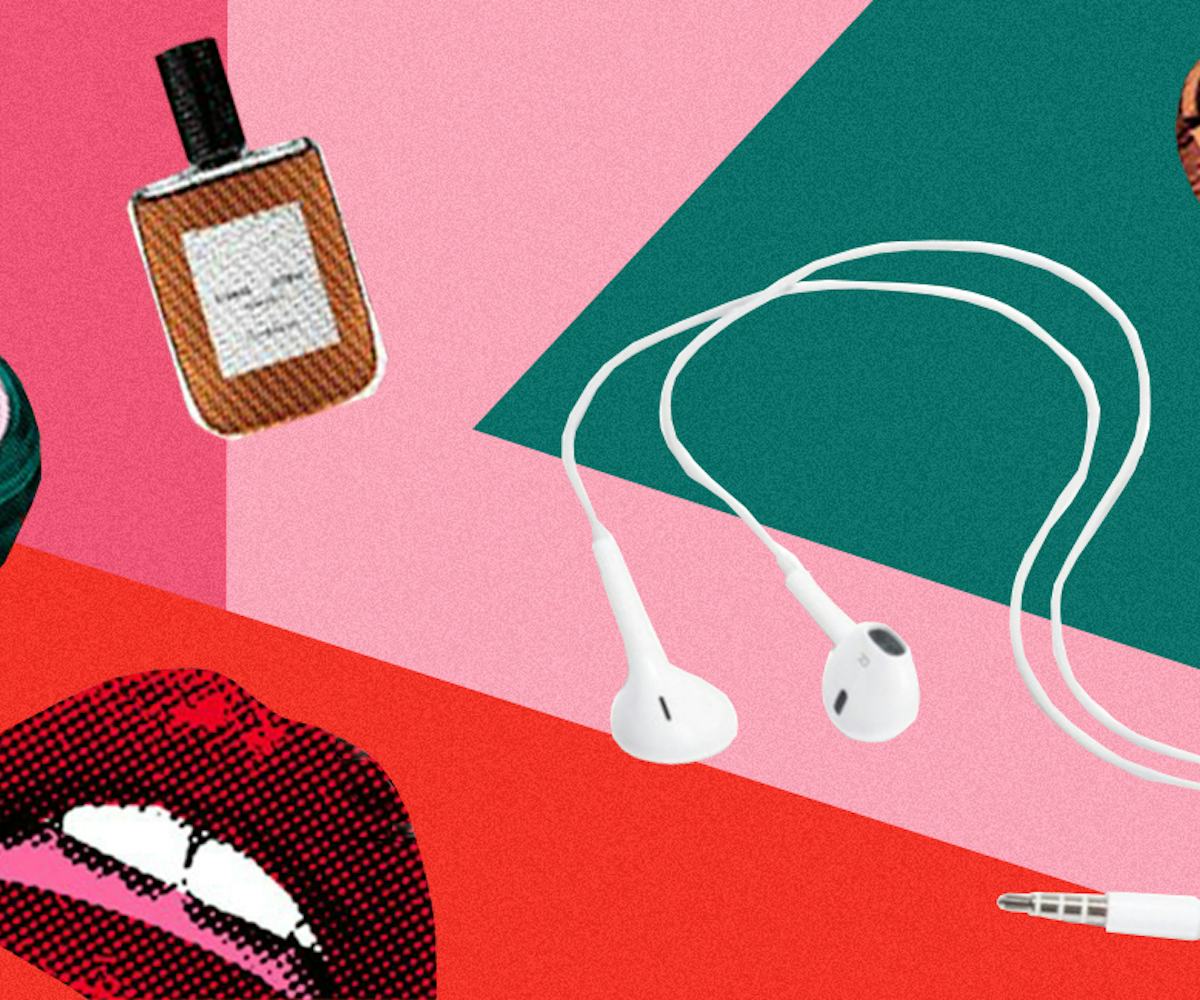 Image courtesy of Forever35
Why We Love Listening To Two Friends Who Love To Talk About Serums
On the ageless charms of the beauty podcast Forever35
The launch of any creative endeavor, whether a book or a painting or (as the case may be) a podcast, is usually somewhat ambiguous; who's to say exactly what inspired whom, and when? But the origin story of beauty-oriented podcast Forever35 is actually quite clear: "I texted Doree and was like, 'Do you want to make a podcast about linen pants?'"
Kate Spencer told me this over the phone recently, and her Forever35 co-host Doree Shafrir chimed in: "I think we said, 'Let's talk about skin care and linen pants.'" 
Whatever the exact original proposal may have been (and you know, maybe their next podcast will focus more on linen pants?), what was born from that conversation was a beauty- and self-care-focused podcast that is one of the most charming, funny, and helpful offshoots of our current skin care-obsessed culture. The format of Forever35 is simple: There are two episodes per week, a mini-episode on Mondays in which Spencer and Shafrir answer questions that have been sent in either via email or voicemail (Spencer, in particular, loves getting voicemail, even if it's resulted in one notable prank call) and a full-length episode on Thursdays, in which the two chat about what's going on in their lives and their intentions for the week ahead, and also interview a guest about how that person practices self-care (Jasmine Guillory, Maurene Goo, and Jenny Han are just some of the guests that have come through). Avid listeners are now intimately familiar with bits of Forever35 esoterica, including Spencer's intense love for Costco and Shafrir's roller coaster of an experience at a Tom Ford outlet store, which resulted in the purchase of a full price lipstick—which she loves.
But perhaps the most important thing to know and what defines Forever35, separating it from those beauty podcasts that tend to veer toward the prescriptive, is that Spencer and Shafrir make clear at the beginning of each episode that they are not trying to give advice, because they're not skin-care experts and are, instead, just "two friends who like to talk a lot about serums." And though they do occasionally talk with experts, like aesthetician Courtney Chiusano, this self-identification with the world of skin-care amateurs is what lends the podcast an easy intimacy, a feeling of safety for listeners, since we can be secure in the knowledge that there would be no judgment from Spencer and Shafrir about our own skin-care rituals—or lack thereof. There is, instead, a comforting sense that we're figuring all this out together; it's a callback to middle school slumber parties, during which many a homemade face mask was mixed and slathered on, to varying results. There is, too, an aspect of Forever35 that feels related to the early days of blog culture, when things felt sort of like a free-for-all and readers got to know the inner lives of total strangers and, in the process, learned more about themselves.
The blogging comparison is apt in more ways than one, as Shafrir references blogs when I ask her what it takes to start a podcast like this: "The barrier to entry is low, but it's a lot harder to make a podcast than people realize," she says. "It feels very similar to what blogs were, in that they're easy to start but how many are good? And how many do you read?" 
Just as in blogging, it is really difficult for podcasts not only to strike the perfect balance in tone (and be good), but also to offer people a compelling reason to return for another episode, but Forever35 manages to do both those things. It helps that both Spencer and Shafrir are writers and friends, whose clear camaraderie is made even more compelling by their wit and intelligence, and there's no doubt that's Shafrir's knowledge of the podcasting world (she and her husband, Matt Mira, host Matt and Doree's Eggcellent Adventure, a podcast which chronicles their experience with IVF treatments) has helped in a practical way, but it is actually something else that makes Forever35 so compelling, which is that, though Spencer and Shafrir aren't experts, they are enthusiasts, and that enthusiasm is contagious.
When I spoke with Spencer and Shafrir about everything from their dream guests ("Oprah!" "Niecy Nash!" "Tiffany Haddish!" "Busy Phillips!" "Ina Garten!") to what the best skin-care tricks they've learned have been (Shafrir: "I'm fully on board the ceramide train"; Spencer: "I started using Pixi Glow Tonic on my pits to keep my B.O. at bay") to what they would like to see next for the podcast (they're figuring out "how to do Forever35 IRL"), what became clear is how seriously they consider the kinds of things which so often get dismissed as being inherently unserious, and how refreshing and necessary that is right now. 
Spencer explains that she's come to "see the value of self-care as a daily practice. It's more about checking in with yourself on a regular basis to see what makes life a more pleasurable experience for you." And she brings up a really important aspect of the need to elevate things like self-care rituals, things that are often derided as self-indulgent: "There's this constant narrative that anything women choose to consume is silly, as if anything women engage in is frivolous." In fact, it's hard to deny that one reason for the many critiques of the recent surge in self-care-focused media is an underlying—and sometimes overt—misogyny, a refusal to admit that women might be perfectly capable of figuring out on their own how they want to spend their time and money. Forever35 serves as a corrective to this narrative in that it offers evidence of not just two women's love for serums, but a whole community of women's love for serums, for self-care, for themselves, and for each other.
One of the most interesting things about Forever35 is the way in which it balances (much like the best blogs did!) a blend of intimacy and community; it's a testament to the way that the most resonant stories use specificity in order to convey the universal. So even if Spencer's story of how she treated her hemorrhoids might not be personally relevant for you, the larger lesson can be applied to everything. Spencer says, "One of the most profound experiences [I've had with the podcast] was realizing I didn't have to live with hemorrhoids. Women become resigned to live with discomfort. That happens when you forget you have agency." 
And recognizing this type of personal agency rarely happens in a vacuum; it takes support from others. Thousands of women, now, have found that support through the Forever35 Facebook group, which has dozens of offshoots in which women can talk to each other about their own rituals and ask each other for help in countless ways, all of which can fall under the umbrella of self-care. As Shafrir says, one of the most valuable things she's taken away from hosting the podcast is "learning how to stick up for yourself, whether it's not buying makeup or getting your doctor to pay attention to you." Because, after all, you care for things you think have value, and everyone should be able to feel that way about their own bodies.
So while Spencer and Shafrir (which, N.B., it is really hard not to just refer to them as Kate and Doree) might not be experts in the world of skin care, by using their platform to talk about their interests, large and small, they are maybe working toward becoming experts on themselves, and thus facilitating all of us to do the same. And that might just be the best self-care lesson of all, to get to know yourself, so you can better care for what ails you.
Find out everything there is to know about Forever35 at the website Forever35Podcast.com