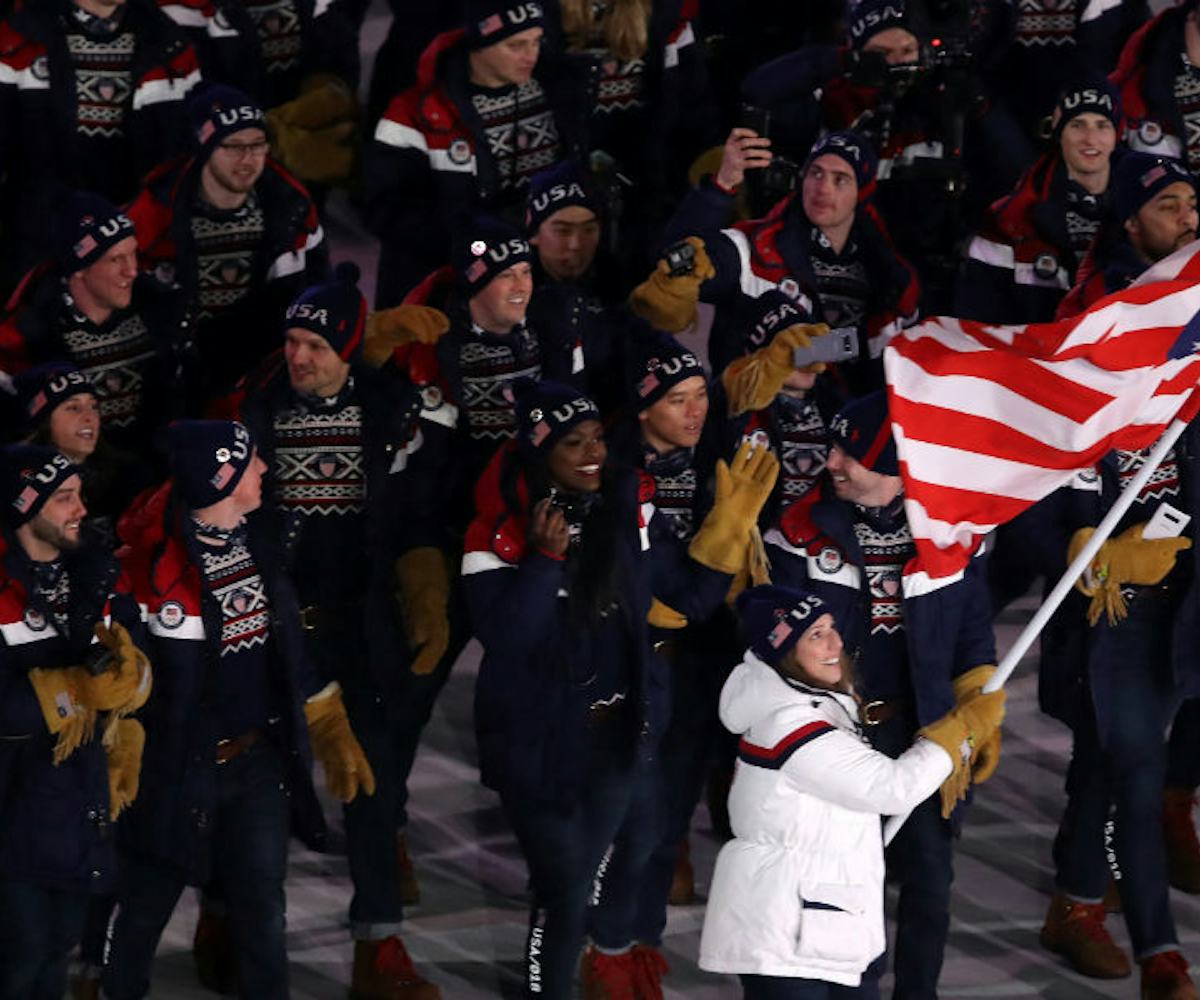 Photo by Sean M. Haffey/Getty Images.
Fox News Pulls Article Calling Olympics "Darker, Gayer, Different"
It was even too racist for Fox
The U.S. Winter Olympics team is the most diverse of any U.S. winter squad before it, according to NPR. It includes 10 African-Americans, 11 Asian-Americans, and its first two openly gay athletes. Also, out of the 242 competitors, 108 are women. Celebrating this is a good thing! Instead, those over at Fox News are bemoaning it. The network recently pulled an op-ed written by executive editor John Moody titled, wait for it, "In Olympics, let's focus on the winner of the race—not the race of the winner."
Because it's Fox, the content found inside is even worse. "Unless it's changed overnight, the motto of the Olympics, since 1894, has been 'Faster, Higher, Stronger,'" Moody begins. "It appears the U.S. Olympic Committee would like to change that to 'Darker, Gayer, Different.'"
According to a Fox News insider who spoke with Deadline, the column "was not vetted" before it was posted. And, well, it shows. Moody continues to write: "Complaining that every team isn't a rainbow of political correctness defeats the purpose of sports, which is competition." He also insinuates that those who were chosen are only there based on their race or sexual orientation rather than, you know, their actual skills, which is just plain wrong and offensive to the athletes who have had to work hard to get to where they are today. He then goes on to draw confusing comparisons to the NBA.
Insisting that sports bow to political correctness by assigning teams quotas for race, religion or sexuality is like saying that professional basketball goals will be worth four points if achieved by a minority in that sport – white guys, for instance – instead of the two or three points awarded to black players, who make up 81 percent of the NBA. Any plans to fix that disparity? Didn't think so.
As we noted, Fox has since pulled Moody's column (imagine being too racist for Fox??), but organizations like GLAAD are calling for Moody to also personally apologize. "It's not enough that the column has been removed," Sarah Kate Ellis, GLAAD's president and CEO said in a statement. "Moody should have the decency to apologize to the athletes and fans for this disgraceful post, and Fox News should open their site for diverse athletes to share their own personal stories and perspectives."
That will… likely not happen. But, with such a diverse team, we have other things to focus our efforts on, like cheering on every woman, person of color, and queer athlete.