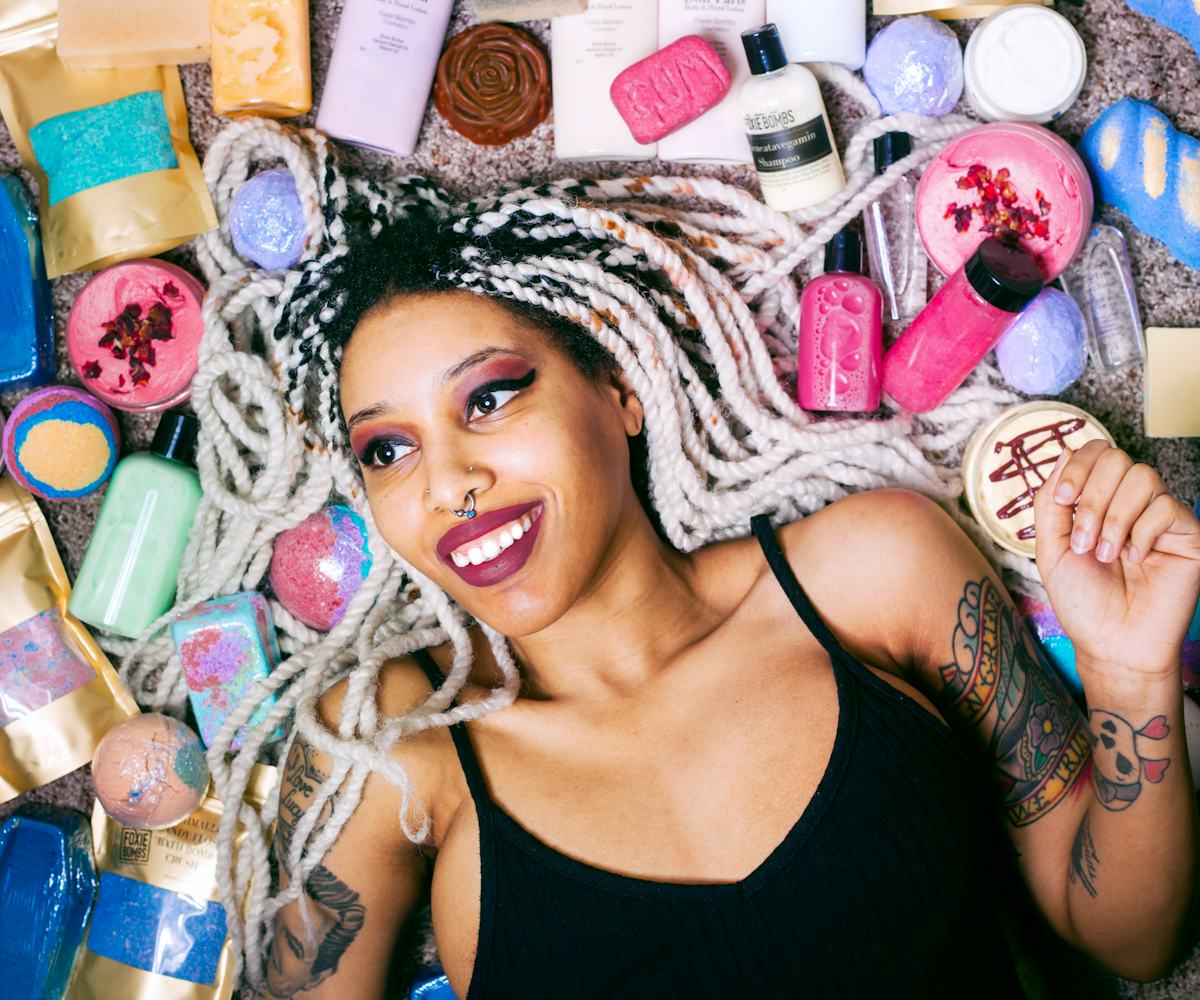 Photographed by Diana Lee Zadlo
Prepare To Be Obsessed With Foxie Bombs
The cosmetics brand of your prettiest dreams
Kayla Phillips refers to herself as a "boss bitch," and with good reason. The 24-year-old is the owner of the vegan-friendly cosmetics brand Foxie Bombs, and the lead singer of the punk band Bleed the Pigs. "I don't know if I'm a nearly 25-year-old musician who doubles as a cosmetic mad scientist, or actually an old lady who's obsessed with soaps and plays extreme music on her wild nights out," she says. "I'm definitely an alien, though. There's no doubting that." She doesn't have an ordinary beauty background either: Phillips' fascination with cosmetics grew from her seven-year experience as a coffee maker in various shops between Austin, Texas, and Nashville, Tenessee.  
"I personally found solace in taking baths, and writing or brainstorming during them while I was depressed," she says. "I would create my own bath salt recipes to help with my chronic pain and touring wounds, so one night I got up and created three bath bombs that are still around today—Jellyfish, Pantone 198C, and Cosmic Rose. I posted on Instagram that I would start selling them to folks who suffer with pain and illness too, and from then on I couldn't take my mind off of cosmetics. Now, soaps rule everything around me."
Although dealing with racism head-on is discouraging for most people, these frustrating experiences motivated Phillips to start her own business where she has the upper hand. Through Foxie Bombs, Phillips has created a personal space where visibility, accessibility, and self-care can exist simultaneously. "I really, really love impacting or somehow helping improve lives, even if it's just in a small way," Phillips says. "It gives me ways to work with other black women in different fields, like
and her 000SPORTWEAR/// line or
here in Nashville. It's inspiring."
As for her music, Phillips uses Bleed the Pigs as a way to express her political aggression and to "play fast, loud and let it all out." Lately, she has been listening to  Toro Y Moi, The Endless Blockade, Death, Sparta, Impetuous Ritual, and Iceage. Learn more about how Phillips built her badass brand in the interview, below. When you're finished, shop our favorite items from Foxie Bombs in the gallery.
Could you tell me about the process of launching Foxie Bombs? From conceptualizing the brand to actually creating all of the products and designing the packaging, and then putting them up for sale and sending everything out. Have you been doing it all by yourself?!
There's an immense amount of tedious work involved, and I'm definitely some kind of masochist because I do every last bit of it myself somehow. But with everything being an extension of myself creatively and my interests, it's hard to imagine it any other way. Especially with the creating part being therapeutic for me in ways. Brainstorming recipes, ideas, and looks of new products is the fun part. If I think it up, I'm determined to find a way to do it. Everything takes hours to craft, especially since it's all by hand, but that's where you get to know 100 percent you've made something perfect. 
I built my website, take all the product photos, write descriptions, ingredients, package or shrink-wrap the products, design, print, and place all the labels, then Tetris-like pack the products into the box, write a personalized thank-you note, slap on a sticker, and send my little babies off to their new homes. I can't take all the credit, my boyfriend takes the packages to the post office for me.
How do you come up with the formulas for everything? Does it require a lot of research, and then trial and error crafting?
Anything skin care related takes major research, and it should! There are so many DIY videos circulating around the Web, and it stresses me out because of how much bad—and sometimes really harmful—information is out there. Especially because it's common to think "natural" is synonymous for "good." I spend all of my time really digging deep to come up with formulas that I personally use every day. But I'm at the point now where I come up with formulas in my head and know exactly what extract or oil is perfect for whatever I'm trying to do. Anytime someone steps into my workspace they remind me that I look like a mad scientist. 
A big part of your brand is that all of your products are vegan-friendly. I read that you have been vegan for over a decade, so how did you go about making that lifestyle choice? 
I was young, but it was an easy and ethical decision to make. I wasn't finding a reason for non-vegan things in my life, so I cut them out pretty abruptly and never looked back. Everyone has their own reasons for their ways of living, but being able to share vegan products with the world means a lot to me as a customer. It's important that we have vegan and cruelty-free brands that know what those two things mean beyond them being buzzwords for widening their audience. I also try to do as much naked packaging as possible. My joy for impacting lives doesn't stop at humans.
What makes Foxie Bombs stand out from other all-natural, vegan brands?
I really want my products to be more than something pretty to look at; [I want them to be] something that impacts your well-being and way of life, and that doesn't feel like an extra pointless step in our routines. Having various chronic pains and illnesses myself, I really appreciate a nice hot bath, so something I make sure every single bath bomb does is helps soothe and relieve any type of pain we may have from disabilities or long work days. They serve the purpose of hydrating skin and making your body feel better—the fun colorful bath part is just an amazing plus. I spend hours upon hours with everything. The hard work and love I have for all my little babies shows. Hopefully, everyone thinks of me as their friend who can help them smell great and glow. Things are best when a real person is behind it and wants the best for you. My aesthetics and politics all seep into the brand. 
What is one of your favorite products that you have invented thus far? 
I'll take everything for 400, Bob! I find myself writing to customers on their thank-you cards "You got X products! It's one of my favorites!" And each time, I'm telling the truth. But if I had to choose something I refuse to live without, it'd be a Shower Icing. Nothing is like rubbing a body butter soap all over under hot water, and feeling your skin get instantly smooth and supple. It just foams away like magic. You get to leave the shower without having to do anything other than dry off. My Shower Icings are full of my favorite ingredients, nothing is watered down, so each use feels like an expensive spa treatment.
What are you hoping to accomplish with Foxie Bombs? 
I really want people to simply feel better inside and out. Sometimes taking care of yourself is hard to do and a chore, but I'm hoping with my products it gives someone that's struggling, something to look forward to that's easy, fun, and gives them the confidence to do what they want to. People have watched FXBC from its very start, and I've been able to inspire others to create and go for it. 
I know that you have an e-store, but will there ever be a physical shop?
I'm working on getting a space now! FXBC is a year old 
April 16, 
and I've pushed it to this point and have no desire to stop. I have the desire to have a space, [have] all these ideas come to life, and connect with my customers even more. 
Foxie Bombs Cosmetics, Rose & Coconut Milk, $8, available at Foxie Bombs.
Foxie Bombs Cosmetics, Chamomile Softea, $13, available at Foxie Bombs.
Foxie Bombs Cosmetics, Head's In Space, $7, available at Foxie Bombs.
Foxie Bombs Cosmetics, Water Me, $5, available at Foxie Bombs.
Foxie Bombs Cosmetics, Candy & Rose Tea, $12, available at Foxie Bombs.
Foxie Bombs Cosmetics, Cry Baby, $10, available at Foxie Bombs.
Foxie Bombs Cosmetics, Rose Dread, $7.50, available at Foxie Bombs.
Foxie Bombs Cosmetics, Pink Slime, $30, available at Foxie Bombs.
Foxie Bombs Cosmetics, Orchid, $30, available at Foxie Bombs.
Foxie Bombs Cosmetics, Crying Heart, $30, available at Foxie Bombs.