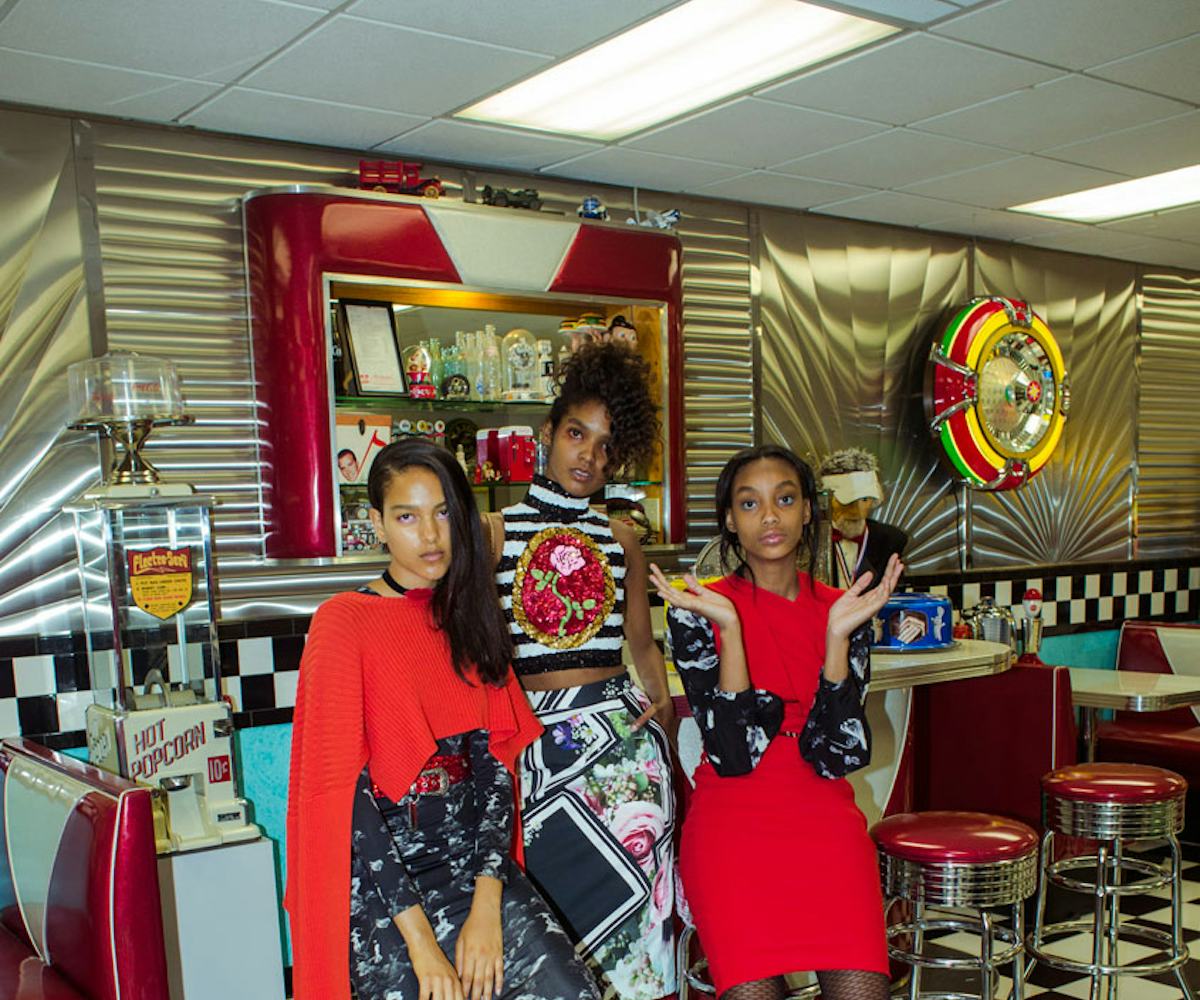 All photos by Franey Miller
what to wear to your late-night diner escapades
an original fashion shoot.
As we've learned from every teen movie from the '70s and '80s, the diner is the hub of the town's youngest, trendiest, and most reckless. Whether its the unapologetically bright colors, the neon jukebox, the shiny vinyl seats—all of it sparks a nostalgia for all things retro and quintessential Americana. And there's no doubting that the diner itself, and its garish glam, has become somewhat of a cultural icon.
For our latest online fashion shoot, photographer Franey Miller and models Joline Braun, Galaxia Gervacio, and Aleah Morgan headed to a diner to channel those retro vibes. Grab a milkshake, put on some '70s tunes, and click through the gallery to check out the photos.
PHOTOGRAPHY CREDITS
Photos by Franey Miller
Styled by Sam Bates
Makeup by Carly Lim
Hair by Bennett Gray
Models: Joline Braun from Supreme, Galaxia Gervacio from Wilhelmina, and Aleah Morgan from One
On Joline: Dress, TBA available at Pixie Market; Top, Discount Universe; Tights, Topshop; Shoes, Paul Andrew for Tanya Taylor
On Galaxia: Collar, Discount Universe; Shirt, Forever 21; Dress, Pixie Market; Shoes, ICB
On Aleah: Collar, Pixie Market; Shirt, Discount Universe; Skirt, Pixie Market; Tights, Topshop; Shoes, Paul Andrew for Tanya Taylor 
On Aleah: Dress, Discount Universe; Stole, Jonathan Cohen; Bracelet, Pixie Market; Tights, Topshop; Shoes, Paul Andrew for Tanya Taylor 
On Joline: Scarf, Jonathan Cohen; Top, Discount Universe; Skirt, Ji Oh; Tights, Topshop; Shoes, Daniele Michetti
On Aleah: Dress, Discount Universe; Stole, Jonathan Cohen; Bracelet, Pixie Market; Tights, Topshop; Shoes, Paul Andrew for Tanya Taylor 
On Galaxia: Shirt, Urban Jungle; Shorts, Discount Universe; Tights, Topshop; Socks, Vfiles Sport; Shoes, Isa Tapia; Bag, Pixie Market 
On Joline: Dress, Pixie Market; Trousers, Discount Universe ;Belt, Zadig et Voltaire; Tights, Topshop; Shoes, Paul Andrew for Tanya Taylor
On Galaxia: Shirt, Urban Jungle; Shorts, Discount Universe; Tights, Topshop; Socks, Vfiles Sport; Shoes, Isa Tapia; Bag, Pixie Market 
On Joline: Dress, Pixie Market; Trousers, Discount Universe; Belt, Zadig et Voltaire; Tights, Topshop; Shoes, Paul Andrew for Tanya Taylor 
On Aleah: Top, Discount Universe; Skirt, Noon by Noor; Tights, Topshop; Shoes, Paul Andrew for Tanya Taylor 
On Aleah: Top, Discount Universe; Skirt, Noon by Noor
On Galaxia: Dress, Discount Universe
On Aleah: Top, Discount Universe; Skirt, Noon by Noor; Tights, Topshop; Shoes, Paul Andrew for Tanya Taylor
On Galaxia: Dress, Discount Universe; Tights, Topshop; Socks, Vfiles Sport; Shoes, Isa Tapia 
On Galaxia: Dress, Discount Universe; Tights, Topshop; Socks, Vfiles Sport; Shoes, Isa Tapia
On Joline: Cape, ICB, Dress, Jonathan Cohen, Belt, Discount Universe, Tights, Topshop, Shoes, Paul Andrew for Tanya Taylor, Necklace, Pixie Market
On Joline: Cape, ICB; Dress, Jonathan Cohen; Belt, Discount Universe; Tights, Topshop; Shoes, Paul Andrew for Tanya Taylor; Necklace, Pixie Market
On Galaxia: Top, Discount Universe; Skirt, Preen by Thornton Bregazzi; Tights/ Topshop ;Shoes, Daniele Michetti; Bag, Pixie Market
On Aleah: Dress, Preen by Thornton Bregazzi; Belt/ Zadig et Voltaire; Blouse, Jonathan Cohen; Tights, Topshop; Shoes, Paul Andrew for Tanya Taylor 
On Joline: Cape, ICB; Dress, Jonathan Cohen; Belt, Discount Universe
On Galaxia: Top, Discount Universe; Skirt, Preen by Thornton Bregazzi; Tights, Topshop; Bag, Pixie Market
On Aleah: Dress, Preen by Thornton Bregazzi; Belt, Zadig et Voltaire; Blouse, Jonathan Cohen
On Galaxia: Top, Discount Universe, Skirt, Preen by Thornton Bregazzi, Tights/ Topshop, Shoes, Daniele Michetti, Bag, Pixie Market
On Aleah: Jacket, Assk, Dress; Tanya Taylor; Tights, Topshop; Socks, Vfiles Sport; Necklace, Pixie Market; Shoes, Paul Andrew for Tanya Taylor; Clutch, Pixie Market
On Joline: Blazer, Zadig et Voltaire; Dress, Discount Universe; Bag, Pixie Market; Shoes, Paul Andrew for Tanya Taylor; Necklace, Pixie Market; Tights, Topshop 
On Aleah: Jacket, Assk; Dress, Tanya Taylor; Tights, Topshop; Socks, Vfiles Sport; Necklace, Pixie Market; Shoes, Paul Andrew for Tanya Taylor; Clutch, Pixie Market
On Joline: Dress, ICB; Layered dress, Charlotte Ronson; Belt, Zadig et Voltaire; Tights, Topshop; Shoes, Paul Andrew for Tanya Taylor; Collar, Pixie Market
On Aleah: Jacket, Sister Jane; Dress, Charlotte Ronson; Tights, Topshop; Shoes, Paul Andrew for Tanya Taylor; Collar, Pixie Market
On Galaxia: Dress, Tanya Taylor; Shirt, Charlotte Ronson; Belt, Zadig et Voltaire; Tights, Topshop 
On Joline: Dress, ICB; Layered dress, Charlotte Ronson; Belt, Zadig et Voltaire; Tights, Topshop; Shoes, Paul Andrew for Tanya Taylor; Collar, Pixie Market
On Aleah: Jacket, Sister Jane; Dress, Charlotte Ronson; Tights, Topshop; Shoes, Paul Andrew for Tanya Taylor; Collar, Pixie Market
On Galaxia: Dress, Tanya Taylor; Shirt, Charlotte Ronson; Belt, Zadig et Voltaire; Tights, Topshop 
On Joline: Dress, ICB; Layered dress, Charlotte Ronson; Belt, Zadig et Voltaire; Tights, Topshop; Shoes, Paul Andrew for Tanya Taylor; Collar, Pixie Market
On Aleah: Jacket, Sister Jane; Dress, Charlotte Ronson; Tights, Topshop; Shoes, Paul Andrew for Tanya Taylor; Collar, Pixie Market
On Joline: Hat, Vfiles Sport; Jacket, Discount Universe; Dress, Preen by Thornton Bregazzi; Tights, Topshop; Shoes, Preen by Thornton Bregazzi
On Aleah: Hat, Vfiles Sport; Jacket, Discount Universe; Dress, Preen by Thornton Bregazzi; Leggings, Ash Paris; Tights, Topshop; Shoes, Paul Andrew for Tanya Taylor
On Galaxia: Dress, Suno; Trousers, Discount Universe; Shoes, Suno; Belt, Discount Universe 
On Joline: Hat, Vfiles Sport; Jacket, Discount Universe; Dress, Preen by Thornton Bregazzi; Tights, Topshop; Shoes, Preen by Thornton Bregazzi
On Aleah: Hat, Vfiles Sport; Jacket, Discount Universe; Dress, Preen by Thornton Bregazzi leggings/ Ash Paris; Tights, Topshop; Shoes, Paul Andrew for Tanya Taylor
On Aleah: Hat, Vfiles Sport; Jacket, Discount Universe; Dress, Preen by Thornton Bregazzi; Leggings, Ash Paris; Tights, Topshop; Shoes, Paul Andrew for Tanya Taylor
On Galaxia: Trousers, Discount Universe; Shoes, Suno