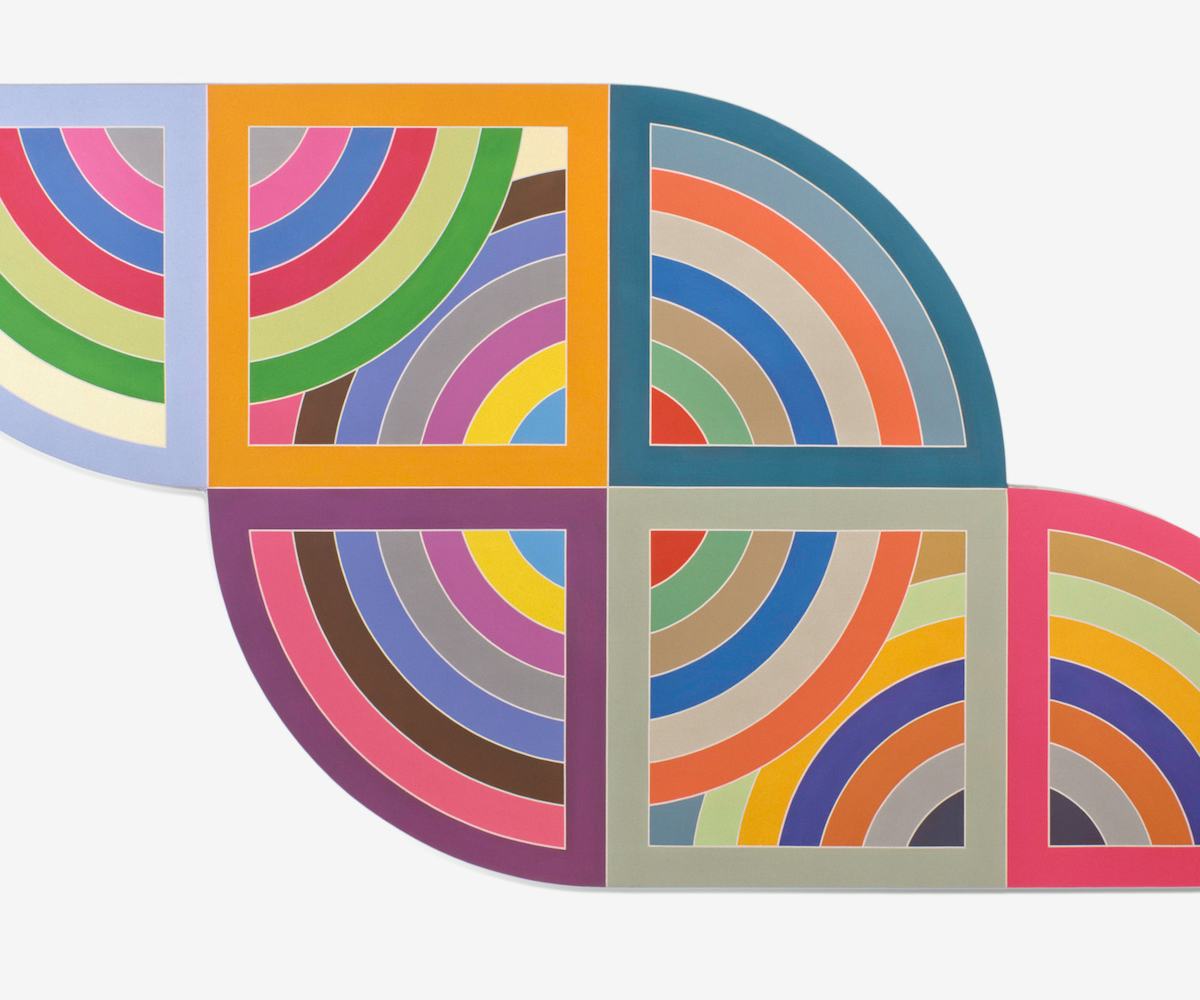 Frank Stella, Harran II, 1967. Image courtesy of Fine Arts Museums of San Francisco.
"Frank Stella: A Retrospective" Travels to San Francisco
The exhibition opens tomorrow at the de Young museum
The following feature appears in the November 2016 issue of NYLON.
"I think any critic, curator, or collector would be very hard-pressed to come up with a postwar artist working today who has been more important, not only in terms of the evolution of modern art but in particular abstraction, than Frank Stella," says Tim Burgard, curator of "Frank Stella: A Retrospective," on view this month at the de Young Museum in San Francisco. And it's easy to see why: Stella, who was born in Massachusetts and has been living and working in New York for almost 60 years, had his first major retrospective displayed at New York's Museum of Modern Art in 1970, when he was only 33. He has been championed as a leading force in minimalist painting, and credited with keeping the art of painting alive during a time when artists like Donald Judd and Tony Smith were bringing minimalist sculpture to the forefront of the art world. "I think that he feels a very strong responsibility not only to his own work, but also to his medium," says Burgard.
The retrospective has traveled across the country over the past year. First shown at the Whitney Museum of American Art in New York last October, the exhibition then made an appearance at the Modern Art Museum of Fort Worth, Texas, and this month reaches its final destination at the de Young Museum, where 57 works will be displayed, with some features that were not present at the New York and Fort Worth locations. "You have color choices, you have lighting choices," explains Burgard, "but we felt more of an obligation as an educational institution to present an essentially chronological installation of his works." 
One surprising thread that connects Stella's works is his use of technology. "Stella is constantly evolving, transforming, and moving on to new ideas and new forms of expression, and I really have enormous respect for that," says Burgard. "Rather than resting on his previous accomplishments, he's always trying new things." He cites the artist's works from the early '70s (known as the Polish Village series) in particular. "He utilized computer design to help fabricate the low-relief constructions, which are almost like interlocking jigsaw-puzzle pieces," the curator continues. "But for Stella, technology is very much a means to an end."
Another theme present in Stella's work is his connection to New York, and the period of deconstruction and rebuilding of lower Manhattan that he witnessed in the '60s and '70s. "I think he has absorbed his environment into his works, and he's absorbed that urban aesthetic into his work," says Burgard, noting that this is true of Stella's pieces that contain rectilinear and architectural elements. "While [Stella's paintings] are first and foremost about modern art and the history of abstraction, in an interesting way he could be seen as a quintessential New York painter, and that's not often how he's thought about, the way you may think of an artist like Keith Haring," Burgard says.
As the curator points out, East Coast art institutions have always followed more traditional art historical practices, which Stella is inherently a part of. "On the one hand," he mentions, "paying respect to that tradition makes it hard to innovate. And I think California, for better or worse, has always had this sort of reputation as a place where you go to reinvent yourself, you know?" We do. And while it might be hard to envision Stella driving down the Pacific Coast Highway in a convertible, we can't wait to see what California audiences have to say about his works.