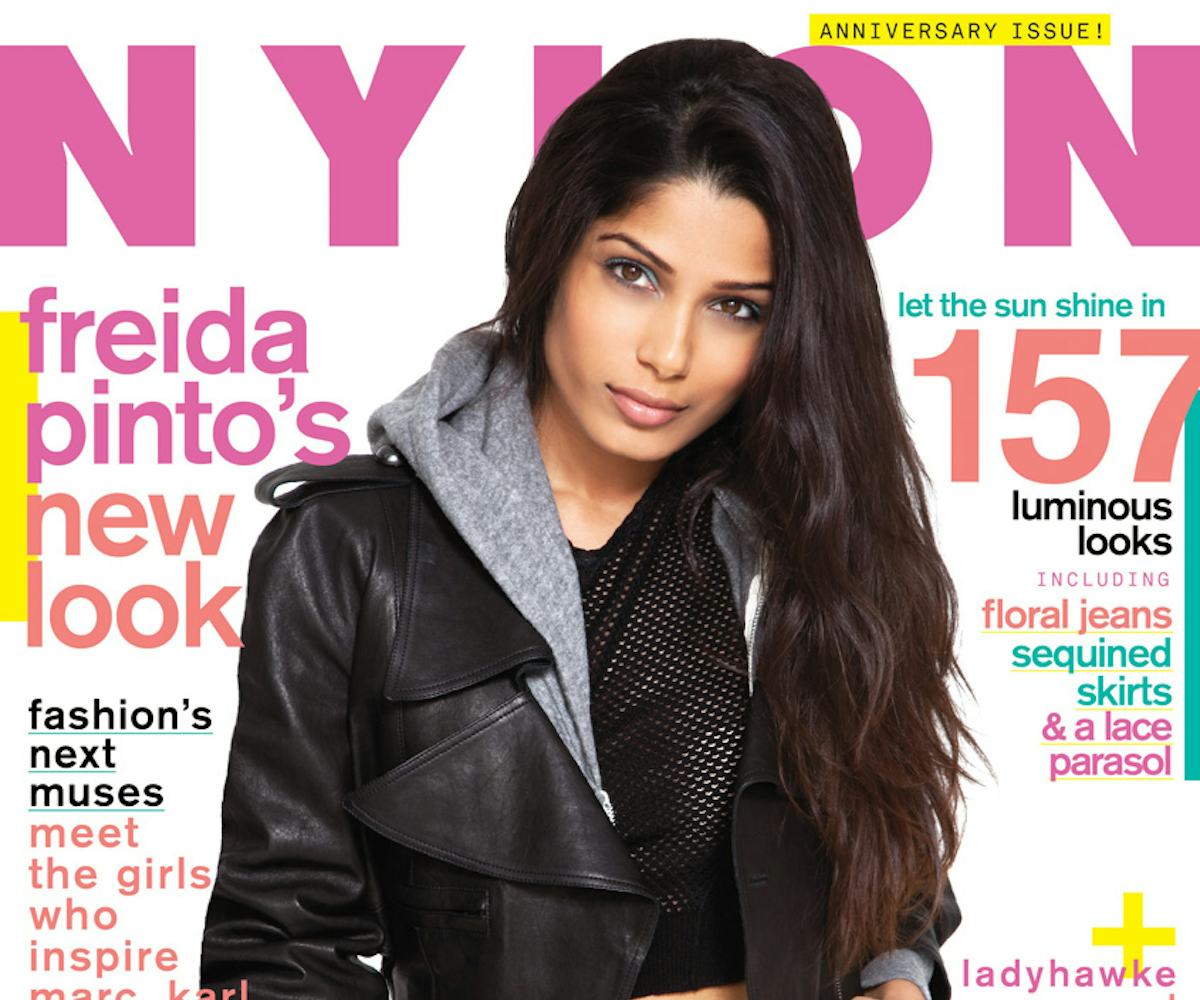 photographed by hilary walsh
flashback friday: all about freida
reread ur april 2012 cover story with the star!
Our Flashback Friday just got way cooler. Now you can read archive NYLON cover stories online with the click of a button. This week we're time traveling back to April 2012 and our Frieda Pinto cover, where the actress talks about her role in Slumdog Millionaire and a top secret upcoming project. Read on to get inspired.
Long before she was a homeless girl sold into prostitution and then rescued by her game show-winning slumdog soulmate, Freida Pinto took on some really tough roles: Batman's nemesis Poison Ivy, a Teletubby.... "Uhh," groans the flawless actress, leaning against the rail of a white wooden footbridge on a sunny February morning in Venice, California. "I was entertaining at kiddy parties, but I was always trying to run away from dressing up. I didn't want to get in a dirty costume! You sweat in it!"
Nevertheless, for a 16-year-old attending convent school in Mumbai, it was a "respectable" job--one she landed after her mom nixed a gig serving shots at a Bacardi party. "She pulled my arm and was like, 'OK, things are getting really out of hand. You need help.'" Working as an entertainer was a natural fit; her parents always assumed she'd be an actor. Every Sunday, starting when she was about four, she'd force her family to sit down before lunch and watch her perform. "I'd be like, 'Time to present!'" she says in her almost musical manner of speech, enunciating each syllable precisely. "I'd sing, dance--I'd just put on a solo show like a schizo, playing all the characters."
Pinto hardly seems like a spotlight-hungry show-off. Walking around the Venice canals, past yellow and pink storybook houses and flocks of ducks, the 27-year-old is pleasantly laid-back, dressed post-gym casual in gray yoga pants, an orange Nike pullover, and lavender Nike sneakers (she's come straight from a personal training session for a new film that she wants "to keep on the lowdown"). She's not wearing a spot of makeup and her shiny black hair is pulled back into a ponytail, but she still looks put together, almost regal. Her natural poise carries her from the red carpet (where she's always the picture of femininity in pastel princess dresses) to paparazzi shots with longtime boyfriend and Slumdog Millionaire costar Dev Patel (even with a mouth full of salad, she manages to look dignified). Her film roles, too, have been relatively low-key: a thoughtful primatologist in last year's hit Rise of the Planet of the Apes, a Palestinian orphan in Julian Schnabel's Miral, an accidental seductress in Woody Allen's You Will Meet a Tall Dark Stranger.
This summer she takes on her biggest part yet, the title character in Trishna, director Michael Winterbottom's India-set update of Thomas Hardy's 1891 novel Tess of the d'Urbervilles.Pinto's beauty is the real focus here; she appears in practically every frame, her perfect caramel skin and kohl-rimmed eyes putting the film's other stars--the lush Indian countryside and the bustling, brightly colored streets of Mumbai--to shame. But her acting is understated. It has to be. "Freida and Trishna are very, very different people," Pinto says. "And that's why the character was even more intriguing for me to take on, because it's so opposite me."
Tess of the d'Urbervilles, for those who weren't forced to read it in high school English class, tells the story of a British peasant girl who dares to step outside her social class and seek a new beginning. But her chances for real love and a fulfilling life are ruined after she is raped by her rich, land-owner "cousin," leaving her damaged and riddled with guilt. It's a horribly depressing book, and features arguably the most passive female protagonist in all English literature. "I studied it back in college," Pinto says, "and I got really frustrated reading about a female character that just wasn't doing anything!" Regardless, when Pinto heard that Winterbottom--the acclaimed British director responsible for 24-Hour Party People and A Mighty Heart--was adapting the book, "it was an immediate yes," she says. "It was a challenge that I knew was going to be really, really hard for me to attack."
It's clear Pinto likes a challenge. She brings an unusually intellectual hunger to her roles, and unlike most successful actresses her age, has a degree (she majored in English literature at St. Xavier's College in Mumbai). But more importantly, she's curious--the kind of actor who takes on a film and learns everything she possibly can about her character, the time period, the setting. Trishna, it's easy to tell, took over her life; she talks about it breathlessly and sometimes has to stop walking when relaying a particular story or plot point. Though she's wearing oversized Prada shades (with a gold monogrammed FP on the sides), I can't help but assume her eyes are wide with enthusiasm.
The fact that Winterbottom decided to set Trishna in India was especially exciting for Pinto. Hardy's novel focuses on a crucial time in England in the late 19th century, when industrialization and urbanization were phasing out many rural agricultural communities, and increased education promised people once relegated to a life of farming the possibility of social mobility and jobs they had never dreamed of before. More than 100 years later, those same changes are now happening in rural India--specifically in parts of Rajasthan, the country's largest state, where the film is set. "There are loads of parallels that can be drawn between modern day India and 18th- century England," says Pinto, who is from Mumbai, which she still calls "Bombay," though the city was renamed in 1995. "But it's completely different living in Bombay [than in Rajasthan]. Bombay has a fast-growing economy and a very modern way of living, but Trishna has never been exposed to that."
Trishna doesn't follow the exact same plot as Tess. While Tess has two male characters--one representing evil and one representing good--Trishna has one: Jay, the son of a wealthy English businessman, who has been tasked with running his father's ritzy hotel in Rajasthan. One evening, he spots Trishna performing a traditional Indian dance at a hotel near her village and is immediately captivated by her beauty. He later seeks her out and gets her a job at his hotel. They fall in love, and even try to build a life together in forward-thinking Mumbai, but ultimately social differences prevent them from being a couple. "It's forbidden love," says Pinto. "She can't have his life, because that's not something she can really cope with anyway, and he can't cope with hers."
Like Tess, Trishna doesn't feel like she deserves a better life. "I didn't relate to her," Pinto says. "I am not a silent sufferer like she is. She just would take on whatever pain that was given to her." So was it difficult playing the role of Trishna, not showing any emotion when tragedy after tragedy befalls her? "There were scenes that we shot where Michael would actually say to me, 'Don't respond to that--you're just going to absorb it.' And I'm like 'Why? I just want to say something!' Because it's so unsettling! But once I did my research, I pretty much understood how these women do it: just don't say anything! Just let it eat you from the inside, almost to the point that it chokes you. It's that bad." Pinto steps into someone's tiny front yard to let a double-wide stroller pass on the narrow sidewalk. "Trishna would be like, 'OK, it's my fault. Just accept.' I know people find it so hard to believe someone like that would actually exist in the 21st century, but the truth of the matter is, they do!" Trishna represents a similiar world to Saving Face, this year's Oscar-winning documentary short, which shines a light on the prevalence of acid violence in Pakistan--where women are severely disfigured with acid as a punishment for "crimes" like turning down a marriage proposal or seeking a divorce. The subjugation of women is so internalized in some parts of South Asia that people don't dare question it. "The majority of the
women in rural populations still do not know they have a voice--to put it out there and say no," Pinto says.
The actress spent weeks with families in Rajasthan to try to grasp Trishna's way of thinking. "I used at least five or six girls as my models," she says as we pause to smell the pale pink blooms on a rose bush. "There's one girl I met, and she was like, 'I want to work, I want to do something for TV,' and I was like, 'Oh, that's good! What do you want to do?' And she said, 'Well, I just want to do it. I don't think I'll be able to do it. My family would never let me.' Her role is to be a wife, a servant. I remember she said, 'Oh, I just learned to ride a bike, but I'm getting married soon, and so I'm just enjoying my bike-riding phase for now.'"
Just then we spot a gorgeous gray crane, perched statue-like on a kayak in the canal. "It's so beautiful!" Pinto exclaims. We stop walking and stare at the stately bird. "It's so interesting that here we are, wearing the most comfortable clothes ever, and we can just relax and breathe, and there are girls out there who have never even seen something like this." I ask Pinto if she thinks she may have inspired some of those girls she met in Rajasthan to pursue their dreams and not just follow the life prescribed for them. She shakes her head. "I hope someone was inspired.... But most of these girls don't even know that they could have a choice [to do something different]. I hope things change. But for it to change, really, it needs to start with educating the parents, instead of starting with just the children. The children are easy--you'll teach them and they'll learn. But when they go home, it's a different life."
Pinto's life in India, of course, couldn't have been more different from those girls. She grew up speaking English, which is common among the Catholic community in India, and education was of the utmost importance. Her mother wasn't just a homemaker, but a high school headmaster (fortunately, Pinto says, at a different school than the one she attended) and her father was a banker. Her parents were always incredibly supportive of her and her older sister Sharon, who also works in entertainment, as a television producer. So much of what she's learned about her country, outside of upper-middle- class life in Mumbai, has come from her roles--first, actually, as the host of a travel show that took her all around East Asia, then inSlumdog Millionaire, and now Trishna. Though Slumdog is set in Mumbai, "I was obviously experiencing a different part of it," Pinto admits. "I wouldn't have experienced [that other side] if it wasn't for the film."
Pinto loves acting mostly for what it teaches her about the world. When she was a kid, she spent as much time as she could finding out about her country's history from her grandfather, who was an army doctor at the time of India's independence from Great Britain, in 1947. "It's just so interesting for me to know what life was like then compared to now, because we don't have to worry about freakin' colonialism and these rules and those rules, and we have a democracy. I would love it if there were some type of time machine; I'd love to transport myself back into different eras. But," she says with a laugh, "you get to do that as an actor nonetheless!"
Having traversed all the canals and taken quite a few pictures ("No one's going to believe this exists," Pinto remarks, snapping a final BlackBerry shot), we decide to walk over to the ocean. Though she has a friend who lives in Venice, Pinto says she's never gone to the beach. In fact, she hasn't explored L.A. much at all. She can't drive--though she plans on taking lessons and getting her license soon-- and depends on either Patel (who only got his license last year) or a driver to get her around. When she appeared on Jimmy Kimmel Live to promote the 3-D fantasy film Immortals (she played the oracle priestess Phaedra) in November, she said that she and Patel had recently taken their first road trip--from their new rented home in West Hollywood to Santa Monica. It is hard to tell if she was kidding. "I just don't enjoy driving," she says, while we wait for a light to change. "In Bombay, I had a learner's permit, but it's different driving in Bombay--you just keep pressing your breaks and bumping! There's no real driving driving!"
Pinto, who calls herself a nomad, will always consider Mumbai home. I ask her what she misses most, and she smiles. "First of all, Indian food. You can't get it the way it's made in Mumbai," she says. "Except maybe in England." She claims she's a horrible cook, but that Patel comports himself better in the kitchen. Mostly they go out to dinner with friends or order in. Her ideal night is staying home and watching a movie, her most recent favorite being Patel's new film, The Best Exotic Marigold Hotel, which is out in May. "It's so good!" Pinto gushes. "Dev has always been an amazing actor, and I feel people have not tapped into a quarter of what he's capable of--not even a tenth of it. Being at home with him, I know how dramatic he can be and I know how his range of emotions are, like, massive!"
We walk along a bike path on the beach, but after getting yelled at by a couple of cyclists, decide to take a seat on a concrete barrier from where we can watch the waves. As couples and groups of friends pass by, I ask her if she feels a kinship to Indian people, even in L.A. "You know, I do," she says. "It's funny, as much as we're international and all of that, as soon as I see an Indian person put his hand out, or a picture out, for my autograph, my heart automatically goes, 'Yes!' I remember at the Golden Globes, because I was presenting at the top of the show, I was being rushed in, and this girl called out and I just happened to turn around and she happened to be an Indian girl, and I told my publicist: "Listen, I just have to go say hello." I don't know why; you just feel a connection that's just naturally there, even if you don't know them."
But at the same time, Pinto doesn't want to be classified as an Indian actress. "I have consciously not wanted that to happen," she asserts. Though Slumdog and Trishna are set in India, they're not Indian films. She's never done a Bollywood picture and claims that when she's home in Mumbai, no one recognizes her. But this has also led to the Indian press not taking her seriously as an actress. "Sometimes I get attacked for wanting to not just be an Indian actress. It's funny because I think a British actor can play an American or an Australian or French. But when I try and play roles where I could physically fit into that character, but maybe I'm not from that country, people are like, 'Wait, why is an Indian actress playing that?' But why not? You know? It doesn't make sense. It's kind of a double standard.
"I feel like one actress who is doing it is Marion Cotillard," she continues. "She plays all these characters even though she's French and has that amazing French accent. Like when she was in Inception, there was never talk of her being French. She was just playing a character. I think that is really inspirational when people do that. And it is nice for me to play Indian stories or for her to play French stories, but it does not have to be this stereotypical role. It is a very global world and it is great to be proud of where you come from, but you don't have to go into stereotypes."
Like Cotillard and a few other post-stereotype young actresses--Rashida Jones, Eva Mendes, and Zoe Saldana among them--Pinto's vaguely exotic, truly global beauty opens up a breathtaking range of roles. If directors and producers embrace this, there's no reason why she couldn't play a Cuban dancer, an Israeli soldier, a French-Algerian spy, a British scientist, or just a plain old American. She could be anyone she wants.
It's well past noon now, and Pinto needs to head back to West Hollywood for a yoga class (more training for her upcoming top-secret role), but just as we're about to go in search of her driver, two young men approach us, seemingly out of nowhere.
"Excuse me," says a very tan and stocky twenty-something in a thick Australian accent. "I'm kind of new to the area. Can I ask you a couple of questions about American culture?" From the way his buddy is nervously laughing, iPhone held up to videotape us, it's clear this is some kind of prank.
"I'm not American," Pinto says immediately, jumping down from our concrete seat into the sand.
"Oh, what are you?" he asks, taken aback.
"I'm Indian."