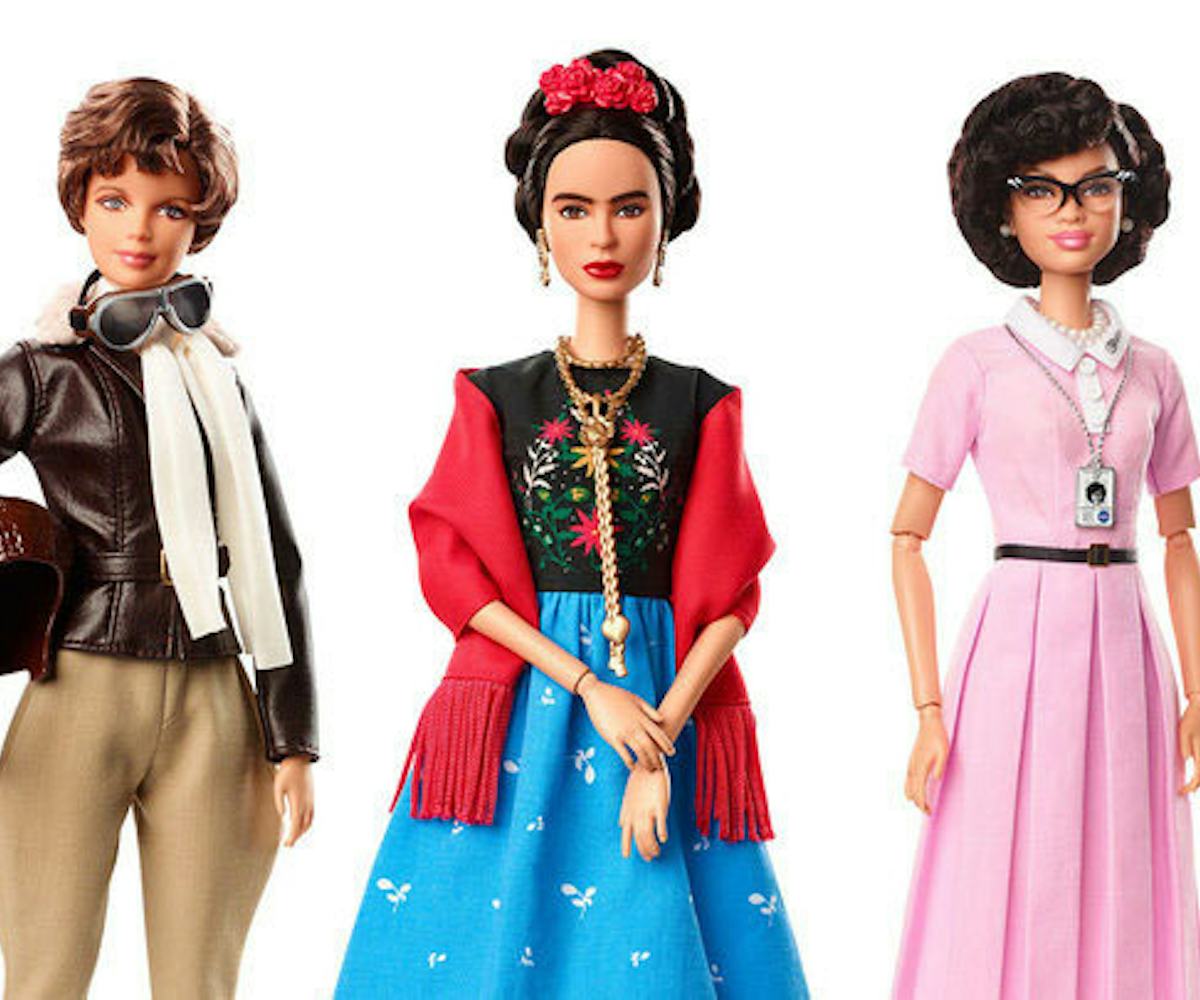 Photo courtesy of Mattel
Frida Kahlo And 16 Other Women Are Being Made Into Barbies
It's a Barbie world after all
In anticipation of International Women's Day on March 8, Mattel debuted new Barbies created in the likeness of 17 impressive women. The drop is being split in two: one collection featuring 14 modern-day icons still writing their legacies and one featuring three women whose legacy is written in stone.
First up is Mattel's Inspiring Women™ series. The first three women being honored are artist and feminist Frida Kahlo, the pilot Amelia Earhart, and Katherine Johnson, the mathematics pioneer who helped NASA get the first man on the moon. (Johnson was most recently played by Taraji P. Henson in the 2016 Academy Award-nominated film, Hidden Figures.) Each of the dolls in the Inspiring Women™ collection will come with historical background on each woman's achievements. No release date has been announced for the collection but all three dolls are available for pre-order.
In addition to these, 14 new women will be added to the brand's Shero collection, which already boasts Ava Duvernay and Misty Copeland Barbies. The newcomers include Wonder Woman director Patty Jenkins, snowboarding champion Chloe Kim, conservationist Bindi Irwin, British boxing champ Nicola Adams, champion windsurfer Çağla Kubat, chef Hélène Darroze, all-star volleyball player Hui Ruoqi, designer Leyla Piedayesh, golf pro Lorena Ochoa, Polish journalist Martyna Wojciechowska, soccer player Sara Gama, actor and philanthropist Xiaotong Guan, prima ballerina Yuan Tan, and fashion designer Vicky Martin Berrocal.
Of the collection, Barbie's senior vice president and general manager, Lisa McKnight, says, "Girls have always been able to play out different roles and careers with Barbie and we are thrilled to shine a light on real-life role models to remind them that they can be anything." 
Photo courtesy of Mattel