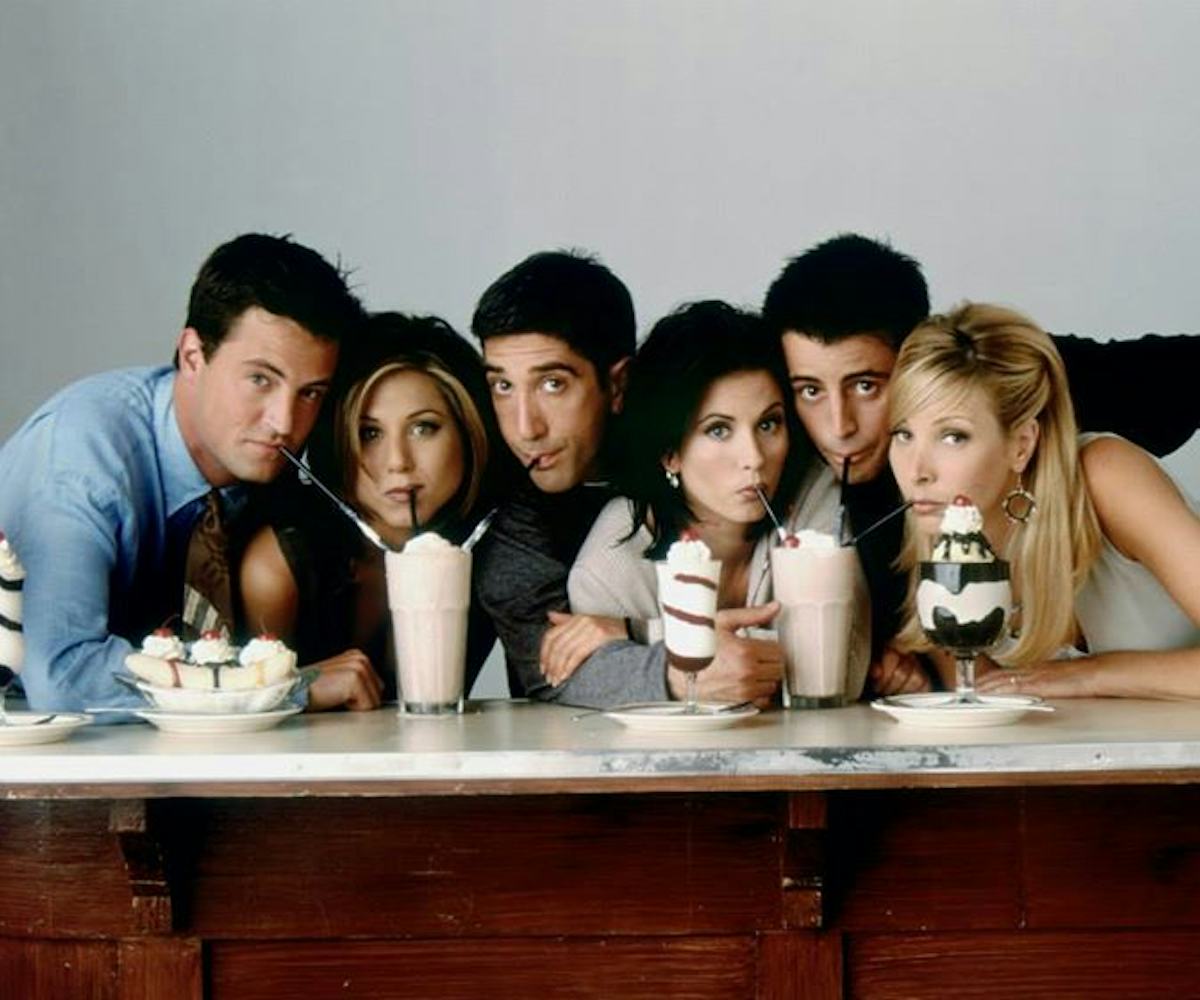 friends' top 10 fashion moments of all time
to wear while binge watching.
We normally don't start thinking about the post-holidays this early, but something major came up that's actually making us want to skip the holiday season altogether. Earlier this week, Netflix announced that they will release all 10 seasons of Friends beginningJanuary 1, 2015. That's 236 episodes (a.k.a. 83 full hours) of everyone's favorite '90s comedy....the best present we could ever ask for!
To celebrate, we hand-picked our favorite fashion moments from show, just in case some of you have already forgotten about the good old days when everybody mimicked Phoebe's bohemian vibes, Rachel's 'posh mom' style, and Joey's lovable fashion faux pas.
Looks like we know what we'll be watching (and wearing) all January long...
In 'The One Where The Monkey Gets Away,' Rachel took school-girl chic to the next level by toning it down and making it totally grown up—while chasing down Marcel the monkey, that is.
An anti-fur Phoebe found the coolest orange faux fur coat ever in 'The One Where Everybody Finds Out.'
In 'The One With the Routine,' Monica and Ross bring back a wild dance routine from high school (but her sparkly top and fitted pants are pure turn-of-the-century).
Despite her attempts to make Phoebe's bachelorette party elegant and fancy, Rachel ended up with a sobbing male stripper (played by Danny DeVito) in 'The One Where the Stripper Cries.' Still, she still managed to look awesome in this Chinese-style dress amid all the stripper tears.
Phoebe's signature style always includes a maxi dress. Wed dig how she paired this one with rad construction boots.
Let's face it: Rachel wouldn't be Rachel without a pair of dungarees. We especially like the subtle grunginess of these denim overalls. (P.S. Monica's floral dress is pretty darn cool, too.)
In 'The One With Joey's Bag,' Joey is enlightened by the joys of carrying a purse. And he totally out-styles the girls with his cool leather accessory.
In 'The One With All the Resolutions,' Ross tries to impress his date with a pair of killer leather pants, but the trend takes a turn for the worse when they shrink in the bathroom and he can't put them back on. But as long as you know how to take care of leather, you can avoid that nightmare and simply rock this bold style anytime and anywhere.
One of the most legendary fashion moments on the show occurred in 'The One With Ross' Teeth' when Ralph Lauren (whom Rachel works for) made a cameo in the elevator. Both Ralph and Rachel donned some pretty quintessential Ralph Lauren style.
Last but not least, white on top, denim on the bottom is a classic 'Friends' combo. It's one part family photo and two parts totally rad. 20 years later, this look is still classic.