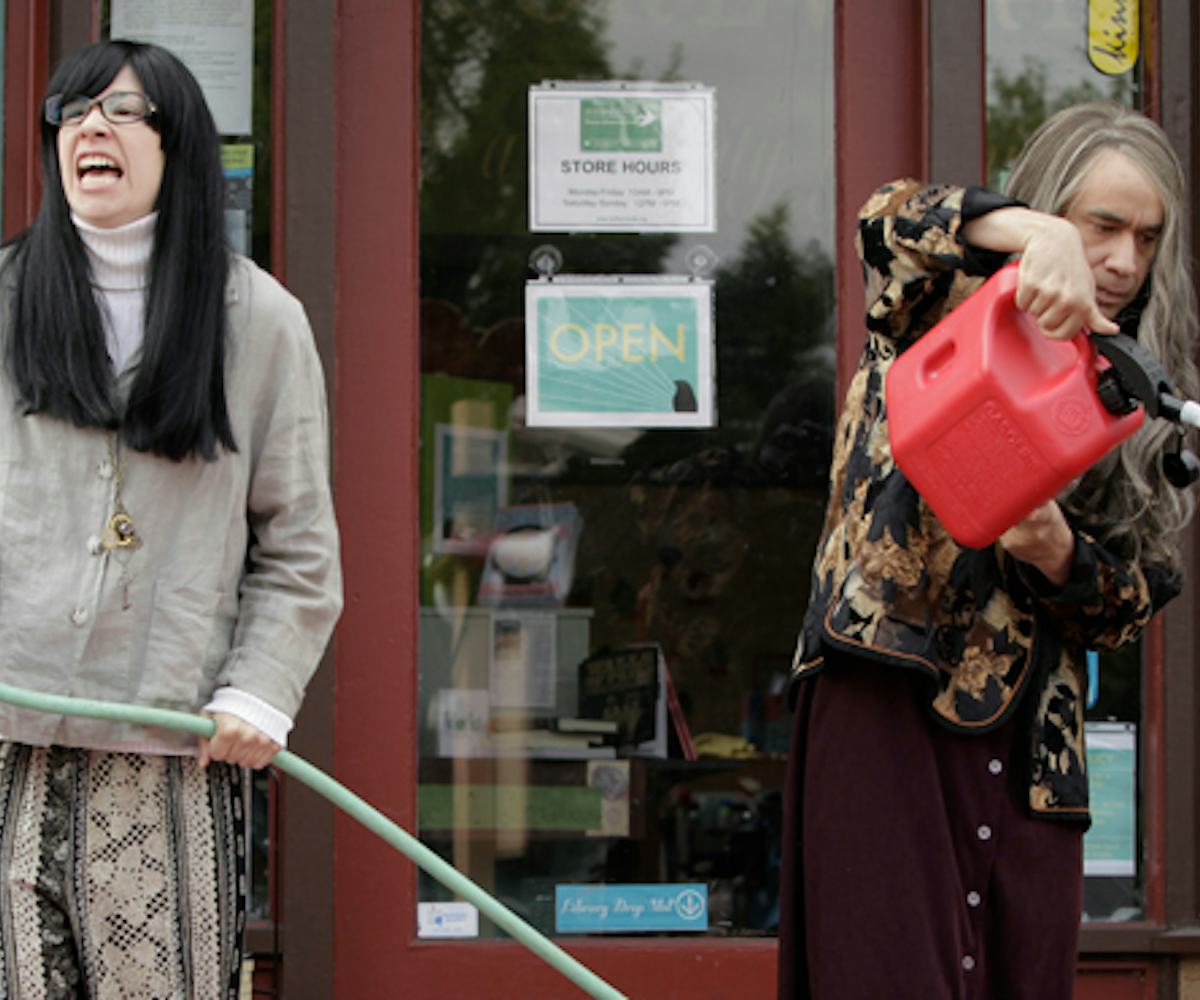 Photo courtesy of IFC
Iconic Feminist Bookstore Calls Out 'Portlandia' For Being Anti-Trans Women
The dream of the '90s is dead
Portland, Oregon, bookstore In Other Words is locally renowned for being a haven for politically progressive thought and free expression, a cultural locus for discourse on topics like feminism, gender issues, and racial equality. Nationally, the bookstore has gained recognition for its prominent placement in Fred Armisen and Carrie Brownstein's TV series Portlandia, in which the bookstore is featured as a fictional workplace (called "Women and Women First") for two of the many characters whom Armisen and Brownstein portray. Most recently, In Other Words has gained further notoriety for a message it displayed in one of its now widely recognizable windows: "Fuck Portlandia." 
The sign was soon joined by an identically titled statement on In Other Words' website, in which the bookstore's current staff, board, and volunteers, collectively complain about the allegedly shoddy treatment by the Portlandia production team after an episode's taping (during which staff claims they "saw our store left a mess, our staff mistreated, our neighbors forced to close and lose business for a day without warning, and our repeated attempts to obtain accountability or resolution dismissed"). Beyond that, In Other Words voices further philosophical complaints about the show, specifically with how it treats issues like gentrification, its unsatisfactory portrayal of trans characters, and its white-washing of the city of Portland. The statement reads:
The Women and Women First segments that are filmed at In Other Words are trans-antagonistic and trans-misogynist and have only become more offensive as the show goes on. 'LOL Fred Armisen in a wig and a dress' is a deeply shitty joke whose sole punchline throws trans femmes under the bus by holding up their gender presentation for mockery and ridicule. In a world where trans femmes – particularly Black trans women – are being brutalized and murdered on a regular basis for simply daring to exist, dude in a dress jokes are lazy, reactionary, and actively harmful. They're also just straight up not funny.
Also: there are no Black people on Portlandia. There are a tiny number of people of color on Portlandia. Portland is white but it's not that damn white. It's also a city with a deeply entrenched history of racism and white supremacy. In Other Words is in the heart of a historically Black neighborhood in Northeast Portland. We have Black Lives Matter written on our window. Black Lives Matter Portland meets regularly in our space. But as more and more Black folks and people of color have become involved at In Other Words, Portlandia has only gotten steadfastly more white. Oh and also: the last time the show filmed in our space, the production crew asked to us to remove the Black Lives Matter sign on our window. We refused.
Portlandia is fueling mass displacement in Portland. Fred and Carrie are on billboards and realtors have gleefully begun using Portlandia's popularity and insipid humor ('put a bird on it!') to make displacing the communities that made Portland a great place in the first place something twee and whimsical for the incoming technocrat hordes.
In Other Words says that the in-store filming of Portlandia was an agreement entered into by former staff six years ago and that they will no longer play any part on the show. And while it is highly possible that current staff would never have entered into the original agreement those many years ago, it is also worth noting how dramatically a place can change in such a short period of time. The attention which Portlandia shifted upon Portland doubtlessly not only changed the way in which outsiders viewed the city, but also changed it from within, not least by attracting new visitors and residents who had a specific TV-encouraged idea of what to expect. This burden is familiar to any and all New York City residents who have been here long enough to remember seeing the first Sex and the City tourists teetering in their stilettos down Bleecker Street, clutching boxes of cupcakes, on their way to quaff a cosmopolitan or two. All I can say, Portland, is: I'm sorry. I've been there. It does indeed suck. Best of luck.
We have reached out to IFC for comment and will update the post if we receive it or if there are further updates.