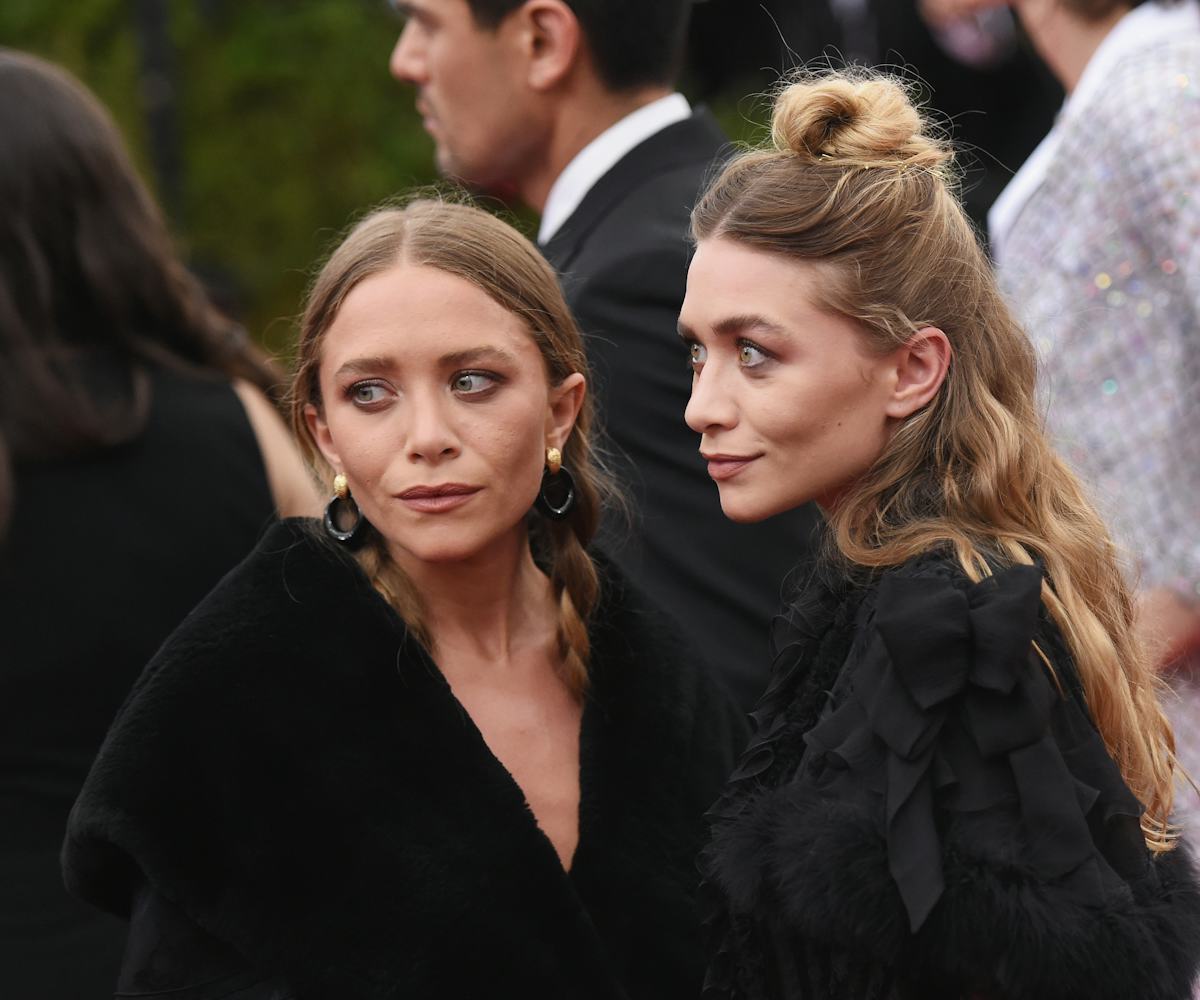 Mike Coppola/Getty Images
olsen twins opt out of 'full house' reunion
and suddenly our world seems smaller
Sorry, everone, but Michelle Tanner has left the building.
As production ramps up on Netflix's upcoming Full House revival (called Fuller House, obviously), offical word has come down that Mary-Kate and Ashley Olsen, the current fashion moguls behind The Row and Elizabeth and James, will not be reprising their shared role as the young Michelle Tanner.
Said Fuller House executive producer Robert L. Boyett, "Although Ashley and Mary-Kate will not be a part of Fuller House, I know how much Full House has meant to them, and they are still very much considered family." He continued, "It has been exciting to see how they have built their professional careers, and I support their choice to focus on their fashion brands and various business endeavors. I appreciate their support and good wishes toward Fuller House."
The duo played the youngest sibling of the Tanner family in tandem on and off from 1987 to 1995 starting when they were only months old. Though Full House and multiple, multiple straight-to-video movies and other projects aimed at the younger set made the sisters inescapably famous (and millionaires many times over), both of the now 28-year olds have walked away from acting—Ashley making her last screen appearance in Joaquin Phoenix's 2010 maybe mockumentary I'm Still Here and Mary-Kate rounding out her career with a poorly received turn in 2011's Beastly.
Though no official reason for the sisters' absence from the project was given, it's easy to guess that months spent on set for what would probably be a relatively small paycheck would have little draw for two young women who not only had to suffer through acting careers that ended in poor options and reviews, but are day-to-day nose deep in the running of a well-regarded multimillion-dollar fashion brand and are constant papazzri targets. Also, seeing as how they've grown into somewhat different looking women, having them tag team the same role like back in the day would just be really, really confusing.
How the series will explain the absence of Michelle is unclear at this time, but we'd like to think that writers will say she's just is too darn busy designing blousy, minimalist ready-to-wear pieces in New York to visit San Francisco.
Fuller House—which notices sugggest will focus on Candace Cameron Bure's D.J. Tanner character as a young mom—is set to hit the on-demand streaming video service in 2016. Luckily, Bob Saget (Danny Tanner), Dave Coulier (Uncle Joey), John Stamos (Uncle Jesse), Andrea Barber (Kimmy), and Jodie Sweetin (Stephanie Tanner) are all signed on in either starring or guest roles—so at least we have that. (Variety)