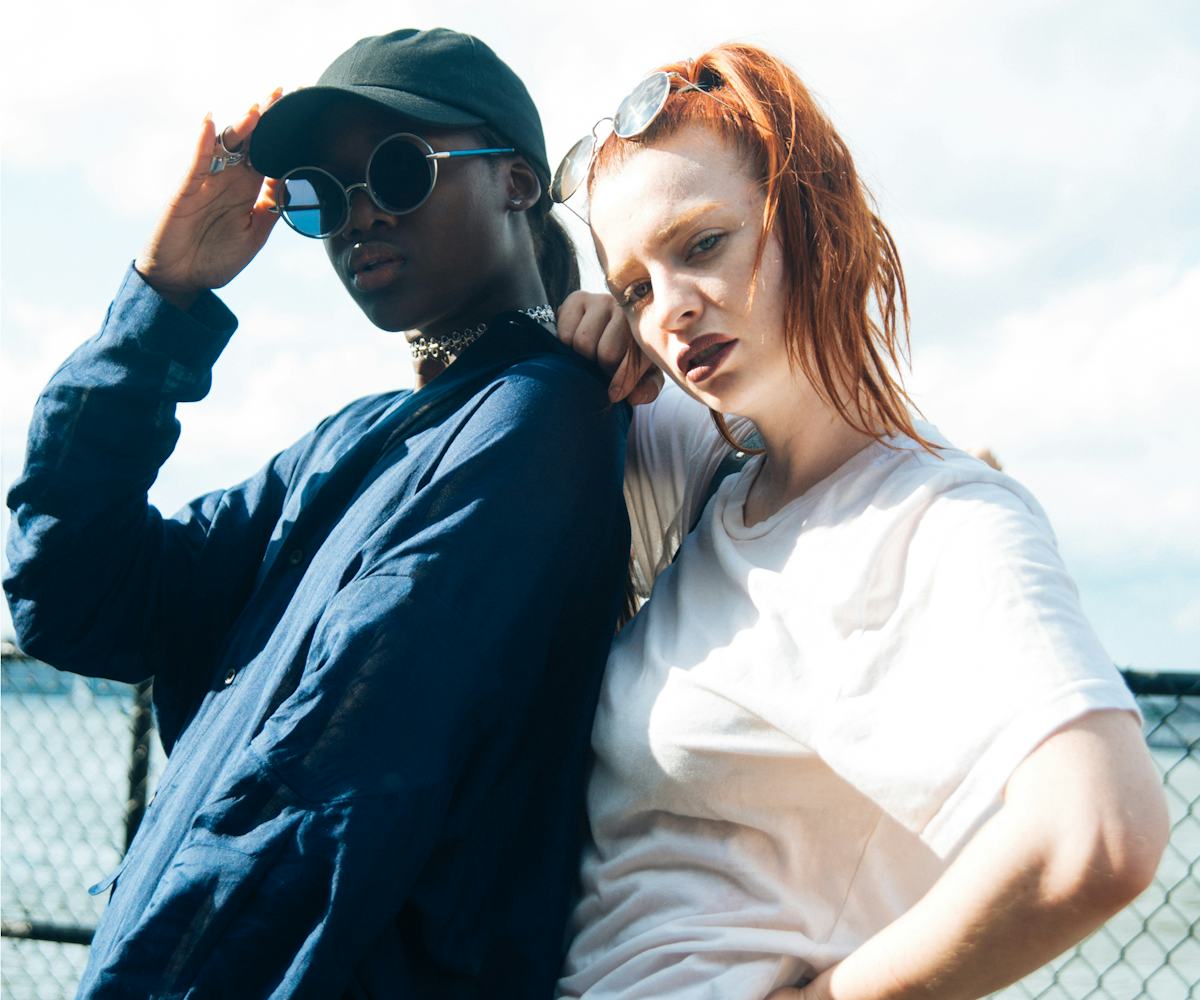 Photo by Audrey Melton
Our Favorite Looks From Full Moon Fest
From chainmail to boxing shorts, plus a lot of awesome hair colors
Over the weekend, NYC celebrated August's full moon the best way possible: Full Moon Fest, an annual music festival taking place on Governor's Island. Though this event is smaller than your typical summer music festival, the lineup certainly doesn't lack for talent. With acts such as Santigold, SBTRKT, Pusha T, and Allah-Las, some of the coolest tastemakers came out to have a good time, by which we mean dance and drink and party. And they looked really good doing it..
While the festival itself boasts a huge sandpit and plenty of fake palm trees to transform Governor's Island into a tropical paradise, the downtown Manhattan skyline in the background doesn't let you forget where you are. This all makes for a super specific vibe which manages to be a little bit city, a little bit beachy, and feature some of the best summer fashion we've seen in the festival circuit. 
Though it downpoured on and off over the weekend, that didn't seem to put much of a damper on anyone's outfit choices. We had a photographer on the scene to capture all the excellent fashion in action. Click through the gallery below to check out our favorite looks.
The best way to rock a chainmail halter? Pair with a choker and a vampy limp for an ultra goth look.
These ladies prove athleisure (and bleached hair) is here to stay.
I mean, it wouldn't be a festival without a little fringe, right?
Bleached, side slit, and frayed denim? Yes, please.
Sometimes the best accessory is your hair.
J'adore Dior? This person certainly does, and we're all about it.
This is a perfect example of when your hair matches your shirt, and it works.
Our Snapchat Director Lori proves that "braids for days" is the way to go on a rainy festival Sunday.
Play down a silky white slip dress with a pair of casual sneakers, like these black and white Vans.
Camo print is even more chic when it's completely sheer.
Shield yourself from the elements with style by pairing an oversized rain jacket with a simple baseball cap.
Rainbow dress? Check. Matching rainbow chunky sandals? Check.
These Emoji socks are giving us life.
Boxing shorts as festivalwear? Pair with a crop top, and you're all set.
From the hair to the pants to everything in between, we're loving this palette of wild, warm colors.
A second example of when your hair color matches your shirt and it works.
These super chunky sandals add a hint of bold color to a simpler outfit, and are super practical for navigating the sandpit.
Graphic tees and basic sneakers are always a good choice for festivalwear—comfy, casual, and still really cool.
When it comes to festival dressing, sometimes the best accessory is your best friend.